A young South African opera singer, who has overcome incredible adversity and personal tragedies, shone as one of the stars at the 2012 TEDx Teen conference in SoHo, New York City on March 31st.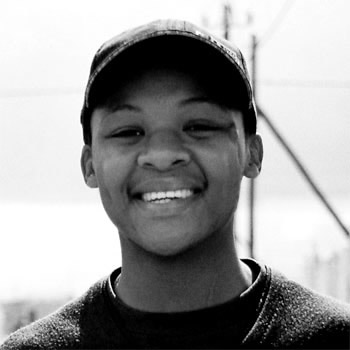 The TEDx Teen event is styled upon the renowned TED Talks but with the focus on teenagers and their ability to change the world.
Mteto Maphoyi was only four-years-old when his father walked out on the family, leaving behind a Pavarotti CD. As Mteto tells it in the interviews below, the CD was to be his salvation, inspiring a purpose and career in the young boy…and forging a connection between him and his father forever.
"It was all I had of my father," he says. Mteto didn't understand the lyrics, but he "could feel my own emotions in it".
At nine, he formed a group called the Six Tenors, and taught the others how to sing by coaching them to "shout as high as you can and remember that feeling".
Their practice sessions paid off, and soon they were singing to tourists and earning "money to help our parents".
Today, at 22-years-old, Mteto is grateful for how much music has helped him to bring in money, to have self-worth and because "it reminds me of my father a lot. Music is my connection to him".
Mteto's father passed away 11 years after he abandoned his family, and Mteto only saw him once in that time.
Mteto also credits one other special person in his life for turning things around for him – film-maker Laura Gamse who cast him as one of the subjects in her 2011 documentary 'The Creators', a move that has opened doors for him and helped him escape the gang life he had immersed himself in after his mother died of HIV/AIDS.
He says that Gamse had "heard rumours about me" when she was making her documentary, and came to Hermanus looking for "the singer with a scar" (a knife-scar he received during his crime-ridden days).
When she started asking him questions for her documentary, he realised he needed to make something of his life.
Today the world is his oyster. He's receiving formal training at South Africa's prestigious Black Tie Ensemble at the State Theatre in Pretoria, singing in New York and featuring in a documentary that's being shown around the world!
Watch Mteto perform at TEDx Teen plus interview; and scroll down for Documentary Tour Schedule:
South African opera singer Mteto Maphoyi performs "Marechiare" at the 2012 TEDxTeen conference in New York City:
httpvh://www.youtube.com/watch?v=0UUMMwVEbU0
Watch video interviews at the TEDxTeen conference with Mteto:
httpvh://www.youtube.com/watch?v=kDO47zesqJw
httpvh://www.youtube.com/watch?v=ErtkSQpEd6w
The documentary will be shown at the following venues over the next couple of months:
April 11, 2012: New York, New York, USA
NEW YORK AFRICAN FILM FESTIVAL
Walter Reade Theater, Lincoln Center
April 20, 2012 @ 8 PM: Warsaw, Poland
AFRYKAMERA FILM FESTIVAL
Hall 3, Kinoteka, Plac Defilad 1
April 21, 2012 @ 7 PM: Austin, TX, USA
April 25, 2012: Fort Collins, Colorado
COLORADO STATE UNIVERSITY
Program of International Development Studies
April 26, 2012 @ 9:35 PM: Lawrence, Kansas, USA
AFRICA WORLD DOCUMENTARY FILM FESTIVAL
April 27, 2012 @ 9 PM: Claremont, CA, USA
POMONA COLLEGE ALUMNI WEEKEND
May 6, 2012 @ 5 PM: Ile-Ife, Nigeria
AFRICA WORLD DOCUMENTARY FILM FESTIVAL
May 16, 2012 @ 7:30: Arlington, VA, USA
ARTISPHERE