A news presenter for eNCA TV channel now probably regrets that he called out the Minister of Education Angie Motshekga on air for mispronouncing the word "epitome" in a speech this week – a week to remember when emotions seemed to be running particularly high on various fronts.
Andrew Barnes has been suspended, according to eNCA, which distanced itself from the remark and said, "His quip was in poor taste and management will address this. We apologize unreservedly".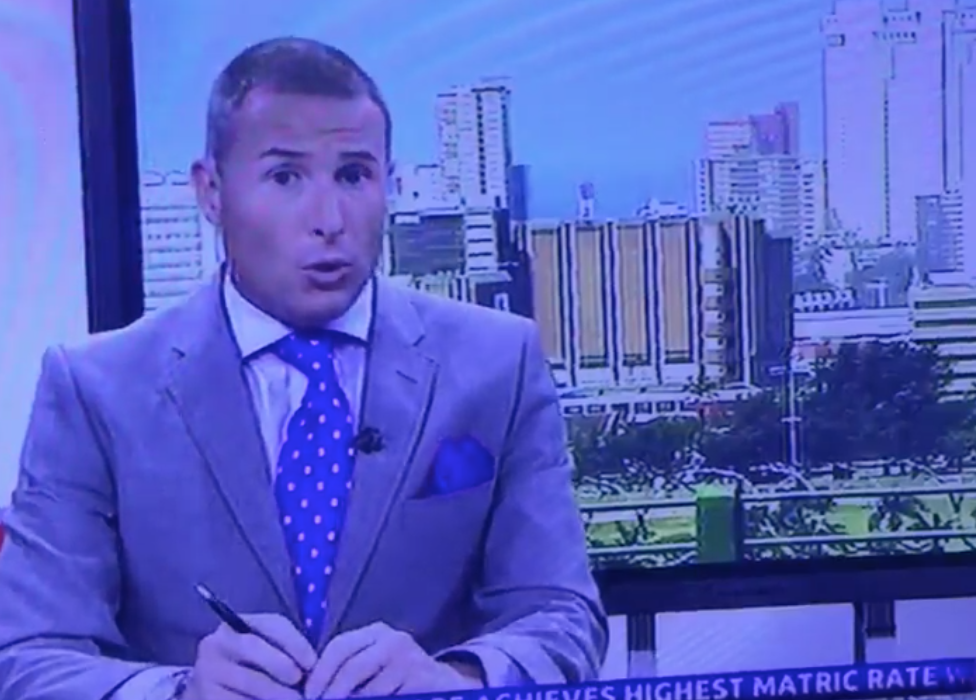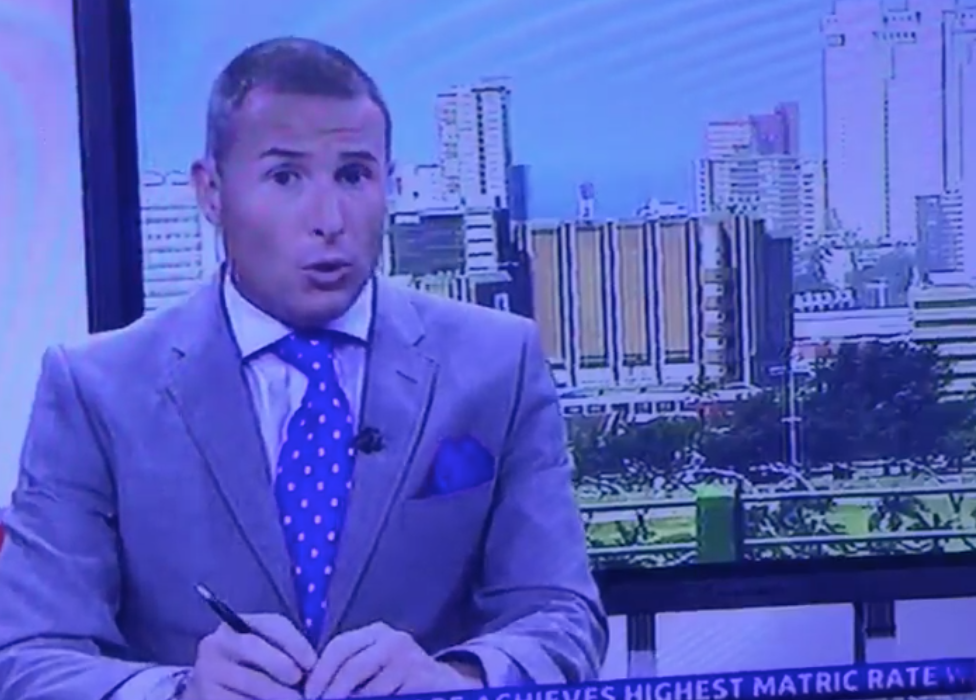 The incident (see video at the end) has generated much feedback, especially on Twitter and radio shows, both from black and white, and from both sides of the fence. Some suggested that Barnes might have gotten away with the remark in a less sensitive time, but that emotions had been heightened by the #PennySparrow incident over the weekend.
Real estate agent Sparrow posted a message on Facebook after witnessing the littering on a KwaZulu-Natal beach over New Year, comparing blacks to monkeys. Her remark, which went viral, and those of several other people (including an employee of Standard Bank) have elicited a lot of soul-searching by South Africans of every stripe over whether enough has been done to tackle racism. It saw a flurry of comments under the hashtag #RacismMustFall.
HITLER COMMENT
At the same time, Velaphi Khumalo, an employee of the Gauteng provincial government has been suspended and charged with hate speech after posting a tweet – in response to the #PennySparrow post – that said blacks must do to the whites of South Africa what Hitler did to the Jews.
The Gauteng Provincial Government said in a statement today, "The Gauteng Department of Sport, Arts, Culture and Recreation has suspended Velaphi Khumalo with effect from today, the 8th of January 2016. Allegations levelled against him are viewed to be of a serious nature. The department will follow due processes in finalizing the matter."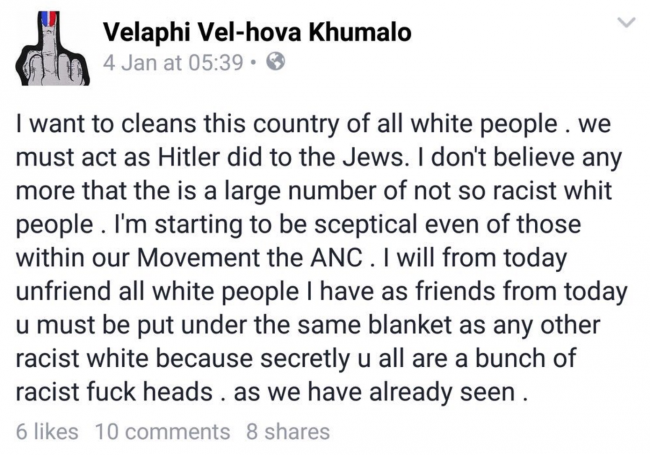 Meanwhile, an ANC councillor in the Msinga municipality in KwaZulu-Natal, Bhekinkosi Mvelase, this morning admitted to posting an offending phrase – "kill the boer, kill the farmer" – on Facebook.
"It was a mistake. I deleted that thing," he was quoted as saying in news reports on Friday.
"That thing is unAfrican and anti-ANC. It was not my intention to provoke someone. I am apologising whole-heartedly."
In 2011, the Equality Court in Johannesburg ruled that the words "shoot the boer" amounted to hate speech in a case in which civil-rights organisation AfriForum took Julius Malema, who was ANC Youth League leader at the time, to court for singing them in a song.
SEXIST OR NO?
In another incident late this week, possibly also precipitated by the heated emotions countrywide, Mail & Guardian journalist Carien du Plessis was banned – and then unbanned – from attending the 104th birthday celebrations of the ANC in Rustenberg on the weekend because she tweeted that the News Cafe in town would be full of "pantypreneurs and tenderpreneurs".
Du Plessis took a photo of the News Cafe with the caption, "Seems Rusty News Cafe will be a choice hangout for pantypreneurs and tenderpreneurs at this weekend's #ANC104 bash".
Pantypreneur was defined by one tweeter online as "a young female who uses her body to get benefits usually by posing as escorts and/or sleeping with high profile figures".
Before unbanning Du Plessis from the ANC gathering, after she apologized, ANC spokesman Zizi Kodwa said her remark was racist because she knew that most of the people at the Rustenberg gathering would be black.
"It does not only undermine, but dehumanises women particularly those who attend… ANC events and majority of them are black and therefore her remarks are racist," Kodwa was reported as saying.
At almost the same time, however, Kodwa found himself responding to allegations that the ANC had received a complaint of sexual harassment against Western Cape ANC chief Marius Fransman.
"We are aware of the sexual harassment charge being laid against Marius," Kodwa was quoted saying.
Further details were not made public.
THE PRONUNCIATION BATTLE
As for the incident over the education minister's pronunciation of "epitome", while some said that a cabinet minister, like a newscaster, should have read the speech beforehand and made sure of how to say particular words, others said it is unfair to expect perfect pronunciation from someone not speaking their first language.
Well-known Radio 702 talkshow host John Maytham said it didn't bother him at all, although numerous black people who called in said it bothered them.
Barnes tweeted an apology shortly after he called the minister out: "My heartfelt apologies for the hurtful comment I made about the Education Minister's English today. You all expect more of me. I'm sorry."
One black caller to radio pointed out that President Jacob Zuma himself had made fun in Parliament in 2015 of the way white people said Nkandla, although it was pointed out that the ANC had not been the one to make a complaint about Barnes's action.
This isn't the first time pronunciation has come up. Most notably, in parliament last year, a COPE MP Willie Madisha mimicked Science and Technology Minister, Naledi Pandor, after which the speaker tried in vain to call the house to order.
Zuma jokes in 2015 about how the opposition pronounces Nkandla…
… while COPE MP pokes fun at a Minister's accept:
The clip of Barnes outing the minister of education:
WATCH: @eNCA's Andrew mocking the Min of Basic Edu's English word pronouncement of "epitome" #fireAndrewBarnes pic.twitter.com/Nh9pEhaLmA

— @esethuhasane (@EsethuHasane) January 6, 2016