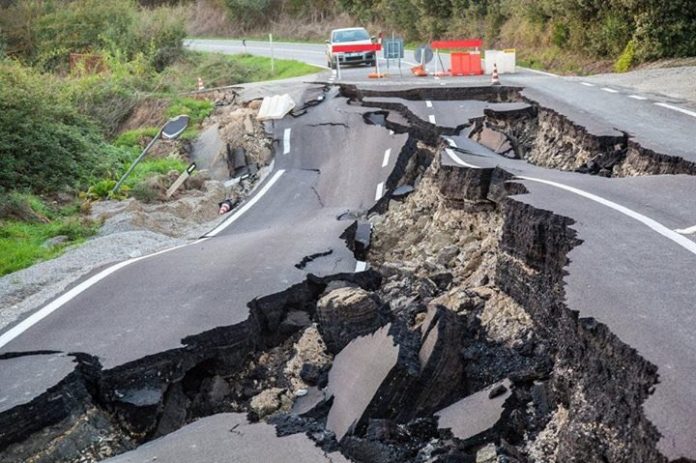 Significant 2.5 metre tsunami waves which hit New Zealand after Sunday night's magnitude 7.5 earthquake (or earthquakes) have eased, and the Tsunami Warning has been lifted, although residents and tourists are still urged to remain vigilant and keep away from beaches.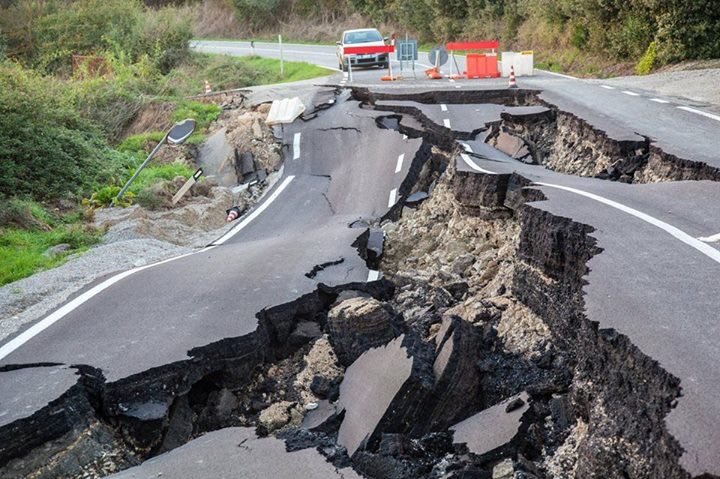 New Zealand's Prime Minister John Key has confirmed that there have been two fatalities following the earthquake/s, which struck just after midnight, although one may have been caused by a pre-existing condition. Experts from GNS Science believe now that two tremors struck in two different faults. According to reports, there were over 250 aftershocks felt.
The worst hit area is around Kaikoura, as well as Christchurch and Wellington where citizens have been advised to stay away from work as buildings may still collapse, especially as severe weather warnings have been announced.
The country now braces itself for strong rains and high gale force winds, expected over the next few days.
Both the North and South Island are experiencing power cuts and buildings and roads have been "extensively damaged" in North Canterbury. Some homes have allegedly been looted after residents evacuated them during the Tsunami Warning.
Kaikoura, a resort town on the South Island of 2,000 people, has been cut off on both sides because of large slips falling down the cliff faces along the coastal highway; and mobile phones and emails are not working in the area.
The New Zealand dollar has reportedly fallen to its lowest level in a month.
Many South Africans who have family and friends living in New Zealand, a popular expat destination, immediately got in touch on Sunday/Monday. Chantelle Heinzerling said "My friends in Nelson have posted they're safe. WiFi and power out in some areas but mostly no problems. They've had aftershocks but are out of the tsunami red zone, hope they're safe."
Update Monday: Another strong earthquake – magnitude 6.3 – struck New Zealand's South Island at 13:45 local time. A landslide dammed the Clarence River which then breached, but is not as severe as previously thought.
More photos from North Canterbury showing how the roads have stood up to the quake. 'Not well', apparently:#EQNZ pic.twitter.com/5vq5X9Crj6

— I. H. Laking (@IHLaking) November 13, 2016
The foyer of New Zealand's Parliament is being used as a refuge for those in unsafe accomodation nearby pic.twitter.com/DeAEZcCQ53

— Newshub Politics (@NewshubPolitics) November 13, 2016
Kaikoura coast road in New Zealand following massive #earthquake. (@NaomiArnold) pic.twitter.com/vh6BMkz6qq

— Breaking911 Nature (@B911Nature) November 13, 2016
Clarence River: Dam has breached after earthquake damage https://t.co/FCk1RuNskH

— NZ Social (@kiss_net_nz) November 14, 2016
The original earthquake lasted a full minute, as can be seen in this CCTV footage from a grocery story in Nelson:
Family home looted after quake evacuation https://t.co/XAVQmlqo0W (News) #newzealand #nznews

— New Zealand News (@KiwiLiveNews) November 13, 2016
Wow. You can clearly see the effect of the #NewZealand earthquake in the LHC beam orbit. Via @JohnJowett. #nzearthquake pic.twitter.com/cCD5IfG1pO

— Clara Nellist (@claranellist) November 13, 2016
An #earthquake (6.2) has hit in #Argentina just hours after a similar one (7.8) in #NewZealand. Ring of Fire is active.. #supermoon ?? pic.twitter.com/OEVnq0sFXO

— Emmanuel ⚽ ?? (@emma_x10) November 13, 2016
3 cows stranded on small island of grass after New Zealand earthquake triggers landslides. https://t.co/uTFAJSKuwZ

— The Associated Press (@AP) November 14, 2016