Watch this beautiful rendition of South Africa's national anthem – Nkosi Sikelel' iAfrika – as sung by a group of SA expats in New York this weekend.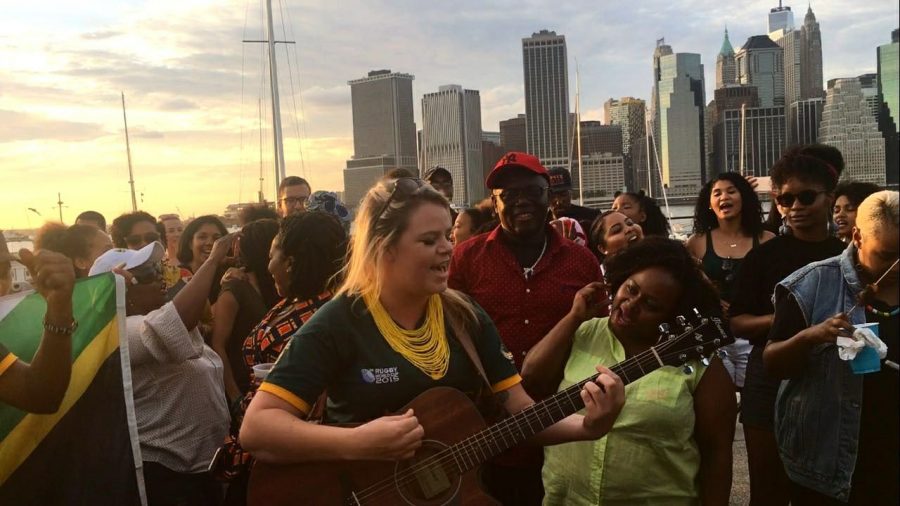 Durban born, Joburg-bred singer, songwriter and former junior radio producer at Hot 919 FM, Lyla Illing – who can be seen in the video, on the guitar – told SAPeople: "This weekend we had a braai in New York, a get together after the rugby [Springboks vs All Blacks rugby match] on Saturday."
After the End of Summer Event, Lyla wrote this wonderful message on Facebook to her friends and former colleagues from Joburg's Hottest Breakfast Show, which will resonate with many other South Africans living abroad:
"Braaivleis under the Brooklyn Bridge, and the Manhattan skyline in the background, ululating and lip syncing all around.
"This is us saying it: We love YOU, South Africa!
"One thing I don't say enough: I miss you. My friends and my family, my radio people and my friends in music. I miss you.
"Every day is a battle without you, but every night here is like a dream. ❤ Thank you for standing by me. I feel it."
Watch South African Expats in New York Sing SA's National Anthem
If your device can't view the above, try below:
Can we get 10 000 views? 😍watch this South African group of expats sing our national anthem "Nkosi Sikelel' iAfrika" in New York, I was there guitar in hand, of course! Braaivleis under the Brooklyn Bridge, and the Manhattan skyline in the background, ululating and lip syncing all around. This is us saying it: We love YOU, South Africa! One thing I don't say enough, I miss you. My friends and my family, my radio people and my friends in music. I miss you. Everyday is a battle without you, but every night here is like a dream ❤️thank you for standing by me. I feel it.

Posted by Lyla Illing on Sunday, October 8, 2017
MORE
South Africans Living Abroad: To bring a little 'home' into your new home – subscribe to Showmax International to watch popular SA Movies and TV Shows – Free 14-Day Trial