Elders, the best-selling Afrikaans book about the Camino pilgrimage in Spain by writer, journalist and TV presenter Erns Grundling, is the inspiration behind Elders: Die Camino, a documentary series launching on KykNET and Showmax this January (and available to South Africans abroad – subscribe here!).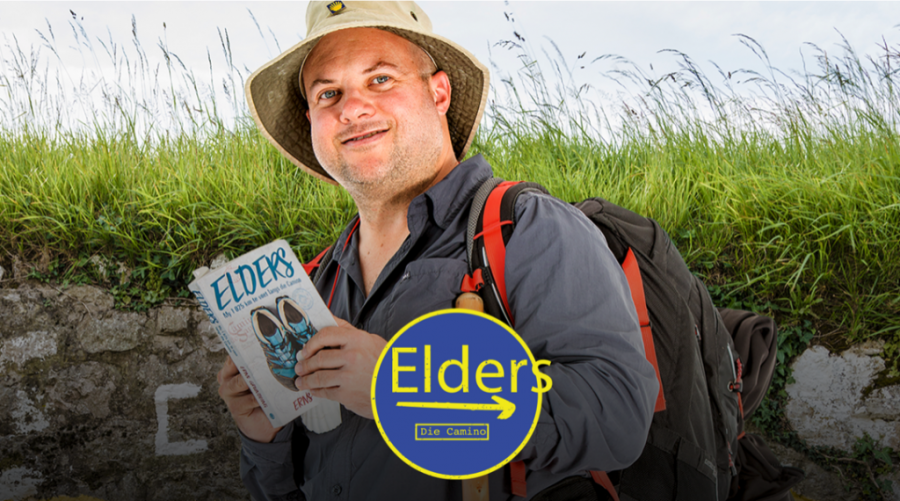 The book is based on Erns Grundling's personal experience along the famous Camino.
At the beginning of 2015, "Erns Grundling was overworked, overweight, overwrought, injured – and recently diagnosed with sleep apnoea. Clearly, the only thing to do was to head for Spain and the long and winding road of the Camino – no cellphone, no comrades, just one man on two feet."
Released in March 2017, the bestseller is already enjoying its third print run!
Erns developed the television series with filmmaker and producer Niel van Deventer of Palama Productions.
"In September 2017, I returned to Spain for a month with a small camera crew and walked about 350km," says Erns. "The Camino has grown in popularity over the past few decades and people from around the world – and increasingly South Africans – walk it for various reasons."
He says "it was a huge privilege to follow the yellow arrows to Santiago de Compostela once again and I hope this series inspires viewers to tackle the Camino themselves. If it encourages someone to walk around the block more often, that's also good!"
The series is a lifestyle adventure and focuses on different aspects of the pilgrimage: the pleasure of walking, clearing your mind and living in the moment, the natural beauty of the Spanish countryside, churches and monuments, friendships and connections with fellow walkers and people along the way, and the interesting and unique places to stay – of course, there's also the Spanish cuisine.
The 13-episode series launched on 2 January at 17.30 on kykNET and was available the following day on Showmax, with English subtitles.
"I'm happy the series has kicked off so early in the New Year," says Erns. "Everyone is still full of New Year's resolutions.
"My hope is that viewers enjoy the series and see it as an invitation to walk more often and live more consciously. Every person's Camino is his or her own journey – hopefully this series plants a few seeds with prospective hikers."
Watch Trailer: The Camino
Vanaand om 17:30 op kykNET begin Elders: Die Camino, 'n dokumentêre reeks van 13 episodes oor die bekende pelgrimstog in Spanje. Ek gesels onder meer met Andree Lombard van ons plaaslike Confraternity of St. James, Elma Marais en haar man Tielman van Stellenbosch wat saam die Camino gestap het, die TV-aanbieder en operasangeres Lynelle Chrystal Kenned en die ywerige stapper Gium Marais wat 'n stapklub oor naweke in die Kaap aanbied. Ek gaan maak ook 'n draai by Cape Union Mart om al my toerusting vir die staptog te kry. Halfses in die aand is 'n goeie tyd om terug te sit met 'n ClemenGold Gin en saam te reis. Die reeks word moontlik gemaak deur kykNET, ClemenGold, Showmax, Sure Travel en Cape Union Mart. Hier is 'n kort voorskou van die eerste episode. Die reeks sal ook met Engelse subtitels beskikbaar wees op Showmax. Buen Camino!

Posted by Erns Grundling on Monday, January 1, 2018
Watch Die Camino now on Showmax.com – available to South African expats abroad, with English subtitles.