South Africa's Blitzboks blasted past arch-rivals England 33-12 to book their place in the HSBC Sydney Sevens quarter-finals in Australia on Saturday.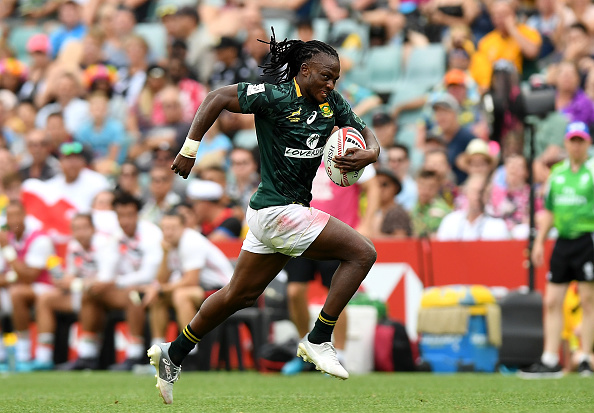 After an easy tournament-opener victory against Papua New Guinea (50-0), coach Neil Powell's men sailed past Spain, 38-0 in their first match of day two… Rosko Specman snatching two tries.
Their second Pool C game was a match-up that saw Cecil Africa turn 'villain' into hero as England were on the board within the first minute after a kick by Africa saw Oliver Linsday-Hague snatch up the bouncing ball in front of his eyes to score under the posts.
But two minutes later it was Africa making amends as he in turn picked up a knocked-on ball from England to free up serial try-scorer Seabelo Senatla – all square at 7-7.
The Blitzboks thought they were ahead after big Tim Agaba looked to have gone over but TV replays showed his legs trailing over the chalk.
And then it was Africa again, after SA had lost a line-out but then scooped up an English knock-on to go over and the conversion made it 14-7.
With time up on the clock the Blitzboks pressed on rather than kick for touch and it was Justin Geduld who crossed to make the halftime score 21-7.
The second half saw the Blitzboks scoring within the first minute through as Geduld made it try on either side of the break.
That saw the score 28-7 but England fought back with an extended series of attacking possession against a resolute Blitzboks defence and it was Dan Bibby who reduced the score to 28-12.
But who better to wrap things up than that man Senatla, and he finished in true Seabelo style, weaving this way and that to make the final score 33-12 with his 18th try of the season.
Next up will be Argentina in the quarters on Sunday.
That's the match and it's thank you for coming #England.

The #BlitzBokke will top their Pool at the #Sydney7s beating #ENG by 12 – 33 pic.twitter.com/xARJLWQXvY

— 7s in South Africa (@BlitzBokke) January 27, 2018