President Cyril Ramaphosa today enlisted one of South Africa's biggest exports – Trevor Noah, host of US TV show, The Daily Show – to help drive investment in South Africa. (Watch videos below.)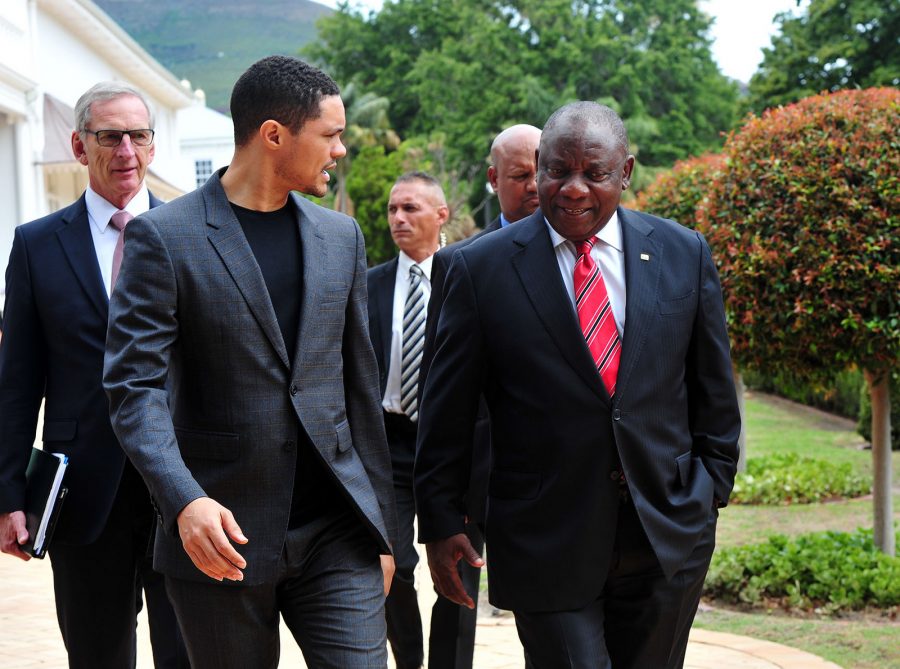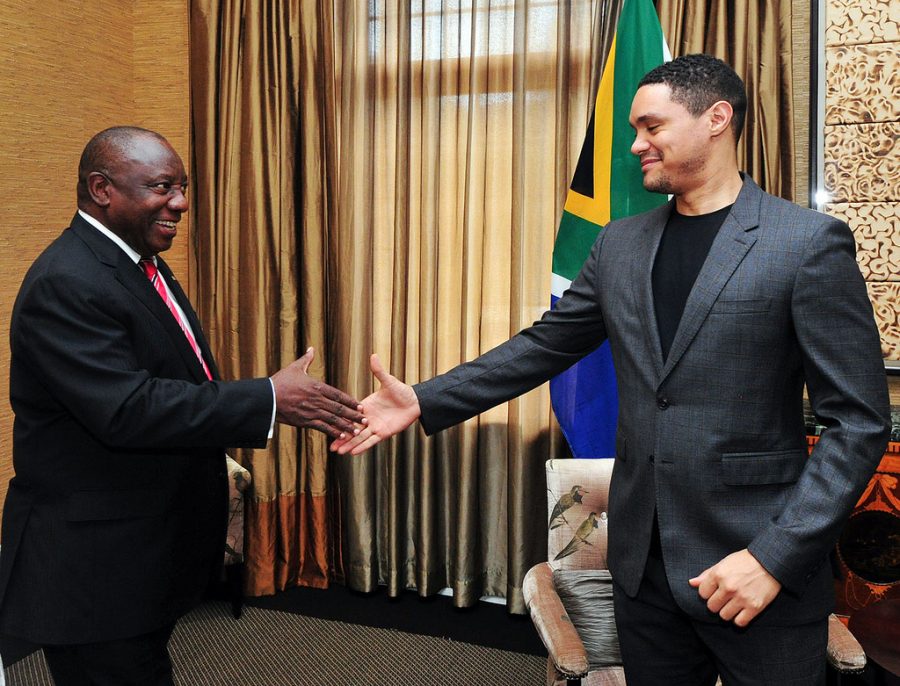 Ramaphosa also revealed that he's "trying to get Elon Musk as well to come and build a factory" (which shows how useful our SA expats can be!).
While Musk – South African billionaire expat and founder of Space-X and Tesla – will be called upon for a factory, Ramaphosa says he'd like Noah to "bring joy and pleasure".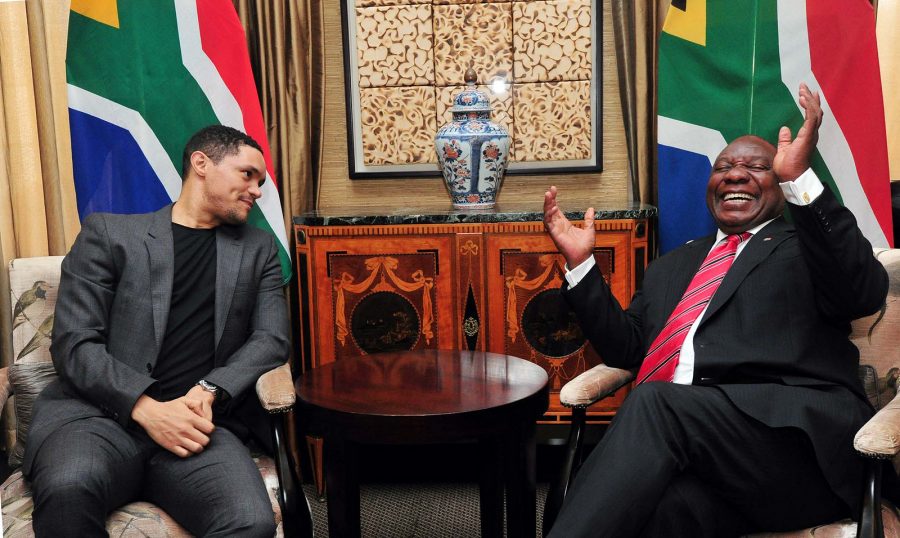 Speaking to Noah during a courtesy visit the comedian made on Thursday afternoon, the South African President said: "This year I want you at our investment conference. It is in October."
Noah's presence is so important that Ramaphosa said: "We will craft it according to your diary."
Ramaphosa revealed his objective is to raise R1.4 trillion, which is $100-billion.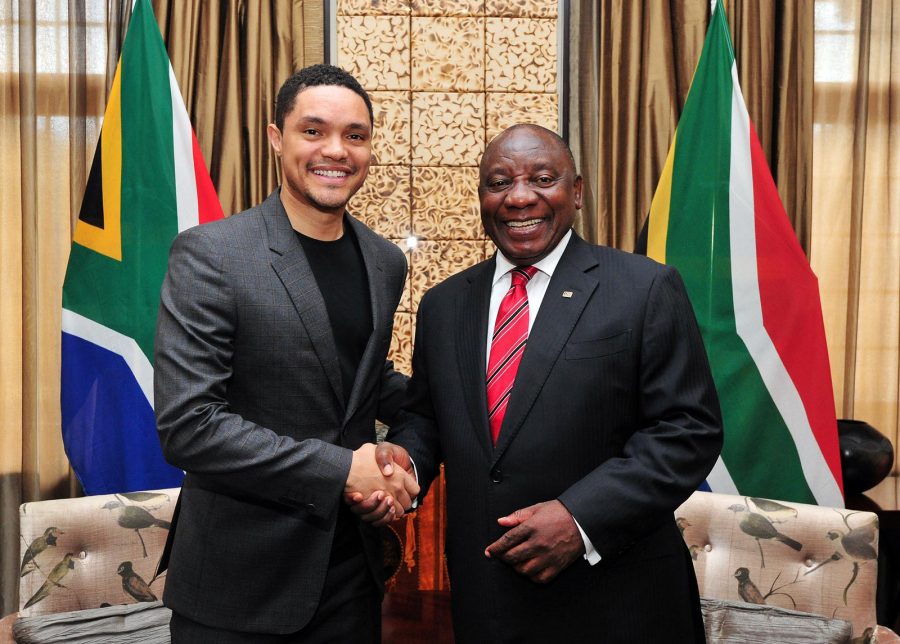 The two men discussed a wide range of issues, including the impressive philanthropic work that Noah's Foundation is doing, as well as the importance for Noah and other South African expats to make sure they're registered to vote before 13 March.
Ramaphosa also took the opportunity to tell Noah how "delighted" he is with his success. "The wind you've been feeling behind you is us, we've been saying: there's our boy."
Noah said it was thanks to the work he did for Ramaphosa's events company years ago that he is where he is now. "I owe it to you… I wouldn't be where I am," he grinned.
After their meeting Ramaphosa answered questions in the National Assembly, whilst Noah sat in the public gallery. Ramaphosa introduced him, joking that he was jealous of the cheers of welcome that Noah received.
Ramaphosa said: "We applaud [Trevor Noah] for ploughing back [into] the country."
Noah is in South Africa on an assignment, and "to come and look at me, and all of you – and make fun of me", said Ramaphosa. "He has promised he is going to make fun of me."
On Thursday evening, the President posted a video on Twitter with a message to Noah, saying: "Thank you @TrevorNoah for making time to visit us this afternoon. Your rise to take over the world has been a marvel to watch and I hope you understand just how much we love and support you here at home. Please make sure you vote and I will see you at our investment conference!"
His Excellency President @CyrilRamaphosa has a courtesy visit this afternoon from one of South Africa's biggest exports, comedian @TrevorNoah, ahead of his oral reply to the National Assembly in Cape Town, Western Cape. #RamaphosaQandA pic.twitter.com/JmW1k7WEGt

— PresidencyZA (@PresidencyZA) March 7, 2019
Thank you @TrevorNoah for making time to visit us this afternoon. Your rise to take over the world has been a marvel to watch and I hope you understand just how much we love and support you here at home. Please make sure you vote and I will see you at our investment conference! pic.twitter.com/VdhVj23SB2

— President Cyril Ramaphosa 🇿🇦 (@CyrilRamaphosa) March 7, 2019