Most children are afraid of monsters, the scary ones hiding in their closet or under their bed. But Gideonette De La Rey (Anchen du Plessis) has a different fear in award-winning
Meerkat Maantuig
(now streaming on Showmax): she fears death. Or rather falling victim to the De La Rey Curse, where everyone named Gideon dies at an early age.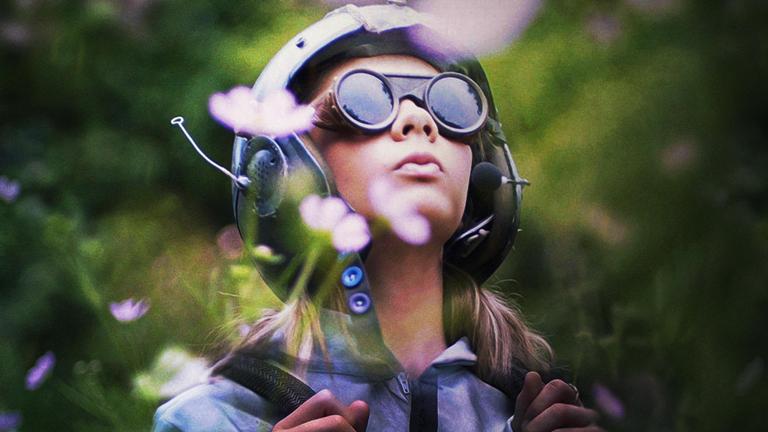 "Although she is named Gideonette, she still can't shake the feeling that death is coming for her," explains writer and director Hanneke Schutte.
When the teen's preacher dad Gideon (Drikus Volschenk) suddenly dies, like his father Gideon 30 years before him, 13-year-old Gideonette's belief in the curse strengthens to such an extent that she draws herself into her own little world of nightmares and trouble that makes Alice In Wonderland seem tame.
Mom Mathilda (Hanlé Barnard) isn't much help as she also believes in the curse, deciding that the best way for Gideonette to escape the danger lying in wait is to go to her eccentric grandparents Ouma Koekie (Rika Sennett) and Oupa Willem (Pierre van Pletzen), who live in a forest.
That's where Gideonette meets the adorable deaf boy Bhubesi (Themba Ntuli), who is training to become an astronaut and fly into space with his Meerkat Maantuig (moonship).
Tragically, and unbeknown to Gideonette, her new friend will not be long for this world – he suffers from an inoperable and lethal brain tumour.
But in the time they have together, Bhubesi's vivid imagination helps Gideonette see the light in life and dream about orbiting the Earth in Meerkat Maantuig.
Twists and Turns
The movie taps into dark issues including death, depression, fear and mental health. Hanneke found inspiration to deal with these topics in a childlike manner while reading South African author Riana Scheepers' 2003 book Blinde Sambok.
"It gave me a cryptic canvas on which I painted my own story for Meerkat Maantuig. I took the essence of the book – a young girl living in fear of a family curse – and tweaked it into a dark fairytale where there is hope at the end of the story," explains Hanneke.
One of the significant introductions to the story that Hanneke made was the moonship, which she says "becomes a character in itself in the film".
"The moonship helps Gideonette overcome her fears. The moonship has this magical quality to it and represents freedom. The kind of freedom you get when you finally find the courage to face your fears."
Not only does the film challenge you to admit what you're afraid of, but it also examines the stories we tell ourselves in order to live with these fears. The message is summed up by this line from Oupa Willem: "If you are going to hide from your fears, you are going to lead a very small and unexciting life".
Real Fear
Hanneke tapped into her own childhood for her script. "I was a fearful child growing up and it took me years to rack up the courage to sleep in my own bedroom!"
She adds that growing up, she had a wild imagination and her childhood was filled with creatures and colourful monsters. "Truth be told, I'm still a bit shy and fearful and that is why it was important to me to create a story that deals with those fears. I wrote the story as a lesson to myself – to help me face my own fears."
Magical Magoebaskloof
Meerkat Maantuig was filmed in the Magoebaskloof forest in Limpopo.
"Just like the moonship, the magical forests of Magoebaskloof became a character in the film. The forest not only created a spooky and fairytale backdrop, it also served as a place where Gideonette could learn to engage her imagination and learn to play again," explains Hanneke.
However, filming wasn't easy – the crew had to contend with spiders, snakes, mosquitos and ticks, as well as rain for the majority of the shooting schedule.
It's a Winner!
"The movie is truly magical and inspirational, and I hope the message of overcoming your fear will resonate with young and old," Hanneke says. Indeed, the movie resonated so well with audiences locally and internationally that it bagged these awards:
Best Cinematography at the 2017 Silwerskerm Festival

Best Women's Film in 2017 at the Calcutta International Cult Film Festival

Kids Award at the 2018 Filem'on: International Children's Film Festival Brussels

Best Feature Film and the Jury Prize at the 2018 International Film Festival for Children and Young Audience Schlingel

Outstanding Achievement in Filmmaking – Feature at the 2018 Newport Beach Film Festival

Best Achievement in Cinematography – Feature Film at the 2019 South African Film and Television Awards.
Now it's time to experience the magic of Meerkat Maantuig for yourself on Showmax.
How to get Showmax
Get a taste of the Showmax action with a two-week free trial. Thereafter, it costs just R99 per month to enjoy thousands of series, movies and doccies.
If you're a DStv Premium subscriber, the great news is that Showmax will not cost you a single extra cent. Just go to www.showmax.com/dstv to sign up and enjoy full access to Showmax at no extra charge.
If you're a South African living abroad, subscribe to Showmax International.