South Africa's Karla Pretorius was named Player of the Tournament on Sunday night at the Netball World Cup in Liverpool, England… for her "outstanding performance" and for being SA's "impenetrable wall". With huge cheers from the crowd, it was obvious said the compere, that Karla was a popular winner.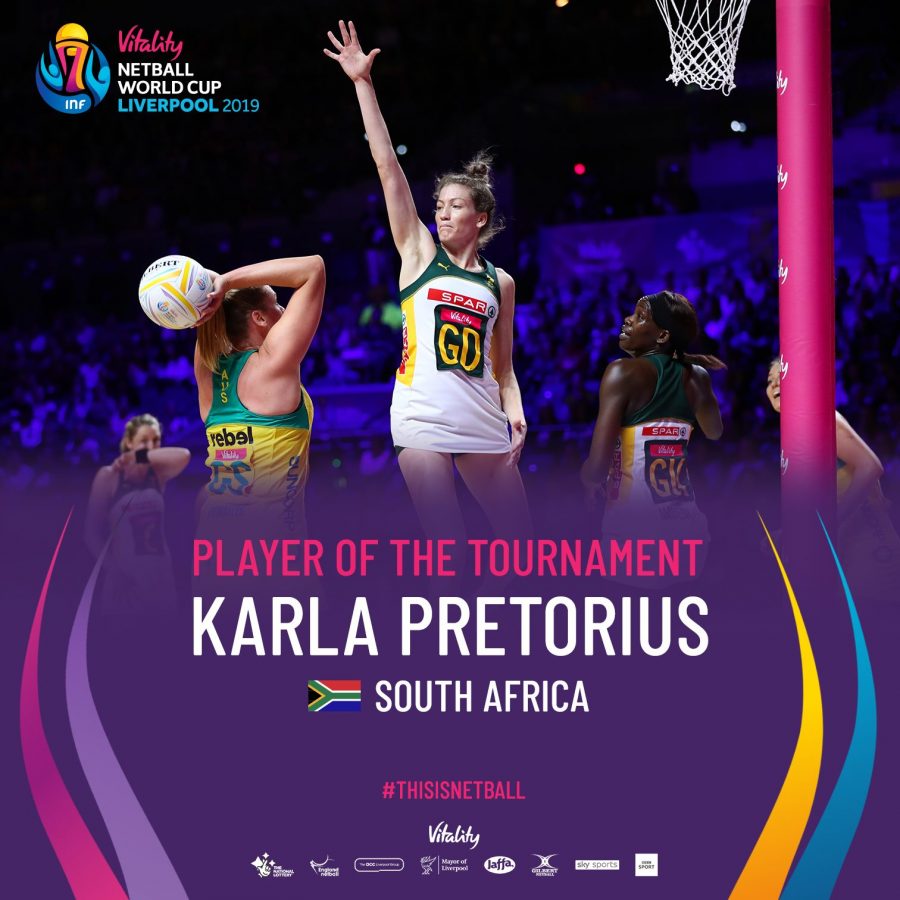 The Netball World Cup announced on social media: "Your Player of the Tournament is Karla Pretorius! 🇿🇦 20 interceptions, 23 deflections, 32 gains – Netball South Africa's impenetrable wall…" Watch below.
The presenter said: "The fact that South Africa have reached the final four of the competition, for the first time since 1995 is thanks in no small part to her impeccable reading of the game, timing and composure.
"On court and off court she has carried herself with huge distinction throughout the competition, and has rightly claimed this honour."
WATCH VIDEO: Karla Pretorius named Player of the Tournament, Netball World Cup 2019
#SouthAfrica's Karla Pretorius 🇿🇦named Player of the Tournament #NetballWorldCup2019 pic.twitter.com/5QazHl7sA3

— South Africa People (@sapeople) July 21, 2019
A very gutsy South Africa finished the tournament in fourth position on Sunday after losing to England, while New Zealand shocked Australia to win their first Netball World Cup in 16 years… winning by an extremely narrow margin of 52-51.
England took bronze with its 58-42 victory over South Africa.
Although disappointed with the result, South Africa's Lenize Potgieter told Netball World Cup she was still pleased with how her team tackled the World Cup as a whole.
Lenize said: "I think we're disappointed in our performance today. The Roses brought their A game against us. But I'm really proud of my team for getting this far – we have really improved since the previous World Cup.
"I think if we played like we played against Australia, it would have been a better game. There were great moments in the game, but we needed to be more consistent with them."
Lenize was referring to yesterday's thrilling World Cup semi-final in which South Africa just lost out to Australia 55-53. With top-ranked Australia surging to an eight-goal lead at half-time, they found themselves having to fight off a very determined comeback by the Proteas in the last two quarters, reported Reuters.
Lenize said after today's loss to England: "I'm still very proud of the team – sad obviously that we didn't medal, but we improved our ranking, so I'm very happy about that."