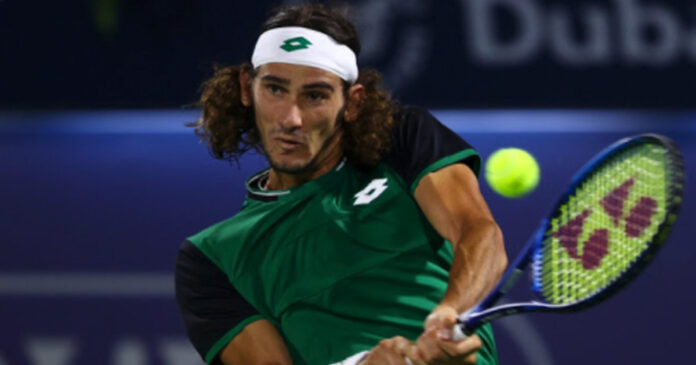 Lloyd Harris is playing the biggest match of his career at the Dubai Tennis Championships this afternoon, Saturday 20 March. He is facing world No 42, Russian player Aslan Karatsev, on centre court for the title… which would be his first ATP title!
The South African earned his seventh win in as many days on Friday, outlasting third seed Denis Shapovalov 6-7 (5), 6-4, 7-6 (6) to reach his maiden ATP 500 final.
Harris' victory against the World No 12 was the second biggest of his career by ATP Rankings. Harris' greatest career win came on Tuesday, when he stunned World No 4 Dominic Thiem in the second round.
With seven wins under his belt already in Dubai, the World No. 81 has reached peak form at The Aviation Club. In fact, Harris believes he has discovered his game during his time at the ATP 500.
"I have really found my game" – Lloyd Harris
'This week, I have really found my game. I have found the way I want to be playing,' said Harris. 'There are still some tweaks I want to [make] and a lot of things to improve still, so I am looking forward to the work that lies ahead after a tournament like this. That is really exciting for me. I still want to improve on so many things and do it better, even though I am playing exceptional tennis.'
One of the keys to Harris' success this week has been how well his game has matched the fast court conditions in Dubai. The qualifier has hit 71 aces across his seven matches at the tournament and he won 80 per cent of his first-serve points against Shapovalov (57/71) to reach his second tour-level final (0-1).
'[Due to the court speed], I get a lot of extra pop on my serve. I don't feel like I have to force it too much,' said Harris. 'Extra free points definitely help you out. In the third set, it was something that was very beneficial to me. I had very quick service games … The faster courts are always good for me.'
For the past decade, Kevin Anderson has led the way for South African tennis. Harris joined Anderson to represent his nation at the 2020 ATP Cup and has been inspired by the two-time Grand Slam runner-up's mentality.
'The thing with Kevin is, he has such an amazing big-match temperament,' said Harris. 'If you watch him play against the top guys, he is always playing at a very good level. He is such a professional. He always brings a good intensity to the court, so there are definitely so many things that I have seen from him that you can apply to your game.'
Harris will not only need mental strength to get past Karatsev in the final, he will also need physical strength to overcome one of the most dangerous players on the ATP Tour. Harris has already spent 11 hours and five minutes on the court in Dubai, but he knows he will have all the energy he needs out on the court today.
Source: TeamSA