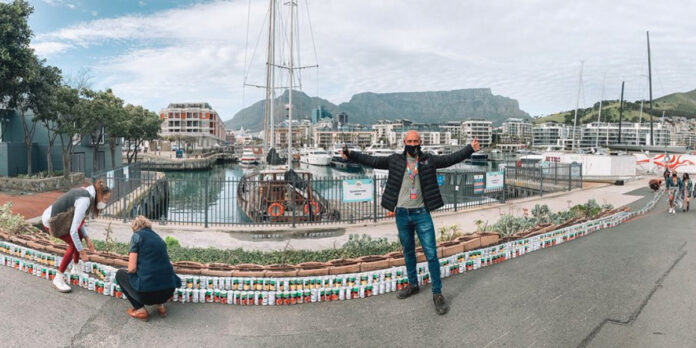 South African NPO Ladles of Love has officially broken the world record for the longest line of food cans. The 6,7km line of cans in Cape Town not only breaks the record… but will also go a long way to feeding hungry people! The line consisted of over 90,000 cans from the heart, and in the heart, of Cape Town!
Ladles of Love said on Sunday: "WORLD RECORD SMASHED!!! It's official… The World Record for the Longest Line of Food Cans belongs to Cape Town, South Africa!!! THANK YOU to everyone involved in bringing home this title to our beautiful Mother City and country TODAY on 29 August 2021 at the VA Waterfront at 4 PM."
The NPO said this proud achievement wouldn't have been possible without the "love and support of the City of Cape Town, South Africans and Love Activists all over the world. together we did it."
All the food cans will be donated to the NPO's soup kitchens around the Cape, "to feed the millions in need of a warm and nutritious meal."
The world record was sponsored by DENNY Pick n Pay Lucky Star Sun International, and taken on in partnership with V&A Waterfront, Coronation Fund Managers and CapeTalk.
The mammoth task of laying all 90,450 food cans in a row to make the 6,7km line started at 9am on Sunday on a beautiful cool but sunny day (with the snowy Hottentot Holland mountains in the background!)
With iconic Table Mountain in the background, Ladles of Love made history while also raising awareness about the critical hunger crisis in communities and in South Africa.
The cans were generously donated by the NPO's partners, sponsors and their Love Activists around the world who have shared posts and spread the world over the last couple of months.
It's been an incredible challenge planning and preparing for this World Record Breaking Attempt. "This campaign has faced more challenges than any other campaign we've run as a non-profit," said Ladles of Love.
"Ladles of Love is about creating a better world for all through one serving of food at a time. We know the importance of a warm meal and full heart to all human beings. Sure, we love being a bit extra in our fundraising campaigns… but that's what makes us and all of you who support us unique.

"So now we are aiming for the world. Why not? It's probably one of the craziest campaigns we've ever embarked upon. It's been sleepless nights, countless meetings and planning…but just looking at the overwhelming amount of cans pour in, was only a symbol of the love that poured in from each and every one of you!"
The V&A Food Market tweeted today: "Huge congratulations to @LadlesofLove for breaking a world record by creating the longest ever line of food cans – a 6,7km line consisting of 90 450 cans! Each and every one will be donated to those in need. THANK YOU to everyone who helped make this awesome feat a reality."
What is Ladles of Love?
Ladles of Love's mission is to feed those in need by making the world a better place… "with one ladle serving at a time".
Since COVID-19, the NPO has dramatically expanded to cope with rising hunger levels in South Africa, from feeding 70 meals at its first soup kitchen – on St. Georges Mall – five years ago, to providing 300,000 meals every week from its HQ kitchen at The Hope Exchange in Roeland Street!
Due to Covid-19, the NPO increased its soup output to 6 tons of food weekly (which is sent to shelters, community and homeless organisations) and started a suburban sandwich drive, which rallied families across the Cape to make sandwiches (over 250,000!) in the safety of their home which were re-routed to the network of beneficiaries.
If you would like to support, please do so here: https://www.ladlesoflove.org.za/donate/
This afternoon @PatriciaDeLille & I supported @LadlesofLove. An amazing effort to support the hungry & the homeless. 90450 cans of food collected traveling 6.7km in the waterfront. Broke the @GWR world record.
These are cans of love. The true spirit of our Mother City. #hunger pic.twitter.com/e7lC5BuPTW

— Brett Herron ?? (@brettherron) August 29, 2021
Make every day Mandela Day!@PatriciaDeLille and Mayoral candidate @BrettHerron supporting @LadlesofLove to break the @GWR world record with the longest line of food cans! Donations support thousands of vulnerable children and families in Cape Town.

Well done Cape Town! pic.twitter.com/BWn4HVx0Ng

— GOOD (@ForGoodZA) August 29, 2021
What building a 6,7 km line @VandAWaterfront made from 90 000 cans looks like. They've taken over!!! pic.twitter.com/cM8xsEBwro

— Ladles of Love (@LadlesofLove) August 29, 2021