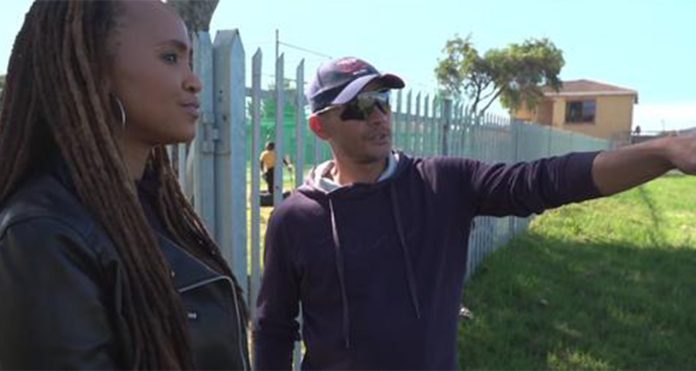 Raised in one of the most violent communities in the country, children in Manenberg have very few opportunities but with bat and ball, one cricket coach was determined to use the sport to make a difference. Here's what's coming up on Carte Blanche this week. You can watch the show on Sunday 26 March in South Africa on DStv Now OR stream it overseas in most countries on Showmax from Tuesday 28 March if you're abroad.
It began as a gift from father to son. Professional cricket coach, Shahied Adonis, wanted to help his boy get into one of the most prestigious but expensive schools in the Western Cape. His only means was through the sport his father loved: cricket. For two years, Adonis coached his son to become a competitive cricketer, earning him a bursary and a chance to realise his dream. For Adonis, something clicked. He realised that, through providing free cricket coaching clinics, he could help children with difficult upbringings realise their dreams, too – using cricket to reimagine a different future. And so, his program Dlala Africa took shape. In gang-ridden Manenburg on the Cape Flats, Adonis is using the gentleman's game to make a lasting difference. (Producer: Floris Kotze | Presenter: Claire Mawisa)
Watch the show overseas | Watch in SA on DStv Now
Also on Carte Blanche this Sunday 26 March
"The murder of Cloete Murray and his son, Thomas, is stomach-churning. Both were at the forefront of attempts to recover the proceeds of state capture, so piecing together a possible motive for their assassination isn't difficult. They lived in a space where making enemies was easy and took their last breaths in a country in which death is often the price of principle." – John Webb, Executive Producer
A tall building towers over Pretoria. It's home to the Master's Office that administers deceased estates and oversees liquidations – some involving major companies under investigation for millions made in the state capture years. Among the liquidators' responsibilities is attempting to recover money owed to creditors. Cloete Murray was the driving force in the liquidation of BOSASA, a company at the centre of serious allegations of fraud and corruption and owing substantial amounts to creditors including SARS. Murray wasn't afraid of asking difficult questions of the many company directors he investigated and there were attempts to remove him from the Bosasa case that went as high as the Supreme Court of Appeal. None was successful. Murray's story is inextricably linked to those of two senior former officials in the Master's Office who believe they were removed because of their role in Murray's appointment to the Bosasa liquidation. Last year, Carte Blanche told this story, and interviewed Cloete Murray. But on Saturday he and his son were shot and killed in what is believed to have been an assassination. Carte Blanche investigates the final days before this dark and unspeakable crime took place.(Producer: Joy Summers | Presenter: Bongani Bingwa)
Watch the show overseas | Watch in SA on DStv Now
Chilling chilling chilling. His interview on the "Master Manipulation" story #CarteBlanche last year explains so much. Deepest condolences to family, colleagues, friends. https://t.co/kFXz5v6V3J

— Anna-Maria v Niekerk (@oradelo) March 19, 2023
In 2013, Daniel Janse van Rensburg was illegally detained for more than 400 days in one of Equatorial Guinea's worst prisons. Notorious for the brutalisation and neglect of prisoners, inmates at Black Beach are denied visiting rights and medical treatment. After eventually being released and returning to South Africa, Daniel sued the country's vice president, Teodorin Obiang, the man he believes had him incarcerated at Black Beach. In 2021, the Western Cape High Court awarded him R39 million for his losses and suffering and illegal incarceration and ordered the attachment of Obiang's assets. Then, on the 9th of February this year, two days after a super yacht belonging to Obiang was seized in Cape Town, two South African citizens were detained in Equatorial Guinea and sent to Black Beach. Coincidence or a perverse act of revenge? (Producer: Annalise Lubbe | Presenter: Masa Kekana)
Watch the show overseas | Watch in SA on DStv Now
PICKS OF THE WEEK
Exploited Orphans?
Why are 114 children being fed on a daily basis from a corrugated iron shack when a multi-million rand building – constructed for them – is right next door?
Master Manipulation
In April last year, we spoke to BOSASA company liquidator Cloete Murray. At the time, he alleged there were several attempts to get rid of him from several quarters. Revisit our original investigation into the Mater's Office.
He knew too much and it cost him his life. pic.twitter.com/l7i0hUje6K pic.twitter.com/nWE6RvjEGD

— Africa Research Desk 📚📁 (@MightiJamie) March 19, 2023
Miracle Man
It's a story that had many talking… Pastor Siva Moodley, a popular televangelist died in August 2021, but he wasn't buried. His family and congregation believed he would be resurrected. But 579 days after his death, Moodley was finally laid to rest after the owners of the funeral parlour where he was kept approached the courts to intervene. He was buried in a private ceremony – without his wife and children in attendance.
If you're overseas – you can watch #CarteBlanche from Tuesdays, and thousands of other popular local South African shows & movies by subscribing to Showmax International now. You can try it FREE for 14 days. 
Find full episodes of Carte Blanche on DStv Catch Up.
Carte Blanche is on M-Net & M-Net HD [101], 26 March 2023 at 19:00 & again on M-Net Plus 1 [901] at 20:00
***
Please note: Carte Blanche is only available to international Showmax subscribers in Andorra, Australia, Austria, Belgium, Denmark, Finland, France, Germany, Greece, Iceland, Indonesia, Ireland, Italy, Liechtenstein, Luxembourg, Malta, Monaco, Netherlands, New Zealand, Norway, Portugal, San Marino, Spain, Sweden, Switzerland, United Kingdom. Not all titles are available in all territories. Showmax brings you the best South African series and movies, from the classics to the latest releases, from complete box sets to kids' favourites.