Even before Oscar Pistorius' trial began for killing his girlfriend Reeva Steenkamp, South Africans were in a tizz over the world media being allowed to broadcast proceedings.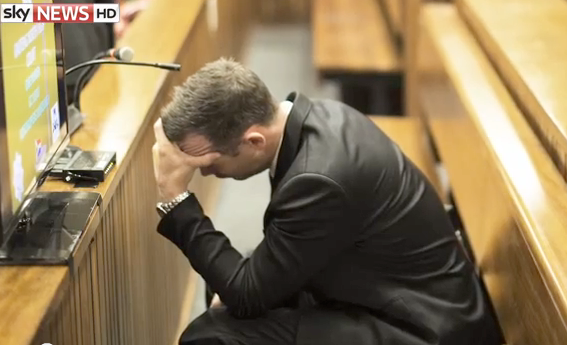 A week later, the armchair judiciary was up in arms over Judge Thokozile Masipa's perceived lenience towards the defence. In their sights was Advocate Barry Roux who raised hackles with his ruthless interrogation style applied without favour to every witness in the stand.
Those in the know say there has been no impropriety on Roux's part – he's simply doing his job to prove that Oscar shot Reeva on Valentine's Day last year in the mistaken belief she was an intruder.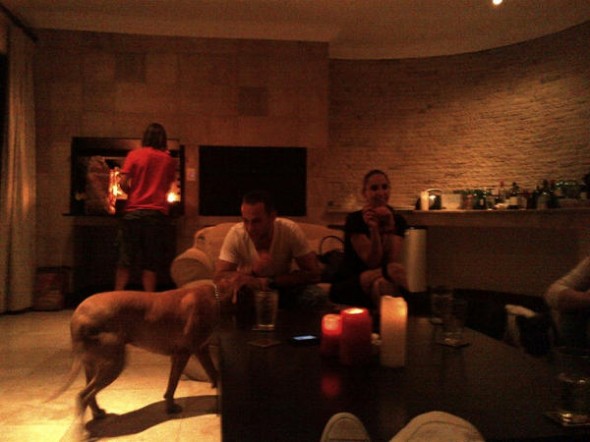 For Oscar, it was a roller coaster week. Mostly his face was a blank canvas but there were times he covered his face, accepted a tissue and even blocked his ears.
Inevitably, the public has strong views about whether Oscar did it with intent or in error, but whichever way one looks at this pitiful tale it's a modern day tragedy of Shakespearean proportions. For lest we forget, this is the story of a boy with no legs who triumphed against all odds on the world stage; a story of a young man dubbed the Blade Runner in his pursuit of recognition and who, in the face of strong opposition, won permission to compete against able-bodied runners in the Olympic Games.
It surprised few who knew him at that time that he became a media darling – a celebrity whose new status brought wealth and willing women. Endorsements followed and Thierry Mugler made him his poster boy.
So why did we ignore signs of trouble along the way to his hard-won success?
Why was the accumulation of incidents sidelined? Remember the booze-filled speedboat accident on the Vaal River? And the gun incident at a well-heeled restaurant? Not to mention the fracas at a party at his house and the charge of assault against him, which was hurriedly settled before the trial began.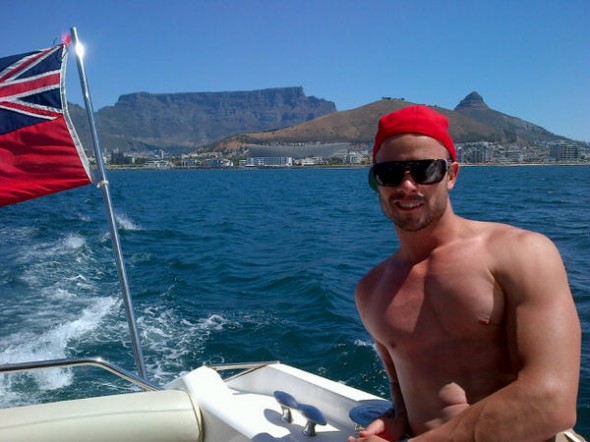 In a sense, we all wanted our science fiction hero to succeed and put them out of mind. We can maybe be forgiven, but why did the law turn a blind eye?
Presumably celebrity also brought friends in high places.
I revisit these details to show that others – perhaps all of us – were complicit in the undoing of Oscar. He must have thought he could… well, get away with murder. I speak metaphorically of course.
But let me not get ahead of myself.
In writing about the Oscar story, I make no mention of some of the bit players.
Instead, my focus is on who and what I perceive important although it's entirely conceivable I've missed a nuance the defence or the prosecution will deem otherwise. For one thing I've learnt this past week is nothing is as it seems.
It's been a fascinating five days of electronic broadcasting, with TV providing insight into court procedures, body language and the dynamics among the key players.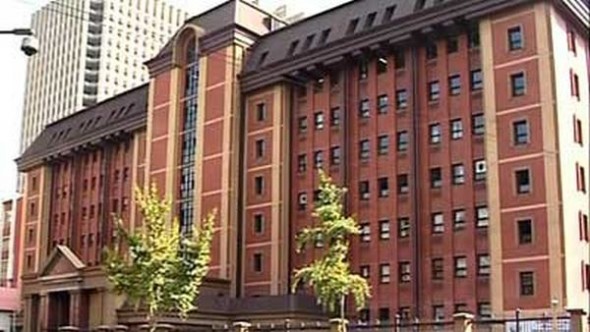 For this writer whose experience of court procedure derives from the likes of cleverly scripted legal dramas like Boston Legal and The Good Wife, the Oscar Trial is a learning curve. In reality, our legal teams have their own codes and games as they joust for the upper hand and I've quickly learnt that nothing can be taken at face value.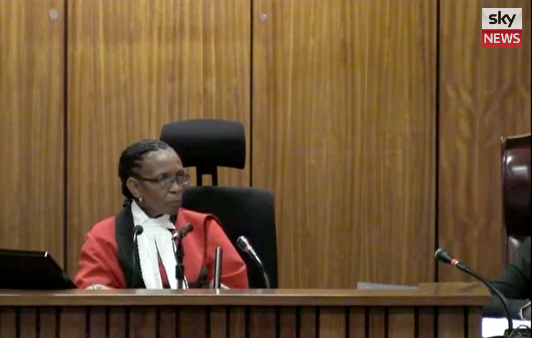 In my first blog I declared Michelle Burger an exemplary witness. During a break in proceedings I happened upon an interview with a legal expert on Channel 199 who explained a fluent witness is not necessarily a credible witness. He said it's human to not have total recall of events of a year ago.
Which is probably why Roux's knickers were in a knot when Burger's husband Charl Johnson took the stand. From the start, Roux intimated that he smelled collusion between the married couple, a point he was determined to drive home.
Relentlessly.
It was a week where Roux pounded all the witnesses with his version of events.
He bulldozed all as he tried to elicit submission and uncertainty, or at least ambiguity. How many shots were there? What was the bang, bang, bang that's become a refrain in this trial? Were they certain it was a woman's voice they heard? He promised to produce experts at a later date who will say Oscar's voice sounds like a woman's when he screams. As for a second grouping of sounds heard following screams from a man and a woman, those were Oscar using his cricket bat to bang down the door.
What's more, Roux disputed that Burger and Johnson could have heard anything at all coming from a closed toilet in a house 177 meters away from their neighbouring estate. He also divulged that the defence had conducted audio tests and the results would disprove their evidence.
Roux was equally pernickety about the couple's choice of words in their testimonies. Always harping back to collusion between them, Roux quibbled about Johnson's use of the word 'about' in relation to the number of gunshots he heard.
For a reason known only to Johnson, he volunteered his interpretation of the discrepancy between the number of shots he and his wife thought they'd heard on the night in question, putting it down to her musicality. Roux pounced upon his prey, his squeaky voice rising another octave.
"Mr Johnson, maybe I must stop you here," he exclaimed gleefully, "because you don't know what you are doing to yourself."
Roux was about to tell him. The only way he could have known of this variation was by sharing information with his wife as it wasn't in the sworn statement.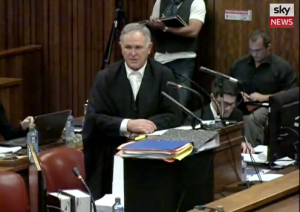 Roux is a complex character highly rated by his peers. To the uninitiated, he appears unnecessarily sarcastic, spiteful, shrewd, with a superiority complex. It's his professional style. He clearly enjoys toying with witnesses, as a cat might with a mouse. He twists words, feigns concern and considerateness. Like when on Day 4 he told another witness Dr. Johan Stipp, a radiologist, that his credibility wasn't at stake over his testimony, "but I want to show you it might be unreliable".
Stipp lives diagonally opposite Oscar's house and was the first witness to take us inside Oscar's house. Minutes after hearing screams and shots, he found Oscar distraught and kneeling over Reeva's lifeless body.
"I shot her. I thought she was a burglar and I shot her," said Oscar.
The doctor said he made futile attempts to revive Reeva while Oscar begged him to save her life, crying and praying over her body. He promised his life to God if Reeva lived.
***
On Day 5, Samantha Taylor took the stand. Oscar's on-and-off ex-girlfriend of two years, she started dating him aged 17. Despite her photograph being freely available on the Internet, Taylor also withheld her image.
Both prosecutor and defence lawyers were ready for her. Nel treated her with kid gloves as he led her through well-rehearsed testimony. Roux saw through her confident veneer and went for the kill (pardon the expression). He asked when her relationship with Oscar had ended and she replied it was when he cheated on her with Reeva. On this and another occasion Taylor wept in recollection, and both times the judge adjourned proceedings for her to compose herself.
Taylor disputed that Oscar's screaming voice could sound like a woman's, which she said she could attest to because she'd frequently been on the receiving end of his temper.
As for his relationship with guns, Taylor said Oscar always had his gun with him and at night it was either on the bedside table or on the floor "next to his legs".
On a few occasions he'd woken her after hearing 'sounds', and gun in hand went to check the house.
She also recounted how she and Oscar, with a friend at the wheel, had been stopped for speeding. Asked to get out the car, Oscar left his gun on the seat and was warned by the policeman it was an offence. He emptied the chamber, which apparently so enraged Oscar that he later fired his gun through the open sunroof.
Roux asked the witness whether his client was angry, irritated or joking, to which Taylor replied: "Maybe you should ask the accused."
***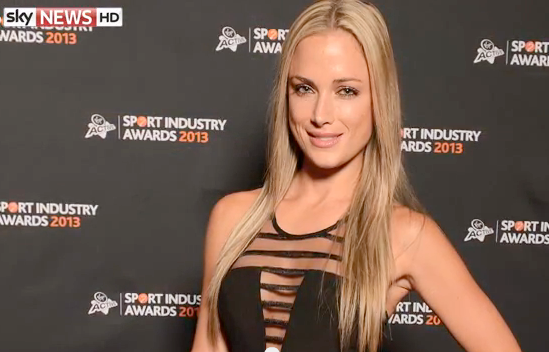 Pieter Jacob Baba, was 9th and final witness of last week. Speaking Afrikaans with a translator besides him, Baba said he was a shift leader and security guard at the estate where Oscar lived.
Baba was on duty that fateful morning when Oscar killed Reeva and said that at 3:21am he received a call from Oscar who was sobbing so much he was unable to talk, and the line went dead.
Disturbed by the call, Baba called him back and Oscar told him: "Security, everything is fine."
***
This coming week is likely to be every bit as dramatic as the first. We'll see more sparring between Nel and Roux, who is intent upon proving that Baba had the two phone calls the wrong way around. "We will get back to that on Monday," he promised. We can also expect testimony from Oscar in his own defence.
***
Postscript
My first blog on these pages was billed as the start of a daily report, which is not the case. I will intermittently write about my perceptions of the Oscar Pistorius trial proceedings. – SB
Tuesday, Day 2
Kevin Lerena, a professional boxer, was the first witness to testify on camera.
His evidence related to an incident at Tasha's restaurant in Melrose Arch, with Oscar's friend Darren Fresco. Fresco passed a gun under the table to Oscar and told him them there was a round in the chamber. A shot was discharged and a hole was left in the floor beside Lerena's foot. Oscar asked Fresco to take the blame for the shot.
Wednesday, Day 3
During a lull in proceedings, a sideshow played out at Pretoria's North Gauteng High Court. Adding her tuppence worth to this drama, Gauteng Premier Nomvula Mokonyane made a flamboyant entrance accompanied by a retinue of green and black clad ANC Women's Leaguers. To journalists, the premier opined: "Solidarity with victims has always been our responsibility." Inside court, she squinted her eyes at Oscar during a break, and seating herself among the Reeva camp, she announced: "Even real South African men are ashamed".