Johannesburg, Sunday. The latest in the Oscar saga will be revealed at midday South African time when an Australian broadcaster screens what is reported to be a "secret video" in which Oscar Pistorius re-enacts events the night he killed Reeva Steenkamp. [Please see Updates below.]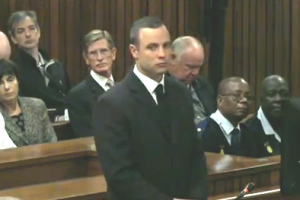 Allegedly filmed by an American company as part of "pre-trial prep", it's said to show Oscar running on his stumps, an issue certain to enrage his defence team whose most recent and final expert witness, University of Cape Town professor Wayne Derman, insisted the athlete was unable to run without his prosthetics.
It is also being reported here that the re-enactment shows Oscar picking up Reeva while on his stumps, which is at odds with Oscar's court version that he had his prosthetic legs on. [Update: We tweeted Mandy Wiener of Eye Witness News about this and she responded with the following tweet: "I was corrected after posting the tweet – apparently he was wearing prosthetics in that part of reenactment."]
At midnight last night Wiener tweeted a link to the exclusive footage but it's already been removed.
Wiener, whose book on the trial is awaiting the wrap, also wryly observed on Twitter: "Difficult ethical dilemma for local journalists covering story – many exclusives appear to have gone to the highest bidder."
Meanwhile, City Press today has released an edited version of psychiatric reports written during Oscar's mental evaluation at Pretoria's Weskoppies Psychiatric Hospital, which point to a broken man who has lost interest in life.
This appears to be in contravention of Judge Thokozile Masipa's ruling on Thursday, which banned the media from reporting its contents. However, according to the newspaper the judge agreed to their redacted version on Friday in terms of an agreement reached between lawyers for City Press and Oscar's legal team.
WATCH VIDEO: OSCAR REENACTMENT TRAILER
UPDATE (5pm, 6 July 2014):
A statement has been released by Ramsay Webber, who form part of Oscar Pistorius' defence team. In the statement Brian Webber says:
"In October 2013, the Defence Team engaged the services of The Evidence Room, A US-based company specialising in forensic animation.
"The company was engaged to visually map the events on the night of the accident. As part of this process, certain video footage was filmed. The 'visual mapping' was for trial preparation only and was not intended to be used for any other purpose."
Webber said: "We wish to make it very clear that the material that has been aired was obtained illegally and in breach of the non-disclosure agreement with The Evidence Room.
"Its usage also constitutes a breach of privilege as this material was produced for trial purposes on the instructions of a commissioner, and the ownership of the copyright vests in the commissioner. No permission for the disclosure thereof has been given."
He also stated that Oscar's family have found this video to be a "staggering breach of trust" and that it invades their privacy.
Watch Video: Statement that Permission not given to Channel 7