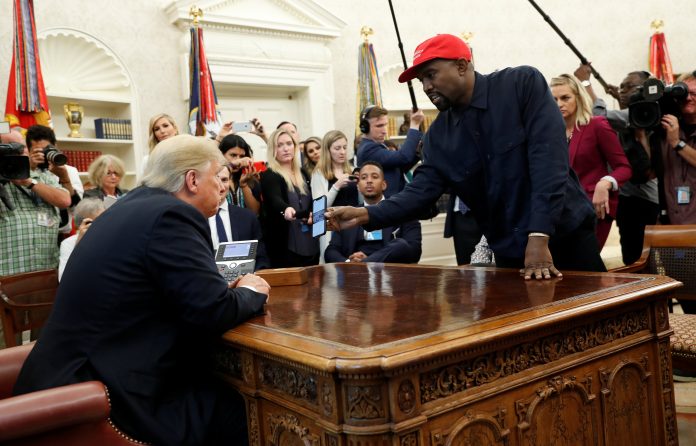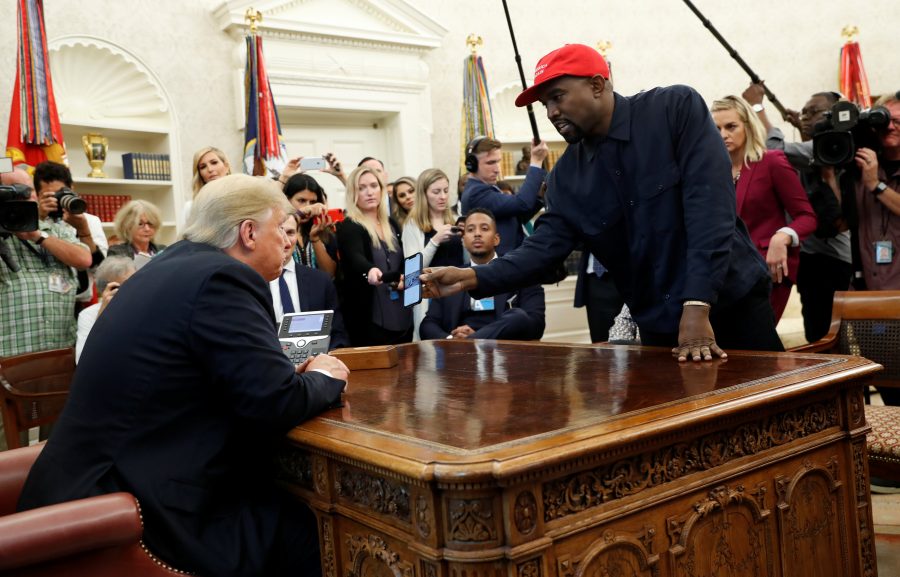 WASHINGTON – Rapper Kanye West, with a stream of consciousness speech in the Oval Office and a burst of profanity, defended his support for President Donald Trump on Thursday, to the great delight of Trump himself.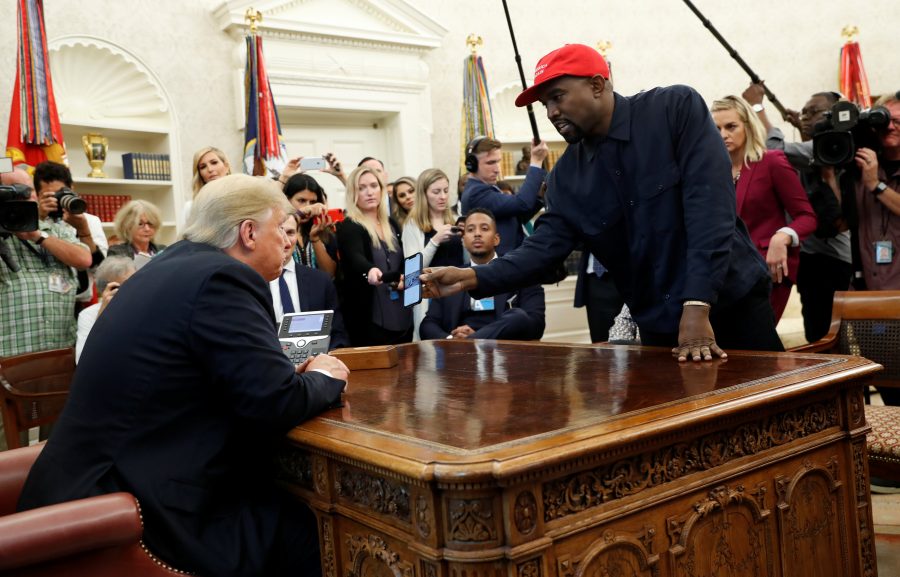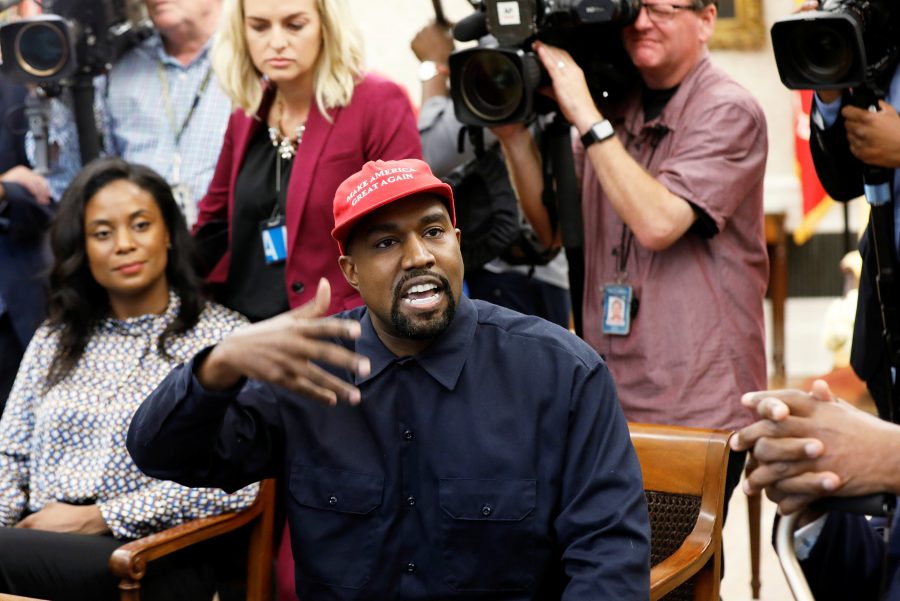 The event was billed as a lunch at the White House to discuss prison reform, jobs for African-Americans and Chicago violence. Those items were addressed in a pre-lunch meeting, but Kanye launched into a speech and Trump let him go on as the cameras recorded it all. (Watch below.)
But in between, Kanye spoke of alternative universes, a new plane that Trump should consider as his next Air Force One, his diagnosis of bipolar disorder that he said was actually sleep deprivation, and living in a household dominated by females given his marriage to reality TV star Kim Kardashian West.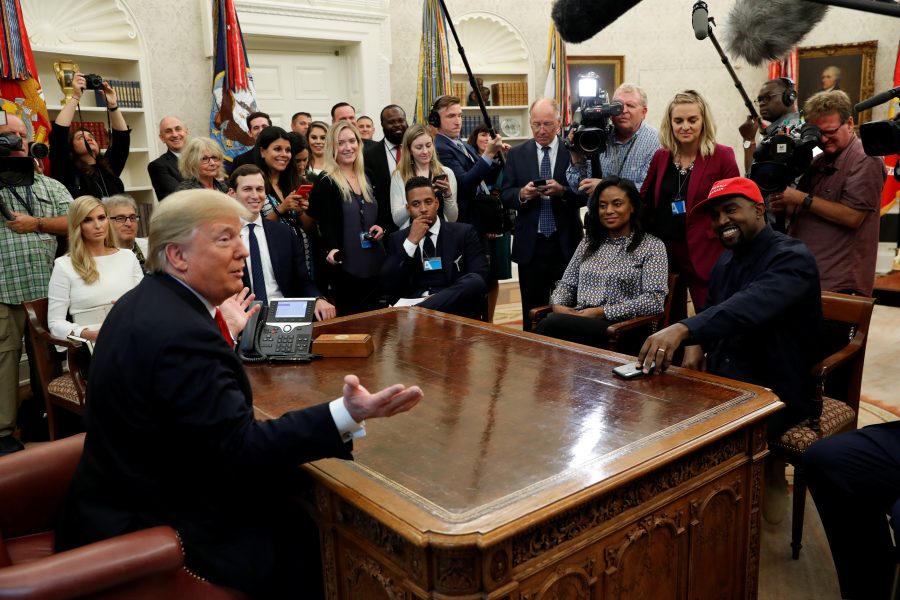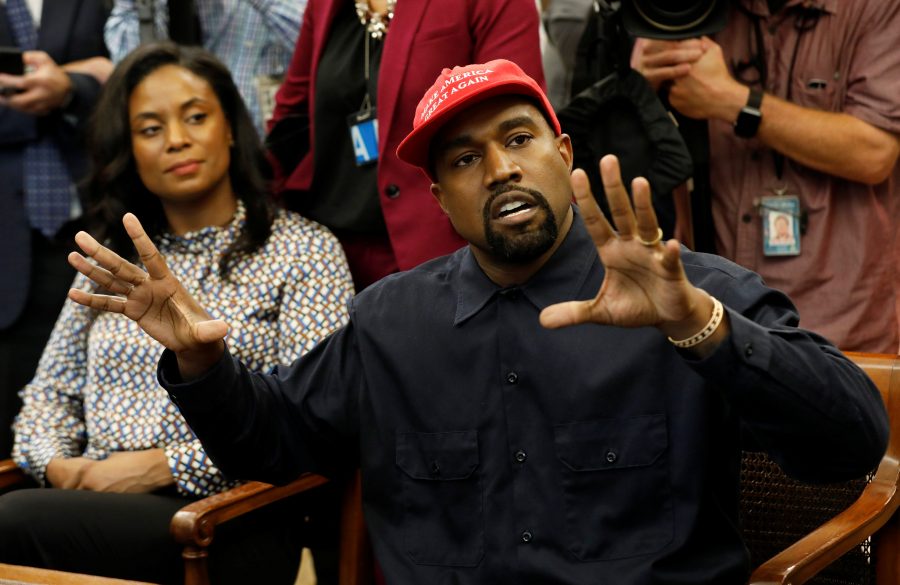 Kanye later said his 10-minute speech was "from the soul, I just channeled it." Trump lapped it all up.
"That was quite something," said Trump, who was joined in the Oval Office by Hall of Fame NFL running back Jim Brown, who smiled and sat quietly through most of event.
Kanye came to the White House clearly with a lot on his mind, chiefly his support for the president.
"I had the balls to put on this hat," the 41-year-old artist said in defending the red "Make America Great Again" hat that he wore for his meeting.
"People expect that if you're black you have to be Democrat," Kanye West says to Trump. "They tried to scare me to not wear this hat. This hat gives me power" #tictocnews pic.twitter.com/yxIvaWUNyA

— TicToc by Bloomberg (@tictoc) October 11, 2018
It was the first of several off-color remarks Kanye would drop in the Oval Office, including this line: "He might not have expected to have a crazy motherf**ker like Kanye West run up and support."
The award-winning musician has taken fire from other celebrities for his support for Trump, particularly after his recent appearance on NBC's "Saturday Night Live" show.
West rejected the criticism.
"People expect that if you're black you have to be Democrat," he said. "What I need Saturday Night Live to improve on, what I need the liberals to improve on: if he don't look good, we don't look good," Kanye said, gesturing at Trump.
Kanye West met with Trump, and the meeting turned into the kind of long-winded, high-profile rant that West has become infamous for. Here are some highlights https://t.co/l4hMBlaZU1 pic.twitter.com/Z4xeC8CkFK

— Los Angeles Times (@latimes) October 11, 2018
Kanye also said he would like Trump to ditch talk about persuading police in Chicago to institute "stop and frisk" policies to crack down on crime and violence.
"I didn't mean to put you on the (spot), bro," Kanye told Trump, who said "I'm open to everything" about the subject.
Before they adjourned for a roasted chicken lunch, Kanye stood up, walked over to Trump and gave him a bear hug.
"I love this guy right here. Let me give this guy a hug," he said.
Trump said: "That's really nice. That's from the heart."
Kanye also gave away his phone password in front of the world's media cameras, while showing Trump a gif…
Kanye's iPhone password is literally "000000" pic.twitter.com/Ya7wIN9eVQ

— Marcus Gilmer (@marcusgilmer) October 11, 2018
Kanye's visit follows by several months a similar trip to the White House Kim Kardashian West, who met with Trump on May 30 and persuaded him to grant clemency to Alice Johnson, who was serving a life sentence for a nonviolent drug charge in Tennessee.
REACTIONS ON TWITTER
Rapper Kanye West's televised meeting with U.S. President Donald Trump in the Oval Office became the top trending topic on Twitter on Thursday, prompting a range of reaction from concern over the singer's mental health, to jokes, memes and political commentary.
Following is a sampling of reaction on Twitter, television news and other media:
"Kanye ranting is just… sad." – TV journalist Soledad O'Brien
"Putting a mentally ill Kanye West in front of the Camera should be considered a form of abuse. @KimKardashian you need to do something about your husband, he's clearly severely mentally ill — and that's putting it lightly." – Twitter user blank@pacelattin
"I felt like I was sitting in on a psychiatrist visit and a commercial for Donald Trump." – Democratic Congresswoman Jackie Speier, speaking on CNN.
"@Kanye couldn't have said it better: Illegal guns are the problem, and we have the right to bear arms. The #NRA's nearly six million members are glad to see a celebrity who gets it, and who is willing to stand with the #2A." – The National Rifle Association.
"Kim Kardashian. Come get your husband." – Twitter user @promotemycause.
"Kanye West just delivered the craziest Oval Office performance of all time." – Rolling Stone magazine
"I don't have a Kanye quip. This is actually sad for the country, and not hilarious." – Democratic Senator Brian Schatz of Hawaii
"Wow! That was bonkers. … That was crazy." – news anchor Ali Velshi, speaking on MSNBC.
"Kanye is off the plantation. The media and the Democrats watch in horror!" – conservative commentator Dinesh D'Souza
"I'm sad for Kanye West. It is very possible that he is suffering from a manic episode, and there is a good chance that he needs some addition help. It's outrageous that Trump exploited him today by allow him to ramble on in the Oval Office." – Ed Krassenstein, co-founder of news website HillReporter.com, on Twitter
"Dumb handwringing over Trump having Kanye in the Oval Office after years of slobbering over the celebs that had meetings with Obama is the exact stuff that makes everyone hate the press and like trump more." – Twitter user @bccover
"So … correct me if I'm wrong, but a Hurricane has devastated parts of America and the President is whooping it up with Kanye in his office?" – Twitter user @th3j35t3r
"Instead of challenging the merits of what Kanye is actually discussing with Trump, some devolve to the lowest common denominator rebuttal. No objections or "surreal" headlines when he met with Obama (or said 'Bush hates black people')." – talk radio host Dana Loesch.
"We're about two days away from Kim Kardashian announcing her divorce." – Twitter user @MildlyAmused
(Reporting byJill Serjeant, Doina Chiacu and Steve Holland; Editing by Franklin Paul andJonathan Oatis)