JOHANNESBURG – South African police have intercepted 167 rhino horns believed to be destined for Southeast Asia, in one of the biggest such hauls ever in the country.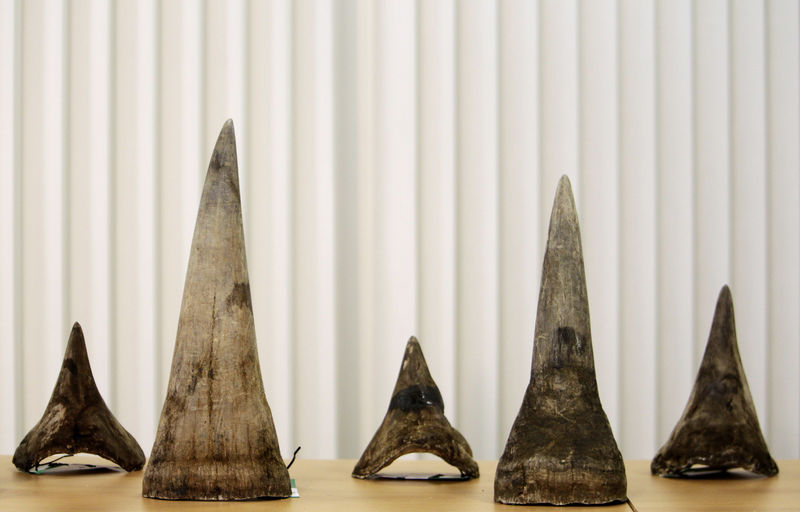 Two suspects, aged 57 and 61, were arrested with the horns on Saturday, police said on Sunday. They had been tipped off about the suspects' vehicle.
"The value has not been determined — it's one of the biggest hauls in the country," Brigadier Hangwani Mulaudzi, a police spokesman, said by text message on Monday. The case was still being investigated, he said.
Nearly 80 percent of the world's rhinos live in South Africa. More than 1,000 rhinos were killed in the country each year from 2013 to 2017, according to stats from the Department of Environmental Affairs.
That figure fell below 1,000 in 2018, but it still means more than two rhinos were killed each day of the year. Two rhino species have fewer than 80 animals left in the wild.
It is unclear if these rhino were actually poached, or dehorned by rhino owners.
Poaching is driven by demand for rhino horn – consisting mostly of keratin, found in human nails and hair – in countries like China and Vietnam, where it is used in traditional medicine and also increasingly seen as a symbol of success and wealth.
The government and international donors have poured money into anti-poaching measures and securing national parks.
The two suspects were due to appear at a magistrates court near Pretoria on Monday.
Saving the Wild said: "These #rhinos were dehorned but for who? A dangerous stockpile destined to fuel the black market…"
Earlier this month, China made its biggest rhino horn haul in five years, in a shipment of over 40kg of horn from South Africa.
Meanwhile the Kruger National Park reported the arrest of at least four suspected poachers, and fatal wounding of at least one suspect, at the end of last week.
SANParks said a suspected poacher was fatally wounded when Crocodile Bridge Rangers came into contact with three suspects during an anti-poaching patrol on Friday. Two more suspects were later arrested and one suffered injuries while trying to flee the scene.
A firearm, ammo, and equipment were recovered during the arrest which was supported by K9 and Helicopter services. "The fourth suspect is at large and possibly managed to escape with the rifle. Further follow up operations will be carried out at first light tomorrow," said SANParks.
The day before, 11 April, Pretoriuskop Rangers, with support from K9 & helicopter reaction, also made contact with a group of 3 suspected rhino poachers and managed to arrest two of the suspects. A heavy calibre firearm, ammo & equipment was also recovered in the contact. A third suspect managed to escape arrest and is being followed up.
In another incident on Thursday, Stolsnek Rangers, with both K9 & heli reaction support, made contact with a group of at least 3 suspected rhino poachers & managed to arrest one of the suspects, and recovered a heavy calibre firearm, ammo & equipment. Follow up operations are still underway.
Three suspected poachers were also arrested by Malelane Rangers on Thursday evening and were found in possession of a set of fresh rhino horns.
SANParks said: "As long as the poachers are still trying, our rangers won't stop fighting for the noble cause."
Sources: Reuters and SANParks Twitter. (Reporting by Emma Rumney/Reuters and Jenni Baxter/SAPeople, editing by Larry King and Jenni Baxter)
Saving the Wild is at White River court today (15 Apr) for appearance of alleged @SANParksKNP #rhino #poaching kingpins Joseph Nyalunga (Big Joe), & Petros Mabuza (Mr Big) + other alleged syndicate members. Updates to follow. @Lowvelder @SAfmnews @StopRhinoPoach @savetherhino pic.twitter.com/CqfVm5i2Zt

— savingthewild.com (@savingthewild_) April 15, 2019