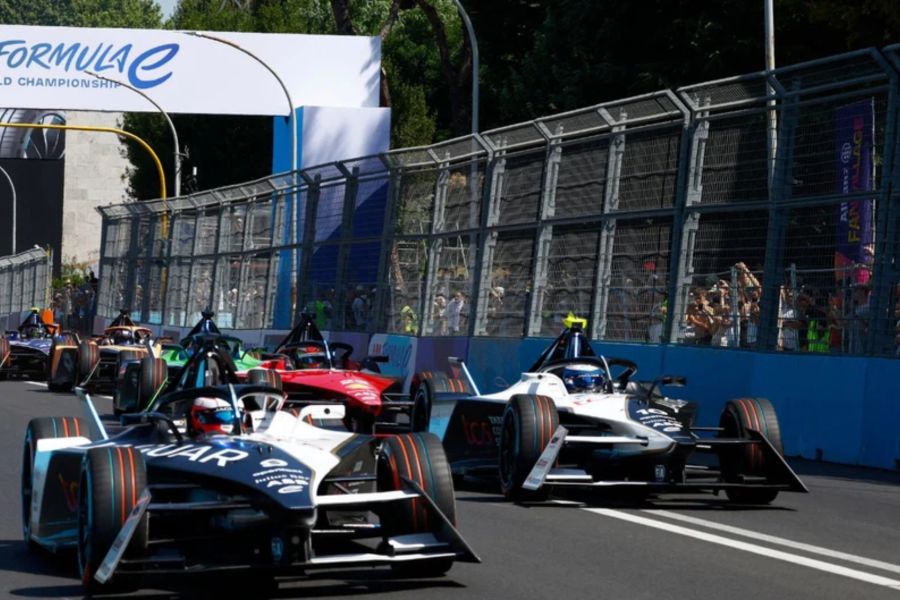 Jaguar TCS Racing will give it their all in Formula E London finale
Pretoria, 25 July 2023: Jaguar TCS Racing returns to their home race this weekend, as the 2023 ABB Formula E World Championship concludes on the streets of London. Picking up off the back of a rollercoaster Rome double-header, the team is determined to push for as many points as possible in rounds 15 and 16. […]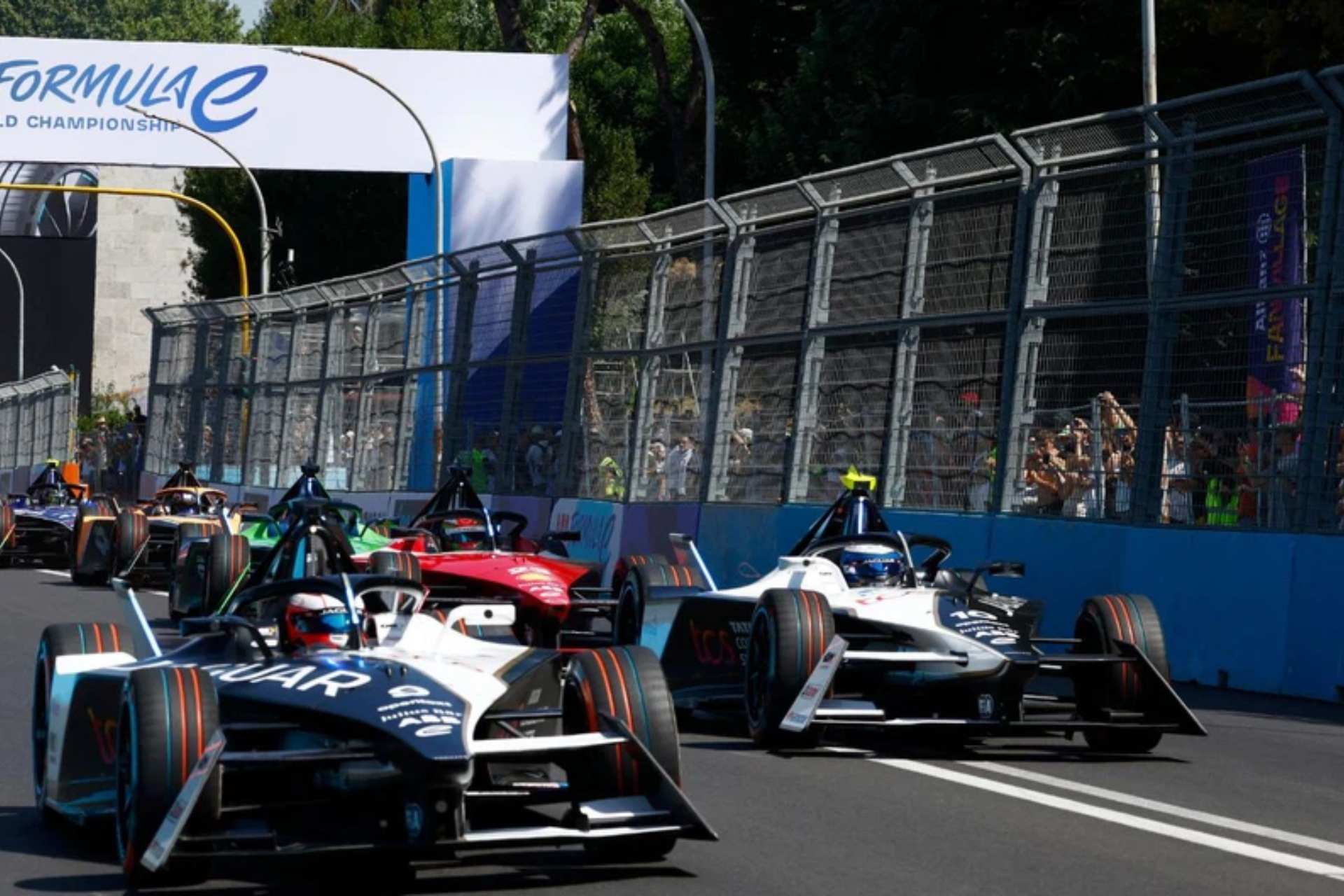 Pretoria, 25 July 2023: Jaguar TCS Racing returns to their home race this weekend, as the 2023 ABB Formula E World Championship concludes on the streets of London. Picking up off the back of a rollercoaster Rome double-header, the team is determined to push for as many points as possible in rounds 15 and 16.
JAGUAR TCS RACING HAS A BUSY BUILD-UP TO RACE WEEKEND
In a full circle moment, the Jaguar I-TYPE 6 will make its race debut in London, eight months after its iconic black, white and gold design was revealed in England's capital city at the team's launch for the 2023 season.
It marks the third time the team has raced at this unique indoor/outdoor track, where they've previously picked up points and a podium. Thanks to the unique and exciting layout of the track, drivers can expect a variety of surfaces from the smooth track inside the ExCeL to the uneven streets around the historical Royal Docks as the circuit takes the Gen3 race cars outdoors.
ALSO READ: Maserati MSG Racing takes double points finish in Rome
During the build-up to the race, Jaguar TCS Racing driver Sam Bird will visit one of ExCeL's local charities, Newham All Star Sports Academy (NASSA), a sport-for-social-change charity based in the University of East London. On Wednesday 26 July, the British driver will join a sports camp hosted by the academy, taking with him the Jaguar I-TYPE 6 race car, to engage with young people about the importance of sport and exercise for sustaining mental health. Founded in 2006, the academy began by offering competitive basketball to local children and youths, as well as a safe haven to play sport away from the lure of alcohol, drugs and crime in one of London's most deprived boroughs. The academy builds ambitious, successful and responsible young adults, and provides an alternative to engaging in anti-social behaviour.
Sam will race on home soil and will be joined by his teammate Mitch Evans. The Jaguar pair will take on arguably the most important two races of the season which will see both the Drivers' and Teams' World Championship decided.
ALSO READ: Tommy Fleetwood returns to defend Nedbank Golf Challenge title
THE 2023 FORMULA E SEASON COMES TO A CLOSE
The season has been one of the most competitive to date for Jaguar TCS Racing, having already hit their record number of podiums and pole positions, with two races left to go. To combine those results with customer team Envision Racing, Jaguar-powered cars have clinched six wins, 16 podiums and four pole positions so far – more than any other manufacturer.
Jaguar TCS Racing sits third in the teams' standings, with Mitch Evans in third and Sam Bird in ninth.
IN THEIR WORDS
"I am extremely proud that we go into the final race weekend of the 2023 ABB FIA Formula E World Championship with Jaguar TCS Racing once again in the top three of the team World Championship standings. For the last three seasons, we have gone into the final race weekend in a position to fight for either the driver or team championship, this shows the impressive consistency and determination this team has. In addition, our customer team Envision Racing are also in the top three of the World Championship teams' standings. Securing six wins and 16 podiums between us, since starting in January, shows how competitive the Jaguar I-TYPE 6 and both teams have been this season. With only the double-header finale left to go, we are incredibly motivated to give it our best one more time for both championships in London." – James Barclay, Jaguar TCS Racing Team Principal
"I left Rome with a mixture of emotions but I'm heading to London ready to end on a high note, giving it my all and aiming for the best possible result. It's been an incredible season of racing – we've had a really fast and efficient Jaguar I-TYPE 6, I've had three wins, five podiums and I'm hopeful to get a few more this weekend." – Mitch Evans, Jaguar TCS Racing driver, #9
ALSO READ: TGRSA's drivers are primed for their GTC showdown this weekend
"Racing on home soil will always be special for me and I'm looking forward to seeing how the Jaguar I-TYPE 6 performs on this track. I'm going into this weekend feeling determined to do my best for the team in our quest for the team championship."

Sam Bird, Jaguar TCS Racing driver, #10
"London is a unique track. It has the shortest length of the season at just over 2km, but it packs 20 corners into that lap which weaves indoors and outdoors. Owing to the buildings, the radio comms with the driver is often patchy meaning traffic management in sessions and qualifying can be tricky. The indoor section has the highest grip of the year with the special grip-paint on the surface there. The outdoor section is made up of tight and twisty cornering and there are kerbs at several of the apexes of medium speed chicanes. As a result, the London circuit is a very technical challenge for the teams. The drivers need to get in a rhythm and blend attacking hard at some of those kerbed chicanes but be smooth in the twisty sections. The revisions in the last sector also give a bit of a reset there, so that will be interesting to see how all the teams adapt to the new turns 15 to 18. We expect an exciting weekend with the backdrop of the two Championships being decided adding extra spice!" – Phil Charles, Jaguar TCS Racing Technical Manager 
ALSO READ: Return of Pollard most central to Springboks' world title defence?
Rounds 15 and 16 of the 2023 ABB FIA Formula E World Championship get underway at 6pm SA time on Saturday 29 and Sunday 30 July, aired live on SuperSport.
Published by Jaguar South Africa on Motorpress
Fore more news about the ABB FIA Formula E World Championship season, follow our motorsport page.