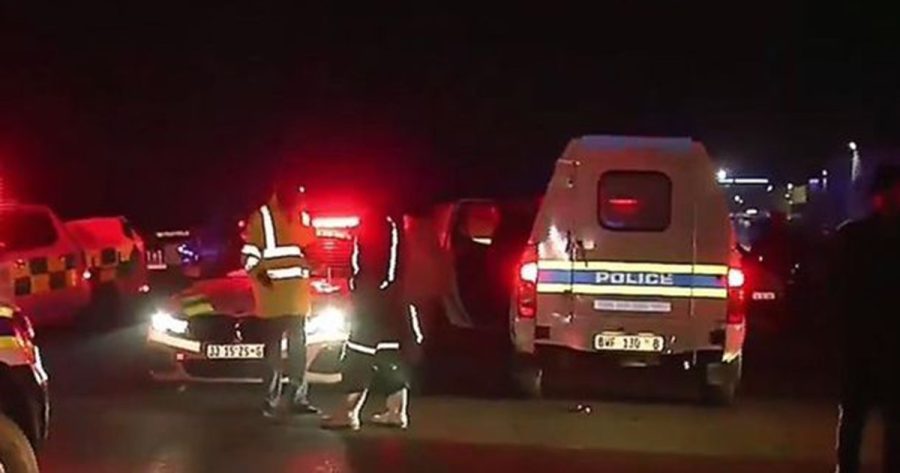 Timeline: Boksburg's tragic run of fate
Three of the 17 victims from Wednesday's gas leak were children. They succumbed to a leak of toxic gas that was apparently used for scavenging gold at an abandoned mine. This comes on the back of a suspected mining-related earthquake in Boksburg while in December, a truck explosion in the Gauteng city claimed 41 lives. […]
Three of the 17 victims from Wednesday's gas leak were children. They succumbed to a leak of toxic gas that was apparently used for scavenging gold at an abandoned mine. This comes on the back of a suspected mining-related earthquake in Boksburg while in December, a truck explosion in the Gauteng city claimed 41 lives.
ALSO READ: Boksburg gas leak: Death toll rises to 17
5 JULY 2023: TOXIC GAS LEAK
Emergency teams received a call at around 20:00 on Wednesday about a blast in Angelo informal settlement, near Boksburg. They discovered a "leakage from a cylinder" containing a poisonous gas, emergency services spokesman William Ntladi said.
The leak is believed to have come from a cylinder of nitrate oxide, a gas used in illegal mining activity in and around the settlement, he said. Authorities gave a toll of around two dozen deaths on Wednesday night before revising it downward to 16.
Panyaza Lesufi, the Premier of Gauteng province, said at the disaster site on Thursday that a 17th person had died after being taken to hospital.
Johannesburg is built around mountainous dumps of soil and cavernous pits left behind by generations of mining companies that first extracted gold in the 1880s. Obsolete mines across South Africa attract "zama zamas" – illegal miners who embark on arduous and dangerous work to extract raw gold dust.
Police Commissioner Lieutenant-General Elias Mawela also paid a visit to the victims and families of the deceased. He said the squatter camp is known for illegal miners and raised concerns that people don't report illegal activities to the authorities when they happen in their community.
ALSO READ: Fracking rears its head again as SA looks for new energy sources
Solly Nonyane, a traditional leader in the area, also confirmed that the gas leakage was a result of illegal mining done by the zama zamas, saying most of them are undocumented foreigners.
Boksburg was last month struck by a 5.0 magnitude earthquake, suspected to have been linked to the maze of underground tunnels and shafts associated with illegal mining in the area.
11 JUNE 2023: BOKSBURG EARTHQUAKE
The Council for Geoscience (CGS) confirmed that an earthquake occurred in Gauteng on Sunday morning at around 02:38. The tremor registered a local Magnitude (M) of approximately 4.4 as recorded by the South African Seismograph Network (SANSN).
The epicentre was located in the Boksburg area a few kilometres outside East Rand Proprietary Mine (ERPM), in the East Rand of Johannesburg.
No fatalities were recorded in the wake of the tremor, and there was minimal damage to infrastructure.
South Africa isn't famous for major seismic activity, yet the country has a surprising history of significant tremors and earthquakes and most of these seem to have occurred around the mining belt.
ALSO READ: Skills shortage in SA worsened by 'complex' work permit system
Professor Andrzej Kijko of the University of Pretoria's Natural Hazard Centre said that 95% of South Africa's tremors were caused by mining.
"Mining in South Africa is leading to enormous stress factors being created," he said
"If there is a natural fault weakness 6km underground, the stresses caused by mining can easily activate it. In South Africa one can easily expect earthquakes of such magnitude to occur every five to seven years."
24 DECEMBER 2022: GAS TANKER EXPLOSION
Forty-one people died as a result of a devastating fuel tanker explosion in Boksburg on 24 December 2022. The truck, which was transporting liquefied petroleum gas (LPG), got stuck under a bridge near the Tambo Memorial Hospital.
ALSO READ: Boksburg explosion: DPP deciding whether to prosecute driver or company
According to the driver's employer, ISS, the bridge appeared to be high enough for the truck to pass, but the incline at the bottom of the bridge raised the back of the truck and jammed it against the underside of the bridge at approximately 06:15am.
After the damage was assessed and cordorned off, the truck ignited half an hour later and what followed was a series of small explosions that attracted a large crowd of onlookers resulting in a higher number of casualties and fatalities.
When the fourth – and largest – explosion hit it was said to have affected buildings up to 400 metres away, and was felt as an earth tremor as far as 4 kilometres away.
The truck driver was arrested but was later released due to insufficient evidence. The investigation is complete, and Gauteng police are waiting for a decision from the Director of Public Prosecution (DPP).