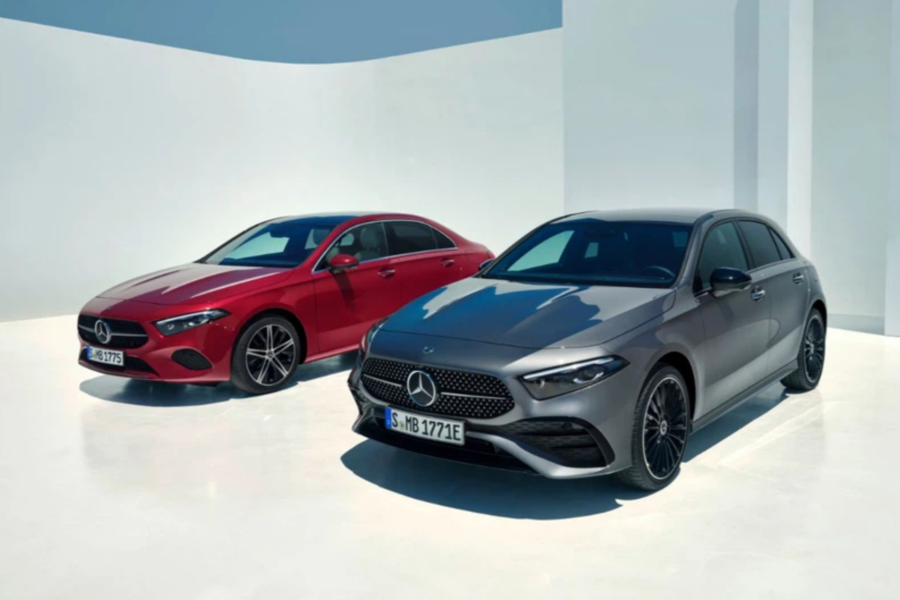 Mercedes-Benz A-Class: Now attainable through Agility Finance
The rejuvenated Mercedes-Benz A‑Class retains its youthful and dynamic character, yet it is also more grown up and comfortable than ever.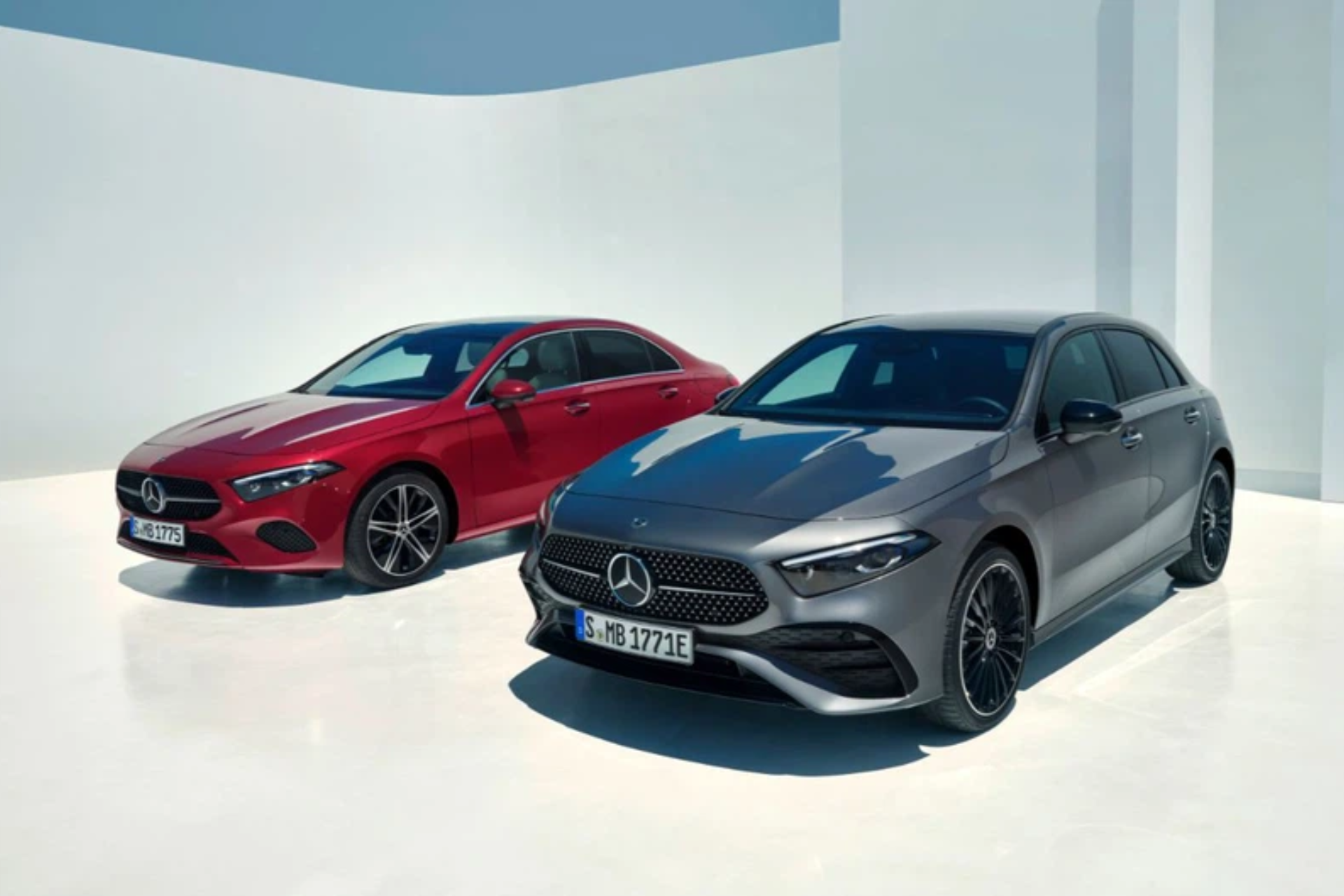 The rejuvenated Mercedes-Benz A‑Class retains its youthful and dynamic character, yet it is also more grown up and comfortable than ever. The A-Class has completely redefined modern luxury in the compact class and revolutionises interior design making a bold statement within the segment.
THE MERCEDES-BENZ A-CLASS
The updated A-Class takes power, dynamism, and an emotive design to the next level. The front view is dominated by the forward-sloping bonnet with its two power bulges and steep 'shark nose'. Further visual attraction comes in the form of the redesigned radiator grille with a unique star pattern. The redesigned headlamps refresh the facia and are available as an LED option. The sporty character is underlined by externally flush wheels with four additional rim designs in sizes up to 19 inches. For the style focused driver and sports enthusiast, optional high-gloss black painted light-alloy wheels in multi-spoke design and with a high-gloss rim flange are on offer with the AMG Line.
Equally as striking as the front, the rear design features a redesigned rear diffuser with new and standard LED rear lights. These elements ensure a fascinating and emotionally appealing appearance both by day and night. The high-class exterior is perfectly complemented by an attractive choice of exterior paintwork that encompasses a variety of preferences.
The interior of the new A-Class is completely redefined with its modern, avantgarde look and offers an elevated experience within the compact luxury segment. The model range covers all individualisation wishes: even in the base variant of the new A-Class, Mercedes-Benz offers a high-quality comfort seat with new, three-dimensionally embossed ARTICO upholstery which further emphasises the sportiness of this vehicle.
ALSO READ: Mercedes-AMG A35 4MATIC and A45 S 4MATIC+ debut at Kyalami
The absolute highlight is the standard freestanding dual-screen display with a 7-inch and the larger 10.25-inch display taking centre stage. Optional are two 10.25-inch displays that seem to float with their widescreen look. The internal architecture, which is unique in this class, gives rise to a very special lighting ambience that is perhaps reminiscent of the illumination of a futuristic building at night.
In the new A-Class, both hardware and software have taken a major leap forward: the latest generation of MBUX is intuitive to operate and capable of learning. The driver and central displays create a holistic, aesthetic experience and can be customised as desired with the help of the newly designed display styles (Classic with all relevant driver information, Sporty with the dynamic rev counter, Discreet with reduced content), three modes (Navigation, Assistance, Service) and seven colour worlds. The central display offers all previous functions such as navigation, media, phone, vehicle, etc. and can be operated directly and conveniently as a touchscreen.
The latest A-Class has also been given an update in terms of advanced safety assistance systems. With the upgrade of the Driver Assistance Package, for example, the control of the Lane Keeping Assist is much more comfortable by using the Active Steering Control. The next generation of the Parking Package supports longitudinal parking and offers, among other things, 360-degree visualisation for camera-assisted parking using 3D images.
ALSO READ: Rejuvinated Mercedes-Benz A-Class redefines compact luxury
The new A-Class delivers an ideal blend of performance and efficiency for an unrivalled driving experience. Locally, the new A-Class will be available with a choice of either a petrol or diesel engine while the AMG models benefit from a high-performance 2.0-litre unit that has garnered high praise from performance enthusiasts.
The A 200 develops 120 kW and 250 Nm from its turbocharged 1332cc motor. This model boasts a combined and impressive fuel consumption figure of 6.4 – 5.8 l/100km in hatchback guise and 6.3 – 5.7 l/100km in saloon guise.
The diesel option, in the form of the A 200 d provides 110 kW and 320 Nm from its 2.0-litre turbo diesel powerplant. Combined fuel consumption of this frugal model is claimed at 5.4 – 4.8 l/100km in accordance with the WLTP. While efficient, both derivatives do not shy away from offering an exhilarating driving experience for when the mood arises.
ALSO READ: Mercedes-Benz GLE300d: Diamond in the rough
The recently updated A 35 AMG 4MATIC and A 45 S 4MATIC+ represent the pinnacle of sportiness within the A-Class model series. Building upon the enhancements from Affalterbach, both the flagship Mercedes-AMG A 45 S 4MATIC+ and the Mercedes-AMG A 35 4MATIC have received significant updates.
Notably, customers can still choose between the versatile Hatchback and the elegant Sedan variants for the A 35, while the A 45 S continues to be available exclusively as a Hatchback model. These choices ensure that discerning drivers can find a model that perfectly suits their preferences and driving needs.
As standard, the new Mercedes-AMG A-Class offers the AMG Performance steering wheel including AMG steering wheel buttons, with which the driver can control AMG-specific features such as the three-stage ESP or AMG Dynamics – without taking their hand off the steering wheel.
The Mercedes-AMG A 35 is equipped with a 48-volt auxiliary power supply and belt-driven starter-generator (RSG) and achieves an output of 225 kW with a maximum torque of 400 Nm. As a mild hybrid, the RSG supports agility with 10 kW more power at start-up.
The Hyper-hatch A 45 S 4MATIC+ develops considerably more power than the A 35 AMG variant. A total output of 310kW and 500 Nm allows for a 0-100km/h sprint time of just 3.9 seconds. With a maximum charge pressure of 2.1 bar, the 2.0-litre four-cylinder turbo engine is also the leader in its segment in this respect.
ALSO READ: Mercedes-Benz C220d review: Range serenity
AGILITY FINANCE EXPLAINED – AGILITY = LUXURY WITH PEACE OF MIND
Agility is one of the best ways to purchase a Mercedes-Benz, as customers have flexibility. This tailor-made finance solution comes with a Guaranteed Future Value and customers have the opportunity to select their mileage and term upfront to suit their needs.
The Guaranteed Future Value is an upfront commitment by Mercedes-Benz to the value of the vehicle which benefits the customers with a lower monthly instalment packaged with a shorter finance term. Agility is available from 12 to 60 months, while our price points are consistently advertised at 48 months.
When selecting Agility over 36 months, customers can participate in our Agility Earned offer and earn a reward of 0.25% interest rate reduction in the 2nd year of your finance contract and again in the 3rd year for timely monthly payments.
Qualifying criteria for Agility Earned:
New Agility 36-month contracts
Monthly debit order payments
Timely payments
At the end of the selected finance term the customer can choose to either, Renew, Retain or Return (the fair wear and tear guide applies).
Drive a new Mercedes-Benz more frequently by selecting Agility finance from Mercedes-Benz Financial Services!
ALSO READ: New E-Class: Mercedes-Benz shows off luxury sedan stuffed with tech
COMMENT FROM ROBERT HOFFMANN, CEO MERCEDES-BENZ FINANCIAL SERVICES SOUTH AFRICA:
Our long-standing Agility customers as well as newbies to Agility provide us with excellent feedback about the flexibility and the options that the product gives. It also makes accessibility to a variety of luxury Mercedes-Benz vehicles more attainable. We have offered Agility to our customers in South Africa for almost 10 years, with that and more experience in other markets around the globe, we know how to meet the financial needs of our customers. Attractive Agility offers which provide luxury with peace of mind.
COMMENTS FROM ALEX BOAVIDA, VICE PRESIDENT SALES AND MARKETING MERCEDES-BENZ SOUTH AFRICA:
With Agility Finance, customers have access to a wider range of Mercedes-Benz vehicles with guaranteed future values. This offer works perfectly for the A Class. It allows customers to get behind the wheel of a new Mercedes-Benz more frequently and at more financially appealing offers. Agility Finance is revolutionizing the way our customers drive.
RECOMMENDED RETAIL PRICING
Hatchback
A 200 R 791,550
Sedan
A 200 R 846,550
A 200 d R 916,200
AMG
Mercedes-AMG A 35 4MATIC Sedan R 1,128,750
Mercedes-AMG A 35 4MATIC Hatch R 1,234,550
Mercedes-AMG A 45 S 4MATIC+ Hatch R 1,381,550
Published by Mercedes-Benz South Africa on Motorpress
ALSO READ: Gauteng School Placement: How to Object and Appeal Offer