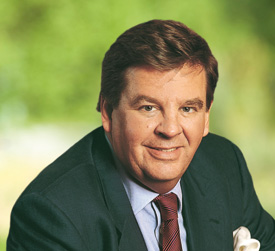 'Old money': Johann Rupert praised over 'simple' watch [photo]
He may be South Africa's richest man, but Johann Rupert is by no means a "flashy" billionaire businessman. This was the consensus from social media users who praised the mogul for "not advertising his wealth." According to Forbes, Rupert has a net worth of $11 billion (over R200 billion). Ironically, the 73-year-old has accumulated much of his […]

He may be South Africa's richest man, but Johann Rupert is by no means a "flashy" billionaire businessman.
This was the consensus from social media users who praised the mogul for "not advertising his wealth."
According to Forbes, Rupert has a net worth of $11 billion (over R200 billion). Ironically, the 73-year-old has accumulated much of his wealth from manufacturing and retailing luxury goods.
ALSO READ: Sim Dope: Who are the Gumede brothers? [photos]
JOHANN RUPERT PRAISED OVER 'SIMPLE' WATCH
In a tweet that had the Timeline talking, Johann Rupert was praised for wearing a watch worth less than R50 000.
The tweep – @SunflowerSrina – posted a picture of the South African entrepreneur with the caption: "My attention was drawn to the watch that Rupert was wearing. Based on my observations, it appears to be a Longines or a Zelos ZX-4 Swiss Auto Chrono Bronze Leather Rubber. Which typically retails for around R35k".
The tweep was corrected by others who claimed that the billionaire actually wore a R100k Panerai Luminor watch – which was still "dressing down" for his status.
ALSO READ: SA's multi-billionaire: Inside Johann Rupert's net worth
@humanwellness: "Very different to the cadre brigade! Rupert started his business in his parent's garage and gives enormous amounts to charities."

@nudgeitforward: "People who built wealth over time just view money differently to people that became overnight millionaires.

@LittlePittweile: "Old money is usually not flashy. It's the new money that advertises their wealth.

@Gloriadc69: "He is clever with his money…… he doesn't waste money on THINGS…… he has nothing to prove"

Twitter
Others claimed they had met  Johann Rupert in person, vouching for his "humility"…
@GillesMcG: "I've seen him out & about a few times in the Winelands at lunch. He isn't flashy. Not at all."
@PEJAP4: "Having met Anton Rupert many years ago, the most humble of person I have ever met."
COMPANIES AND NET WORTH
Forbes lists Johann Rupert – a University of Stellenbosch dropout – as second on the Africa Billionaires List with an estimated net worth of around $11 billion (R205 billion).
According to Daily Investor, Rupert is the chairman of three successful companies Remgro, Richemont, and Reinet.
According to the publication, Richemont – which manufactures and retails luxury brands like Cartier, Montblanc, Chloé, and many others, has a market capitalisation of R1.51 trillion.
Reinet is has a market capitalization of R73.63 billion, and Remgro worth R72.98 billion.