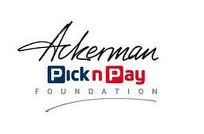 Mission
Make a measurable contribution to sustainable development skills by:
  Enhancing and developing skills
  Supporting projects that encourage entrepreneurship, self-reliance and provide employment opportunities.
  To make a meaningful and measurable contribution within the sectors in which we operate.
  To forge strategic alliances and develop partnerships/relationships – that are open and transparent –with relevant organisations (Government/NDA/SAGA/Other Corporates and Foundations).
  To focus on initiatives that compliment Pick n Pay initiatives.
  To work with and align ourselves with Pick n Pay for mutual benefit.
Founders
The Ackerman Pick n Pay Foundation consists of two funds: The Ackerman Pick 'n Pay Fund focuses on creating a surplus in communities through the funding of income-generating community-based projects; The Enterprise Development Fund focuses on supplier development of goods and services to Pick 'n Pay www.picknpay.co.za
In 1997 Raymond and Wendy Ackerman celebrated the 30th Anniversary of the founding of Pick n Pay.
To commemorate this occasion and to honour and perpetuate the name of Raymond and Wendy Ackerman, as well as to ensure the ongoing philosophy of philanthropy, the Board of Directors of Pick n Pay Stores Limited resolved to set aside a substantial sum of money to create a fund for philanthropic purposes. The Ackerman Pick n Pay Foundation was duly established as a Corporate Foundation.
The Story behind it
Pick n Pay was one of the first companies in South Africa to make a strong commitment to Corporate Social Responsibility. This is one of the pillars on which the company philosophy is founded.
Being a "Good Corporate Citizen" defines our conduct as an organisation. The King Report 2002 defines Corporate Social Responsibility as "Business decision making linked to ethical values, compliance with legal requirements and respect for people, communities and the environment proved by a comprehensive set of policies practices and programmes that are integrated throughout business operations and decision-making processes that are supported and rewarded by top management".
Corporate Social Investment relates to financial and non-financial investment in socially responsible initiatives. "Investment" implies that through using company assets a return would be expected. These returns may not necessarily be financial, but need to relate back to the Mission and Objectives of the "Foundation' to reflect the success factors.