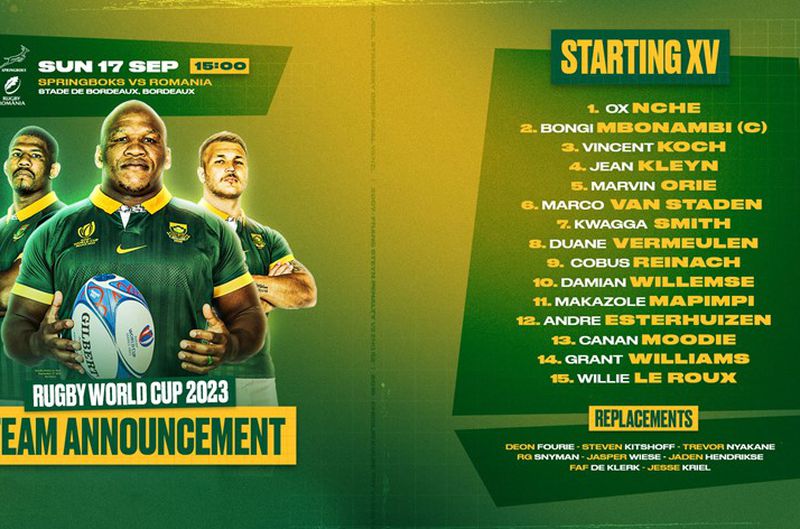 Springboks coach explains selection of four scrumhalves
Springboks coach Jacques Nienaber has explained why the coaches have opted to select all four scrumhalves in the latest matchday 23.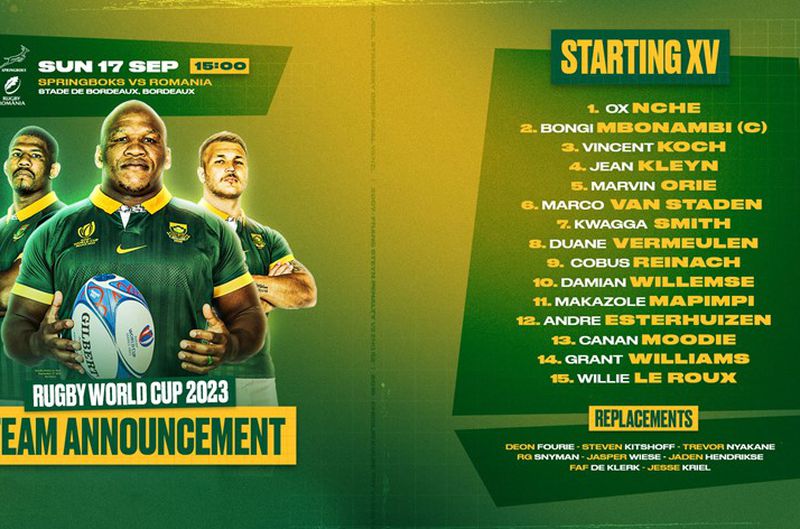 On Wednesday, Jacques Nienaber named all four scrumhalves in the Springboks squad in the match-23 to face Romania as he spread the playing load for the team's second Pool B Rugby World Cup clash on Sunday, when Bongi Mbonambi will lead the team in Bordeaux.
BREAKING: Springboks reveal new-look team with bold selections
Cobus Reinach will start at scrumhalf, with Jaden Hendrikse providing cover off the replacements' bench, while Grant Williams shows his versatility by starting on the right wing. Faf de Klerk will provide flyhalf cover from the bench in a split of five forwards and three backs.
"People were surprised when we picked four scrumhalves in the squad but we knew they offered us the skills and versatility to provide backline options to manage the challenges that tournament rugby gives you," said Nienaber.
"They are all excellent scrumhalves, but Grant and Cobus can play wing and Faf has experience at No 10 – as do Cheslin and Willie. We have the same versatility among our forwards.
"Grant played school rugby on the wing, and he has come on at wing before for us, so we are excited to give him this opportunity to start there and for him to gain international experience in the position.
"Faf is also one of our back up flyhalves in the squad, and the same applies to him, as it will be valuable for him and the team to get some game time in the position.
"We have been rotating and testing players in different positions since last season to put us in the fortunate position to have a group of 33 players in France that are closely matched in terms of their quality of play and skills, and who have been pushing one another for places in the last few months. It has allowed us to select a top-quality team for this match."
The encounter kicks off at 15h00 on Sunday and will be broadcast live on SuperSport.
ALSO READ | Springboks' Jesse Kriel escapes without citing: Here's why!
SPRINGBOK TEAM TO FACE ROMANIA IN BORDEAUX:
15 – Willie le Roux (Vodacom Bulls) – 88 caps, 65 pts (13t)
14 – Grant Williams (Hollywoodbets Sharks) – 6 caps, 0 points
13 – Canan Moodie (Vodacom Bulls) – 8 caps, 20 pts (4t)
12 – Andre Esterhuizen (Harlequins) – 14 caps, 0 pts
11 – Makazole Mapimpi (Hollywoodbets Sharks) – 39 caps, 115 pts (23t)
10 – Damian Willemse (DHL Stormers) – 34 caps, 41 pts (3t, 4c, 4pg, 2dg)
9 – Cobus Reinach (Montpellier) – 27 caps, 45 pts (9t)
8 – Duane Vermeulen (SA Rugby) – 71 caps, 15 pts (3t)
7 – Kwagga Smith (Shizuoka Blue Revs) – 34 caps, 30 pts (6t)
6 – Marco van Staden (Vodacom Bulls) – 15 caps, 0 points
5 – Marvin Orie (DHL Stormers) – 14 caps, 0 pts
4 – Jean Kleyn (Munster) – 4 caps, 0 pts (Ireland 5 caps)
3 – Vincent Koch (Hollywoodbets Sharks) – 46 caps, 0 pts
2 – Bongi Mbonambi (captain, Hollywoodbets Sharks) – 63 caps, 65 points (13t)
1 – Ox Nche (Hollywoodbets Sharks) – 22 caps, 0 points
Replacements:
16 – Deon Fourie (DHL Stormers) – 7 caps, 0 pts
17 – Steven Kitshoff (Ulster) – 77 caps, 10 points (2t)
18 – Trevor Nyakane (Racing 92) – 63 caps, 5 points (1t)
19 – RG Snyman (Munster) – 29 caps, 5 points (1t)
20 – Jasper Wiese (Leicester Tigers) – 24 caps, 5 points (1t)
21 – Jaden Hendrikse (Hollywoodbets Sharks) – 13 caps, 12 pts (2t, 1c)
22 – Faf de Klerk (Canon Eagles) – 50 caps, 46 points (5t, 3c, 5pg)
23 – Jesse Kriel (Canon Eagles) – 63 caps, 70 points (14t)
UPDATE: Etzebeth in doubt for blockbuster Ireland battle
STATS AND FACTS:
Springbok record against Romania:
Played 1, Won 1. Points for: 21, Points against: 8. Tries scored: 2, Tries conceded: 1. Win %: 100%.
Milestones:
Makazole Mapimpi will start at wing for the 39th time in his Bok career, which will place him joint-fifth on the list of most Test starts at wing for the Springboks with Pieter Rossouw.
This will be Vincent Koch's first start for the Springboks since the RWC pool game against Canada on 8 October 2019. Since then, he has played off the bench in 28 Tests.
Only one Springbok has scored a try against Romania – Adriaan Richter. The No 8 scored both the Boks' tries in their RWC pool game against the Oaks in 1995, a match in which he captained South Africa.
Revealed: Why Springboks are using 'traffic lights' system
Miscellaneous:
The total Test caps for the Springbok starting line-up is 484.
There are 216 caps in the backline, with 268 caps among the forwards. On the bench there are a further 326 caps.
The average caps per player in the backline is 30, the forwards 33, while the players on the bench average 40.
VIDEO: Faf de Klerk leaves fan in tears during special moment