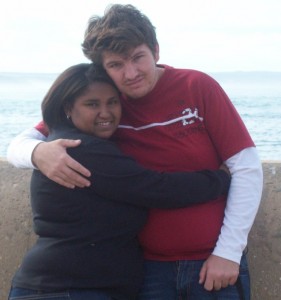 Love Story of Andre and Vanessa
Submitted by Bluechip
It all started a few years back. I can still remember it was a Sunday afternoon when I was not able to sleep so I picked up my TV-plus to read. While paging through it I came to the "pen pal" section. At that time of my life I was sick of being lonely, so I thought why not try this. After reading all the profiles I decided to write to Andre Pieterse from Krugersdorp.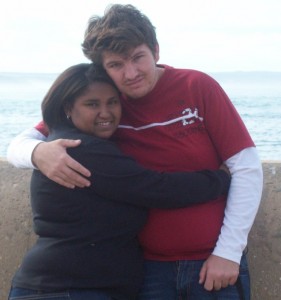 I am from a small town called Riversdale here in the Western Cape. One of the main reasons why I decided to write to him was because his name sounded like he could be colored and we had a lot of things in common. In my letter I stated that I do not care what he looks like so it was not necessary for him to include a photo of himself in his returning letter.
That Sunday night I prayed about my letter and I asked God to bless it. A week passed and still I haven't heard from him. After the second week I thought he's probably not going to answer my letter. Early in the beginning of the third week I was very excited to receive a letter from him. Months passed and we keep on writing to each other. After exchanging phone numbers I discovered that Andre was actually white.
I was shocked at first because I was under the impression that he was a colored just like me. Nevertheless we kept on writing and phoning each other despite the fact that we did not know what the other looks like. When phoning me one day Andre asked me if it was possible for us to exchange pictures. So I said yes, but I will only send him a picture after I see what he looks like. So he send me a lot of pictures of himself, but never on one picture did he smile. I thought it was strange, but I thought maybe he just don't like smiling. I phoned him the night that I received his picture to tell him what I think about his looks.
After he had received my picture he told me that he likes me a lot and he thinks that we should meet. At first I said no because I do not like to meet strangers. He respected my wish. After that I did not reply to his letters and his phone calls because I was afraid he would ask me again to meet, but he kept on writing to me.
The following year I decided to go to the KKNK in Oudtshoorn. I can remember I was sitting alone in Milky Lane enjoying an ice-cream all by myself when a tall blond guy approaches me. In my mind his face looks familiar but I just could not remember where I saw him. He asked me whether my name was Vanessa and if I am from Riversdale so I said yes. So he said he is Andre my pen pal from Krugersdorp. I became hot in my face and I did not know what to say. I just smiled and he smiled back at me. I did not like what I saw because he did not have very good teeth, but that did not bother me at all.
He sat down at my table and we talked until night fall so he asked me to have a braai with him that night. So around the fire that night we enjoyed each others company. That whole week we spent together. It was the best week in my whole life. When I got home all I could think about was him and the great time we had.
That same year I invited him to my cousin's wedding because I wanted my parents to meet him. It was finally time of the wedding. The day before the wedding my parents and I went to pick him up in Mossel Bay. My parents received him well. I introduced him to all of my family members the following day at the wedding. The fact that he was the only white person at the wedding did not bother him at all. Everybody had a great laugh when he took the dance floor. I can remember the song "doobee-doobee" by freshly ground was playing when he danced in his "sokkie-sokkie " style. It was really funny because white people dance different than we do.
The Sunday he left for Krugersdorp again. After the wedding he came visiting more often. After a while he ask me to meet his parents so I did. It was at first weird for me because I learned how they dance and the way they prepare food. It was different to our culture.His family received me well. I also learned a few new Afrikaans words. It was very nice. When we walked in the streets people looked at us funny because of a white man dating a colored woman.
Nevertheless another two years passed. It was now 2007. He surprised me with a visit on my birthday. The Saturday 16th of March he congratulated me early in the morning and gave me a bush of red roses and chocolates. Later that day he gave me a little gift, it was my favorite perfume Elizabeth Arden's red door. I can remember we was at the beach with my family. So round about three that day he gave me another gift; it was a charmed watch with a chain and earrings.
At sunset we took a walk along the beach. As we was sitting on a rock and watching the sunset he got up and draws a large heart in the sand and writes something in there. I could not see what he wrote. So he took me by the hand and led me to the heart and as I read aloud "Vanessa will you marry me" he went down on his knee and took out a ring from his pocket. I was so overwhelmed I started crying and softly said "yes Andre I will marry you".
He put the ring on my finger and kissed me as the sun was setting in the background. When we got back my whole family stand ready with champagne to celebrate. My parents knew that he was going to propose to me. It was the best birthday ever. The Sunday he went home again because he needed to worked the Monday again. At that time he worked at their local post office as an ordinary postman. I went back to university again in Cape Town. I study BSc (Chemistry).
Back at varsity I told all my friends that I was engaged. Some of them was glad, but others was skeptic. They believed that long distance and interracial relationships never works out. Andre and I decided that we will get married on the 27th of September 2008. This is traditional in my family to get married on the 27th of September.
We decided on a very small intimate wedding with just close family and friends because our budget will not allow us to have a big celebrity wedding like I always dreamed of since we both came from poor families also. But…the wedding of Andre and Vanessa did not took place in 2008 and that is why I am sending this wish in for them, my greatest wish is to see Andre and Vanessa getting married.