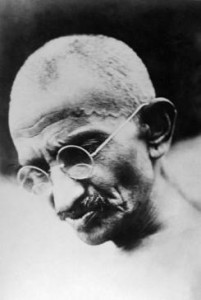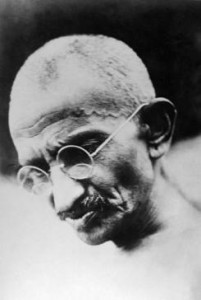 Two hundred relatives, friends and fans of Mahatma Gandhi gathered in Durban to scatter some of his last remaining ashes into the Indian Ocean on 30 January. The sacred ritual was arranged by his granddaughter Ela Gandhi and marked the anniversary of the famous pacifist's death 62 years ago.
Traditionally, ashes are immersed in rivers or the sea within days of being cremated, but some of Gandhi's ashes had been secretly kept as a memento by a Durban family friend who wasn't aware of the custom. After Gandhi's assassination – by a Hindu radical – in 1948, his ashes were placed in a few different urns so that they could be taken to various parts of the world for international followers to hold memorial services.
One such urn was given to one of Durban's pioneer Indian traders – Chagan 'Chotoo' Thakur Bhoola (now 85) – who was 21 at the time and had visited India for his wedding and to attend Gandhi's funeral. Days after the funeral, the Indian Prime Minister presented him with the urn which he transported to various states in Africa for memorial ceremonies.
The final ceremony was held in Durban where the family friend – Vilas Mehta – assisted with prayer arrangements (and retained some ashes as a keepsake). When Mehta recently passed away, her daughter-in-law gave them to Gandhi's granddaughter because she believed they should be returned to the family.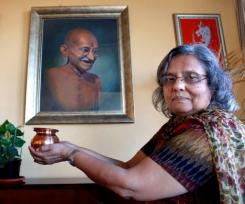 Ela Gandhi said she chose the Indian Ocean for the ceremony because it links the two countries on which her grandfather had such an influence. Ela (69), and herself an activist, said "Today we commemorate his death anniversary and the important message of that is the intolerance that goes on in this world. All these intolerances end up in violence, end up in wars and so on. If we can just do something to control those intolerances and promote love in the world for each other."
KwaZulu Natal Acting Premier Willis Mchunu added that "the teachings of Gandhi through the sadia graca philosophy was that of us human beings universally having to love one another, having to live in peace with one another, having to uphold the truth, to uphold correct ideals."
Quick Facts:
Mahatma Gandhi was known as India's 'Father of the Nation'.
He was born Mohandas Karamchand Gandhi, but was called Mahatma which means Great Soul.
His philosophy of peaceful resistance is credited with having brought a peaceful end to British rule of India in 1947 (a year before he died)
Whilst studying in London, his principle of non-violence was inspired by 'Civil Disobedience' by Henry David Thoreau
He first went to South Africa in 1893 and lived in SA on and off for 21 years.
Gandhi's fight for human rights in South Africa began soon after his arrival, when he was thrown off a "whites-only" compartment even though he held a first-class ticket.
He was South Africa's first non-white lawyer to be admitted to the bar.
He founded the Natal Indian Congress to fight for Indian rights in 1894.
Two famous Gandhi quotes: "My life is my message" and "The best way to find yourself is to lose yourself in the service of others."
Gandhi's Talisman:
"I will give you a talisman. Whenever you are in doubt, or when the self becomes too much with you, apply the following test. Recall the face of the poorest and the weakest man (or woman) whom you may have seen, and ask yourself, if the step you contemplate is going to be of any use to him (or her). Will he (or she) gain anything by it? Will it restore him (or her) to a control over his (or her) own life and destiny? In other words, will it lead to swaraj (freedom) for the hungry and spiritually straving millions? Then you will find your doubts and your self melt away."
From one of the last notes written by Gandhi, in 1948
Take Part in the Salt March
The annual Salt March celebrates the lives of Mahatma Gandhi and chief Albert Luthuli who both supported a culture of nonviolence and ubuntu. It's a non-competitive walk ranging from 5km to 22 km and begins at Phoenix Settlement (formerly Gandhi Settlement) in Inanda and ends at Battery Beach. This year's walk is on April 18. Please visit the Gandhi Development Trust's website to register. Schools, clubs and individuals welcome.