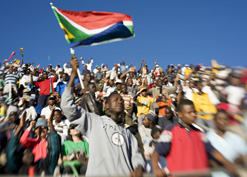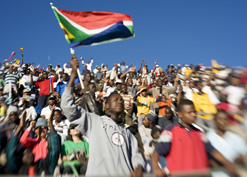 As the 2010 FIFA World Cup draws near, the South African public is feeling overwhelmingly positive about this momentous occasion, an event they've been anticipating for the past few years (what will SA focus on afterwards?).
Ninety per cent of respondents in a survey, conducted by an international research company, expressed a pronounced sense of pride in being the first African nation to host football's top event.
The research was conducted by Sport+Markt (on behalf of Fifa), and took place immediately after the final draw in December.
The survey found that 84% believe SA is ready to host the Cup and 86% are keenly anticipating it.
A large majority feel very hopeful of the long-term benefits the World Cup will bring to South Africa:
79% believe it will unit the people of South Africa
88% believe it will boost South Africa's image abroad
91% believe it will create more jobs
95% believe it will boost tourism
The most significant concern amongst South Africans is inflation, with 70% being worried that consumer goods will become more expensive because of the competition.