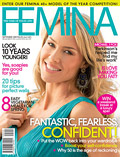 Eish! First it was Citi Golf. Now it's Femina. Another South African 'icon' is coming to an end. The magazine that's been a part of South African women's lives for decades will go on sale for the last time on March 17th with its April issue.
So what has brought about the early demise of the magazine? A few issues apparently. Strong competition. The influx of localised versions of international magazines. A struggle to find its niche (older women) and convince that niche to be loyal (although the circulation has recently been stable at 37,289). An economic downturn that has seen advertisers dwindle; and which has similarly caused top brands in America to fold too.
According to Media24, which acquired Femina in 2006 from Raphaely Kuhnel Publishing, Media24 made substantial investments in the magazine over the past three years to improve the glossy's financial prospects but the brand has not gained enough traction. John Relihan, CEO of Media24 Magazines, said, "We take a long term view on magazines. The five year projections for Femina, however, do not indicate the required improvement."
Liezl de Swardt, Publisher of Media24 – woman360 adds, "The glossy woman's magazine market is highly competitive. In order to be successful, a brand must compete effectively for its share of the market. For niche products to succeed, they have to be truly unique and sustainable. Unfortunately, Femina, despite its niche positioning, continued to compete against general interest glossies."
So that's it. The end of an era.