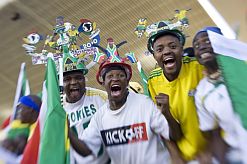 by Nosimilo Ramela

With just days to go before the 2010 Fifa World Cup kicks off, South Africans in remote villages, high-rise cities and sprawling townships are getting ready to celebrate and support the tournament with the best local food, fun and cheer.
Jonathan Foster from Northcliff in Johannesburg is eagerly anticipating the arrival of his new, 42-inch hide-definition television. "I ordered it two weeks ago and they will be delivering it today," he said. "I can't wait. It's the last item and the most important one to complete our preparation for this great event."
Foster and his family have also invested in a wall-to-wall 10-seater couch, new braai stand, vuvuzelas and football jerseys to get into the spirit of the game. "We bought a big brown couch because we will be hosting many of our friends for braais during the World Cup," he said. "My friends and family love football, but we could not afford to get tickets to all the games, so we are creating the same vibe in our own house."
Hundreds of kilometres away, in the small village of Impendle in KwaZulu-Natal, entrepreneur Thokozani Dlamini is determined to bring all the action to as many families as he can – especially those who only have radio as a means of following big sports matches.
"I've been speaking to local schools and ward councillors to get permission to put up televisions in school and community halls, where people can go to watch the games," he said.
Dlamini said he has ordered five television sets and is now trying to secure convenient venues where people can congregate for games. "There are no official fan parks here and not all people have electricity or televisions, so they might end up missing this great event. I want people to get the chance to see this great tournament that's taking place in Africa for the first time."
Spirit sweeps the nation
But even in this village, where sports coverage is slight, World Cup spirit is everywhere. Many of the modest mud huts now have flags flying from the roofs, and bare-footed children dribble and kick balls in the streets, imitating their favourite African players. Local supermarket shelves are stacked high with brightly coloured vuvuzelas and supporter T-shirts.
"In South African culture we enjoy watching great historical events together," said Ntombisonke Sithole, a teacher from Impendle. "I remember when Nelson Mandela came out of prison – we all congregated in one house around a small black-and-white TV, just to see this great event unfold.
"During big [football] league games people gather together to share hot pap and meat, and watch the match at someone's house with beers in hand. It would be great if we could get venues during the World Cup, so people can go and watch the games together. This World Cup is as great a historical event as Mandela's release."
In the neighbouring Free State province, in the World Cup host city of Bloemfontein, fans are preparing their own brand of festivities. Here people are well-known for being passionate supporters of the local football team, Bloemfontein Celtic, and they treat the sport as something of a religion.
They even have certain rituals before big games. Supporters meet in the nearby Mangaung township early on match days, and then go to a local beer hall to enjoy a meal of pap and meat, washed down with their favourite local brew. Later they start singing supporter songs to build spirit, which soon catches on in other parts of the community.
It's then time for the team mascots to get into their outfits and lead the crowds to the stadium with song and dance. They wear green and white overalls, the colours of Celtic, and paint their faces in the colours of the South African flag.
Botha Msila, one of the team's main mascots who professes to be Celtic's number-one fan, said locals here are excited about the World Cup and thrilled at the prospect of meeting and entertaining foreigners.
Often dressed in a white lab coat and a shower cap, Msila is a prominent feature at local football matches in the Free State.
"Our role is not to just cheer our teams on, but to also entertain and make our visitors feel welcome," he said. Apparently, supporters in the area have even learnt a few greetings and songs from other countries participating in the tournament, so they can help the visitors celebrate.
"We hope they will join us in Mangaung when we warm up before heading to games, and sing with us on the streets when we head to the stadium. We want them to feel safe here. The only spirit they should feel is the spirit of Africa, and the spirit of the World Cup."