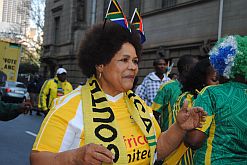 by Bongani Nkosi

Vuvuzelas blared from the residential block of flats in Sunnyside, Pretoria's lively, cosmopolitan suburb. South Africans hung out of their windows and burst from the corridors to celebrate and blow their favourite plastic trumpets. It was a short-lived moment, but one I had been expecting.
South Africa's national football squad Bafana Bafana was playing Denmark in a friendly match that day, 5 June, and I had decided to go loll at a park in nearby Troy Street – I was against the idea of being glued to a television screen.
I knew the noise made by the throng of football fans in the area would be a pretty good indication of the score: I anticipated a spirited round of vuvuzela toots for every Bafana goal, and a collective sigh of "aaaaahs" if our opponent scored.
I was kept in suspense for some time, but eventually I heard the eruption of noise. I knew very well our boys had scored a critical goal – the only one of the match. It came in the 76th minute from striker Katlego "Killer" Mphela.
The celebrations went on for about three minutes at that stage, but the lasting sense of excitement came as the referee blew the final whistle. We had won.
The vuvuzelas were out again, and the hubbub resonated throughout central Pretoria. Masses of young football fans, clad in their Bafana gear, celebrated the victory with their trumpets, song and dance. And cars whizzing past showed their support too, with mini South African flags attached to their roof tops.
It's scenes like these that show the pride in the 23-man national squad, which will play the opening match of the 2010 Fifa World Cup in a few days' time.
"We're very elated and excited about what see throughout the country every day. Scores of people are wearing the Bafana jersey," the team's media officer Matlhomola Morake said.
"[South Africans] are giving us courage," Morake added. "We'd like to thank them and hope that this support will continue throughout the World Cup."
Support for Bafana is streaming in through various channels countrywide, as fans' good-luck wishes are publicised on television, radio, newspapers, online social network sites and mobile phones. "That's ayoba," my colleague, Lesego Madumo, would say.
'We're behind you'
A day before the Demark clash, friends Mzukisi Zuzile and Masanda Nomeva joined hundreds of other South Africans outside Luthuli House, the African National Congress' (ANC) headquarters, in Johannesburg to show their confidence in Bafana Bafana. And they weren't shy about where their allegiances lay: "We'll support them up until the end of the World Cup. South Africans will stand by them," Nomeva said.
"Bafana Bafana must play their hearts out, knowing very well that the nation is behind them," Zuzile added.
The team has gone without a loss in its last 12 matches, making the craze well-deserved. Notable wins include the 5 June Denmark friendly and a 5-0 record defeat of Thailand a few days' before.
The group stage matches involving Bafana were sold out even before World Cup ticket collection centres were opened, another indication of strong belief in the national side.
This also means that vuvuzelas will be out in full force. "We need the vuvuzela – it is our 12th man, and it will help us a lot," Bafana coach Carlos Alberto Parreira said during his announcement of the final player selection on 1 June.
The national team has been drawn into Group A to face Mexico, France and Uruguay. It's been tipped to pick up at least six points, but must win the first clash against Mexico to achieve this, experts say.
Promise of victory
President of the South African Football Association Kirsten Nematandani has promised the nation that Bafana will make it proud. He is confident that the team is well-prepared and ready to tackle the stiff competition.
"The boys are ready … they will make us proud," he said during the celebrations at Luthuli House.
"Come the 11 June, Mexico won't know what hit them."
South African politicians are showing they're not immune to the Bafana frenzy either, with the ruling ANC and official opposition, the Democratic Alliance, both sending out messages of support.
"Bafana, you carry the hopes and aspirations of all South Africans …" said ANC chairperson Baleka Mbethe, on behalf of her party. "We have complete confidence and trust in you."
Good dose of Madiba Magic
President Jacob Zuma and Fifa head Sepp Blatter are among the legions of World Cup fans who are hoping that Nelson Mandela will make it to the tournament's opening ceremony at Soccer City on 11 June.
It's still not entirely clear whether the frail, 91-year-old statesman will be there, but Zuma has said it will be a bonus if he is.
"We have hope that Mandela will be there," said Mbethe.
Mandela's presence will undoubtedly give Bafana Bafana a good dose of "Madiba Magic" ­– a term coined during the 1995 Rugby World Cup in South Africa, when the then-president donned a replica of the captain's jersey to spread national pride and show his support for the host team.
He did the same during the African Cup of Nations a year later, and many say this helped inspire the South Africans to win both tournaments. In recent years South Africans have increasingly used Madiba, Mandela's clan name, as a fond term of reference.
The Bafana World Cup squad was introduced to their former president on 3 June at a gathering at the Nelson Mandela Foundation in Houghton, Johannesburg. On this day too, Mandela chose to wear the captain's jersey.