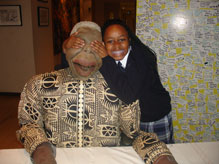 We are hugely saddened to hear the tragic news of Nelson Mandela's great-grandchild being killed in a car accident last night, as she returned home from the FIFA World Cup Concert. We pass on our condolences to Mr Mandela, Winnie Mandela and the entire family.
It has been reported that nobody else in the vehicle was injured. The driver has been arrested. He was apparently drunk and hit a barricade.
Here is a statement from The Nelson Mandela Foundation:
A grand-daughter of Zindzi Mandela has passed away in a car accident in the early hours of this morning.
Zenani Mandela, 13, was travelling in a car returning from the World Cup Kick-Off Concert at Orlando Stadium when the accident occurred. There was only one car involved and no one else was injured.
Zenani, who celebrated her 13th birthday on 9 June, was the eldest child of Zoleka Seakamela and one of Mr Nelson Mandela's nine great grand-children.
The family has asked for privacy as they mourn this tragedy.