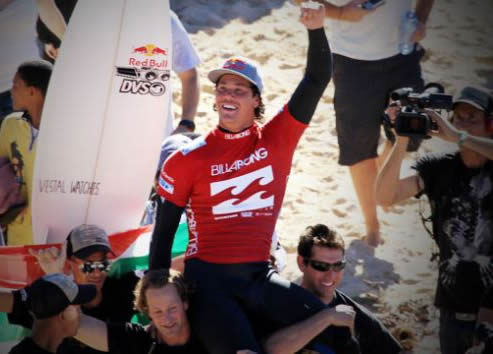 Durban surfer Jordy Smith has become the first South African to win a World ASP Tour Event, after winning the Billabong Pro Jeffreys Bay this weekend, and is now leading the World Surfing Tour. He shot to the number one spot in the world ASP Rankings over the weekend, knocking veteran Kelly Slater off. The 22-year-old said "this is the best day of my life" and thanked the massively enthusiastic home-crowd and their vuvuzelas for cheering him on!
"The crowd on the beach has been supporting me the last few days, and hearing the cheers and the vuvuzelas just gets me fired up to perform," said Jordy. "It feels like they're pushing me along. I couldn't have done it without them."
The event finished off with an incredibly exciting competition between Jordy, the most experienced surfer at J-Bay, and Adam Melling (25), a tour rookie from Australia – accompanied by an intense roar of vuvuzelas from the spectators.
Jordy praised his fellow competitor saying "Adam is such a dangerous surfer. He's been in form all day and I knew that if he got the waves, he would get the scores. I went out there knowing I had to open up strong."
Yesterday was also a big day when Jordy overook nine-time ASP World Champion Kelly Slater (38) from the USA, to become the new ASP World No. 1!!!! And today, with his brilliant win, he secured his spot at the top.
"It definitely is a different feeling," he said. "To be chasing the lead and defending the lead are two different things. It's a long year ahead and you can't count anyone out until it's over. I'm going to enjoy this feeling for now."
Highlights from the Billabong Pro Jeffreys Bay will be available via www.billabongpro.com/jbay10. Pic below features Jordy Smith in Jeffreys Bay. Credit: http://www.aspworldtour.com