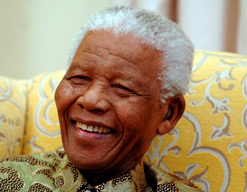 by Mary Alexander
Leaders across the world extended birthday wishes to former South African president Nelson Mandela on 18 July.
US President Barack Obama:
US President Barack Obama hailed the "extraordinary vision, leadership, and spirit" of the South African statesman and global icon of freedom.
"On behalf of the United States, I wish Nelson Mandela a very happy 92nd birthday," Obama said in a statement. "We strive to build upon his example of tolerance, compassion and reconciliation."
"I also join the American people, the South African people, the United Nations and the world in celebrating the first annual Nelson Mandela International Day. I encourage us all to heed the call to engage in some form of service to others in honour of the 67 years of sacrifice and service Madiba gave to us," Obama said.
UN Secretary-General Ban Ki-moon
In November 2009 the United Nations declared that 18 July, Mandela's birthday, would henceforth be globally celebrated as Nelson Mandela Day. Yesterday, UN secretary-general Ban Ki-moon lauded Mandela, describing him as "a towering figure" who "embodies the highest values of humanity, and of the United Nations".
"Nelson Mandela's accomplishments came at great personal cost to himself and his family. Today, on the first Nelson Mandela International Day, we thank him for everything he has done for freedom, for justice and for democracy," Ban said.
Mandela's Wife Graca Machel
The day was also the 12th anniversary of Mandela's marriage to Graca Machel, who he married when he was 80 and she 52. Speaking to the BBC, Machel said Mandela  "is very well … he is healthy and taking into account the kind of life he had, it is really heartening … he is getting old, he is getting frail but he is absolutely healthy, full of life, spirits high".
Mandela spent his birthday in his home in Houghton, Johannesburg, surrounded by family. "We will gather at home, we will sit around, give him a lot of love," Machel said.
Hollywood Actor Morgan Freeman
In honour of Mandela, Hollywood actor Morgan Freeman undertook a road trip with 29 other bikers from Johannesburg to Cape Town, along the way contributing to community projects such as building a fence at an Aids care centre in a poor township.
"I take it as my connection to Madiba," Freeman said. "We should do it every day." Freeman played Mandela in the 2009 film Invictus.
South African President Jacob Zuma
South African President Jacob Zuma spent the day at Mandela's birthplace, the village of Mvezo in the Eastern Cape province. In his speech to mark the occasion, Zuma repeatedly referred to Mandela as "tata", isiXhosa for "father".
"This is a special birthday celebration because 2010 also marks 20 years since Tata was released from prison, which accelerated our march towards freedom and democracy," Zuma said.
"He became the leader of this nation and president of the republic at the right moment for South Africa in 1994, as we emerged from the horrors of apartheid.
"Tata helped us to internalise that we are one nation, united in our diversity. He taught us to overcome hatred and embrace reconciliation."
SA Golfer Louis Oosthuizen
The day was auspicious for 27-year-old South African golfer Louis Oosthuizen, who got to win the British Open competition on Mandela's birthday.
"I would like to take this opportunity to say happy birthday to Mr Nelson Mandela back in South Africa," Oosthuizen said after being presented with his trophy.
"What he's done for our country is unbelievable, and happy birthday to him."
SA Deputy President Kgalema Motlanthe
In Vienna, on the sidelines of the 18th International Aids Conference, South African Deputy President Kgalema Motlanthe led delegates in singing "happy birthday, Madiba" accompanied by vuvuzela trumpets.
Nigerian President Goodluck Jonathan
Nigerian President Goodluck Jonathan described Mandela as "an exemplary statesman and selfless leader, whose invaluable contributions to human endeavour continue to earn him international repute and goodwill".
"His legacies continue to inspire people all over the world."
UN Activities
The UN celebrated with activities around the world from Africa to Europe to Central Asia. Communities in Sudan took part in a "Football for Peace" tournament in El-Fasher, with the winning team awarded the Nelson Mandela Cup. In Spain, a 6.7-kilometre charity walk in Madrid was held late on Sunday.