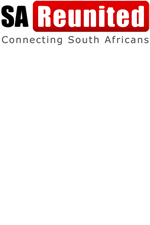 For those SAReunited members who didn't receive the letter sent out in March 2011, you can catch up on the why's and what's of the latest SAReunited developments by reading the following letter from SAReunited founder, Amanda Stergianos.
We will have some exciting new announcements soon. You can also read the responses to this letter.
And please add newsletter@sareunited.com to your address book to ensure messages do reach your inbox in the future.
Dear SAReunited member

This is an important announcement to all our members, please take a moment to read to the end.

SAReunited was founded 9 years ago in 2002 and by 2011 there are nearly 800 000 members. We have decided to stop running the database part of the service on 4th March 2011. If there is someone you are still looking for or if you want to access your photos or profile, make sure you access the site before 10pm GMT on the 4th March 2011.

The thing is, Facebook, wonderful as it is, has left little room for smaller social networks to be profitable. Neither do we want to spend our time blasting members with advertising to fund the site, that was not what we set out to do. So we made a tough decision. Thank you to all the loyal, early followers joining us on our journey, we truly enjoyed being the pioneers of the social networking pre-Facebook days, but its now time to turn to new projects.

Members aside, there are some amazing people who contributed so much to SAReunited: Jenni, Harpreet, Ian, Artem, Igor, Steve and co-founders Themi and Nick. Thanks to husband George and my kids for their patience and support! Biggest thanks of all is to Fazila, the most loyal friend, colleague and partner I could wish for.

In April, I start a new chapter. After 17 years in London, we are taking our kids out of school and preparing for an off-the-beaten track adventure of our globe (best Geography lesson ever) . I'll be blogging about our travel on www.sapeople.com. You will still get occasional newsletters from us about site news, upgrades and changes as we continue re-invent www.sareunited.com. If you have any queries, you can contact us at admin@sareunited.com.

From
Amanda

PS: You can follow me and my family on our sapeople – Amanda's Blog. Wish us luck on a houseboat in Kerala, India, working in an elephant sanctuary in Sri Lanka, a camping safari in Botswana, paddling down the Orange River and a cycling trip through the Kruger!

PPS: SAReunited's 9 dating sites continue to thrive, with thousands of singles meeting up every day. It's a hive of activity with new members joining all the time. It's free to browse new members on our main dating site with over 40 000 South African singles, Mature Singles, Overseas Singles, Single Parents …. more here