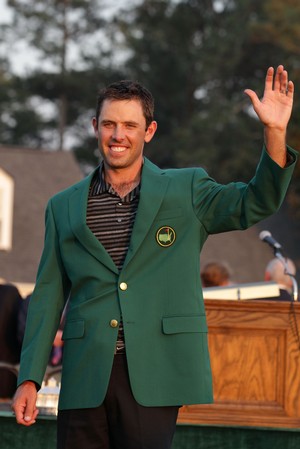 Here's everything you need to know (well, almost) about South African super-golfer Charl Schwartzel:
Charl Schwartzel celebrates his big win

He won the 2011 Masters Tournament in Augusta with a score of 274 (-14) – leaving Tiger Woods in the dust.
Born in Jo'burg on 31 August 1984, Charl grew up on a chicken farm in Vereeniging and used to plough the field on a tractor after school.
His dad, George, used to take him to the local golf course three times a week & gave him golfing tips as his first coach. Charl used to caddy for his dad on Wednesday and Saturday competitions and played with him on Fridays.
George (Charl's dad) partnered Ernie Els to victory in a better-ball tournament in 1987.
Ernie and Gary Palyer were Charl's heroes growing up, and "my father has been my mentor although I have asked for help from some other coaches on tour. Now that I have won the Masters I feel that maybe I can hold my own against anybody."
After Charl's big win, Gary Player tweeted "I am absolutely delighted for Charl and South Africa. Congratulations. That is how you finish like a champion!"
His idol is a farmer called Angus Buchan "who gave his life to God".
Charl turned pro in 2002 and, at 18, became the third youngest player to secure his European Tour card through the qualifying school.
Charl became a "little brother" to Ernie Els while he attended Ernie's school for promising young players. Ernie himself has never won a Masters…
Charl is the third South African to win the event at Augusta National, after 3-time champion Gary Player and Trevor Immelman.
President Zuma said that Charl's win was "a rare landmark victory and a feat that put South Africa back on the international golfing map following Trevor Immelman's success in the same tournament in 2008, and Gary Player 50 years ago. This victory proves that South Africa continues to produce some of the best golfers in the world." Zuma also said he hopes that Charl "will be an inspiration to many young people who will be joining the golf sporting code, and this victory and future victories will unite and inspire our people."
When he's playing against Tiger and the other big name golfers, Charl says "I always try and play to the best of my ability and not allow myself to be concerned with the other guys on course."
Charl's wife Rosalind was a childhood family friend with whom he grew up. They married last year on the 17th of September. She's used to living with a professional golfer. Her dad was one too.
To 'relax' and take his mind away from the pressure of golf, Charl loves flying (he has a private pilot license).
When he's not flying or golfing, he loves eating filet steaks, holidaying in Mossel Bay or spending time in the African bush and being with animals and nature. (Conveniently, his favourite golf course is Leopard Creek CC in Mpumalanga which borders the Kruger National Park!)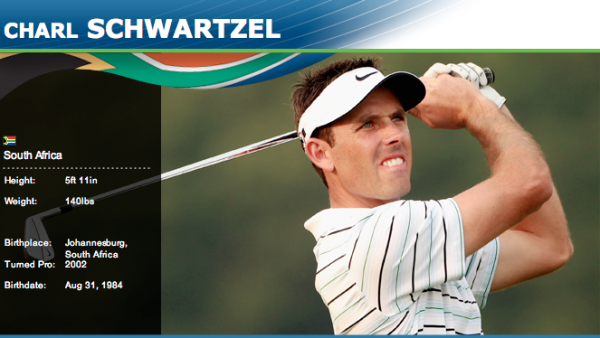 PGA TOUR Victories
(1) 2011  Masters Tournament.
International Victories
(6): 2005 Dunhill Championship [Eur]. 2006 Vodacom Tour Championship [SAf]. 2007 Open de Espana [Eur]. 2010 Africa Open [Eur], Joburg Open [Eur]. 2011 Joburg Open [Eur].
Current Year PGA TOUR Money and Position
$1,766,104 (9)
Current Year Best PGA TOUR Finishes
1– Masters Tournament.
Current Year PGA TOUR Best Round
66 at Round 4, Masters Tournament.
Best PGA TOUR Finishes
1– Masters Tournament.
2010 Best PGA TOUR Finishes
2– World Golf Championships-CA Championship. T3– Shell Houston Open. T9– World Golf Championships-Accenture Match Play Championship.
2010 Season PGA TOUR
Tournaments Entered–11; in money–9; Top 10 finishes–3