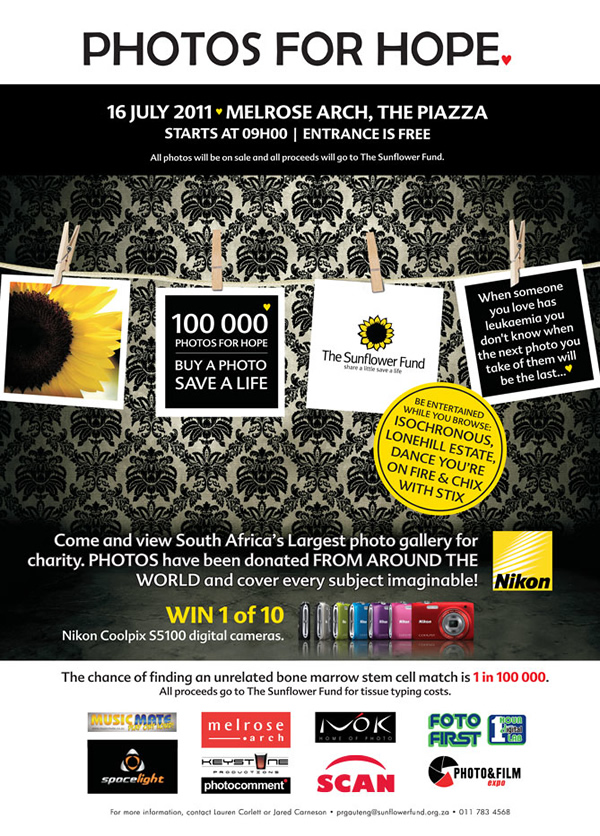 There's an amazing one-day photo exhibition and auction coming up on 16th July in South Africa, that's generating a lot of interest on Facebook…and that each of us, anywhere in the world, can take part in.
The one-day event on  – 100,000 Photos for Hope – invites photographers from across South Africa and the world to donate signed A4 prints that'll be displayed and sold for R100 each. The money raised will go to The Sunflower Fund to help grow the South African Bone Marrow Registry, in order to provide hope to those suffering from life-threatening blood disorders.
Heartfelt messages of support and promises to send prints are flooding in from across the world.
"It costs R1000 to test someone to the requisite level to be placed on the South African Bone Marrow Registry, a registry that, for many, is the only chance of survival.
"When you have someone in your life that has been diagnosed with leukaemia or another life threatening blood disorder, you never know when the next photo you take will be the last."
The following bands will perform at the event at Melrose Arch in Melrose, Johannesburg: Isochronous, Lonehill Estate, Dance You're on Fire.
More Info / Donate Photos:
Contact Jared at prgauteng@sunflowerfund.org.za or phone: 011 783 4568
PHOTOGRAPHERS
If you would like to participate by donating a print please send Photos (from A4 up, of absolutely any subject at all) signed and dated to:
The Sunflower Fund – Gauteng, Postnet Suite 145, Private Bag X9976, Sandton, 2146 Johannesburg, South Africa
or, if you're in Johannesburg, drop it off at:
The Sunflower Fund, Nelson Mandela Square, South Tower, 4th floor, Johannesburg, South Africa
Non Photographers
Non photographers can assist by getting to the event and inviting as many friends to attend as possible.
More info on their Facebook page:
http://www.facebook.com/event.php?eid=195089533865225