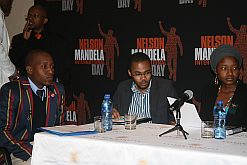 International Nelson Mandela Day 2011 was recently launched in Johannesburg, with a panel of tertiary students at the event expressing their views on what the celebration means to them.
The UN-recognised day was launched at the premises of the Nelson Mandela Foundation in Houghton, Johannesburg, on 23 May.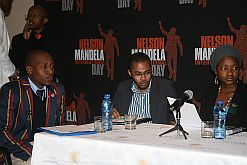 Mandela Day was first introduced on 18 July 2009, the former president's birthday, to encourage people to dedicate 67 minutes of their time to make the world a better place.
The date was internationally recognised by the UN in November of the same year.
The slogan for this year's day is Take Action. Inspire Change. Make Every Day a Mandela Day.
'See you in July'
The launch kicked off with rapper JR's new song dedicated to Mandela Day, 'See you in July'. The number is a remake of the song of the same title made famous by Paul Hardcastle and the Jazzmasters.
Sello Hatang, the foundation's spokesperson, initiated a discussion with the panel of eight tertiary students. He asked them to speak about Mandela, express their thoughts on the day and how it should be celebrated.
The panel included Raymond Ntlozi and Osmond Mloni from Pretoria University; Comfort Ndala from the Tshwane University of Technology and Morris Mchachi from the University of Johannesburg.
Mandela's grandson, Luvuyo Mandela, said: "As a family we have always celebrated the birthday at our hometown of Qunu, in the Eastern Cape, by making food parcels so we can distribute to those less fortunate."
Offering service, not seeking it
Ntlozi said: "Mandela has been a pillar of strength for the youth of South Africa and I celebrate Mandela Day daily through my various community activities."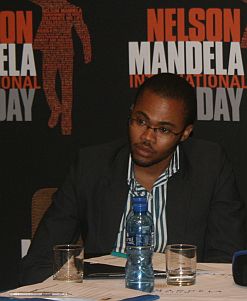 Ntlozi volunteers at a children's home in Zuurbekom, southwest Johannesburg, and helps raise funds for the institution.
Mloni added: "I hope everyone can make every day a Mandela Day by just learning to say please and thank you as a sign of appreciation to their fellow human beings."
He described Mandela as a servant and leader whose life narration shows a character full of courage and conviction. He said there was no better way to celebrate such an iconic character than being of service to others – as opposed to seeking service.
Mandela Mondays
Starting in June, various events will take place as part of the Mandela Day celebrations.
From 6 June, people will be encouraged to mark Mandela Mondays by doing something worthy for the next individual, the community or the environment in which they live. People could take as little as five minutes out of their lives for this activity.
On 20 June, a panel of public figures will announce how they plan to celebrate Mandela Day.
Breadline Africa, a South African-based NGO, has partnered with the Nelson Mandela Foundation and the NYK Helping Hand Scheme to provide a mobile library to a primary school in each of the nine provinces of South Africa as part of this year's Mandela Day celebrations.
Breadline Africa supplies disadvantaged communities with shipping containers, which are then converted into mini feeding stations, clinics or libraries.
NYK is the international shipping company which provides the containers. Through the scheme, it identifies a charity of its choice to support each year.
This year, NYK contributed R500 000 (US$71 000) to the project for Mandela Day. Each library container costs nearly R90 000 ($12 000) to convert and renovate.
Tim Smith, director of Breadline Africa, said: "We buy sturdy, water-tight containers at a low cost and transform them into mobile structures, which we can use to feed, educate or use as a clinic. Our projects try to establish a level of self-sustainability within the community."
Read more: http://www.mediaclubsouthafrica.com/index.php?option=com_content&view=article&id=2364:mandela&catid=42:landnews&Itemid=110#ixzz1NMr9xNnJ