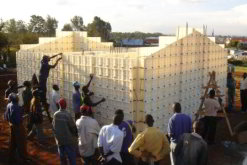 A passion for uplifting communities and providing housing for all, coupled with innovative technology, has resulted in an invitation to South African company Moladi to show its concept at the Smithsonian Cooper-Hewitt National Design Museum's exhibition Design for the Other 90%: CITIES.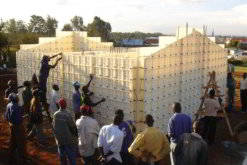 The prestigious exhibition, sponsored by the philanthropic Rockefeller Foundation, takes place at the UN in New York from 15 October 2011 to 9 January 2012. More than 60 innovations from 22 countries will be on show.
Following on from the groundbreaking Design for the Other 90% in 2007, the CITIES edition will explore the challenges that are expected to arise from the unprecedented growth predicted in urban areas and informal settlements. It is said that the population of these settlements will double by 2030.
CITIES will explore ways to address the basic struggle to survive faced every day by 5.8-billion people, or 90% of the world's population of 6.5-billion. Almost half of these disadvantaged people have no access to clean water, food, or shelter. There is a desperate need for practical and sustainable solutions.
With this in mind, designers, engineers, architects, and social entrepreneurs from all over the globe are developing cost-effective ways to increase access to basic amenities such as food, water and housing, as well as energy, education, healthcare, income-generating activities, and affordable transportation – services that 10% of the world takes for granted.
Moladi founder, former artisan Hennie Botes, said he is "extremely excited" about the upcoming Smithsonian exhibition, and hopes the event will be a "window to the world" on a workable solution to the global housing shortage.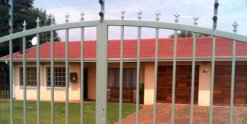 Speedy and sustainable housing solution
The Port Elizabeth based Moladi, founded in 1986, will be showcasing one of these potential solutions – its revolutionary technology designed for the speedy construction of durable low cost housing.
The first Moladi house was built in 1987 and, 24 years later, it's still standing. Although, said Botes, the concept wasn't originally intended for the low-cost market, it has become cheap enough that low-income families are able to afford a good quality home.
According to Botes, the cost of a Moladi home depends on factors such as the finishings used and the number of houses built, but in general will come in at around a third to half that of a comparable house built of bricks.
Moladi uses a patented injection-moulded plastic formwork system to cast sturdy, high-quality walls. With the emphasis on quality and efficiency, the process is cheap and requires minimal skill, and is simple enough to offer real benefit to the end user.
Once the foundation is set, the Moladi formwork panels are erected and clipped together to form the house's basic structure. The steel reinforcing, windows and doors, electrical conduits and other fittings are positioned according to a supervising engineer's instructions.
Then the wall cavity is filled with a lightweight aerated mortar mix approved by the South African Bureau of Standards (SABS). External walls are 150mm wide, while internal walls are 100mm wide.
The mould is removed when the mortar is dry, and can be re-used on the next house.
No plastering is needed. If desired, the building can be painted with a cement-like water-based textured paint. Finally, an engineer-certified roof is constructed, and finishing touches such as plumbing and electrical fittings completed. The structure is now ready for occupation.
It takes between three and five weeks to assemble the moulds and various parts, but once this is done, according to Botes, a two-bedroomed house with an area of 60 square metres can be finished off in a day. However, this revolutionary construction system is not limited to housing – clinics, classrooms and custom construction projects have been successfully completed in various countries. Multi-level buildings are also possible.
Addressing housing challenges
Lack of resources, insufficient funds, skills shortages, work flow control and waste are key challenges to affordable housing. Moladi's technology addresses these issues and this is why its technology is seen as one of the solutions to housing needs throughout the world.
The innovation has received several accolades, including the 2006 National Innovation Housing Competition Award, given jointly by banking group Absa and the National Home Builders Registration Council, and the SABS Design for Development Award 2007.
Part of Moladi's success lies in job creation within the communities it serves, by using and training the locally unemployed and in so doing, uplifting the community as a whole. Local entrepreneurs and building contractors receive Moladi training in the use of the formwork system, and subsequent technical support with ongoing on-site training.
Moladi employs about 20 people at its factory in Port Elizabeth.
Other than its local operations, Moladi is active in more than 20 countries, including Zimbabwe, Botswana, Namibia and Mozambique in southern Africa; Tanzania in East Africa; Ghana in West Africa; and Mexico, Panama and Haiti. Botes is currently looking to build a plant in India.
Despite Moladi's international success and cost effectiveness, the South African government's reconstruction and development programme housing projects, notorious for their late delivery and poor quality due to rampant cost-cutting, have not made much use of the system to help address those problems, said Botes.
Read more: http://www.mediaclubsouthafrica.com/index.php?option=com_content&view=article&id=2366:moladi-250511&catid=42:landnews&Itemid=110#ixzz1NMobqvyS