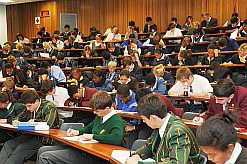 A South African grade 12 pupil has achieved 100% in the University of Cape Town's (UCT) Maths Competition for the fifth year in a row, setting a new record in the contest's 35-year history.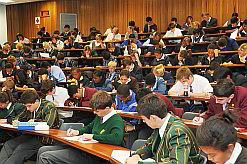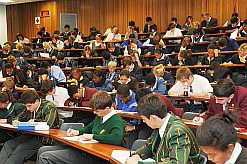 Sean Wentzel from Westerford High School in Cape Town was awarded honours for his feat at the city's Baxter Theatre on 1 June 2011.
Some 6 636 pupils from 134 Western Cape schools entered the competition, which took place on 14 April this year.
The competition, which began in 1977, is UCT's biggest outreach project for schools and is sponsored by Aurecon, an engineering consultancy company.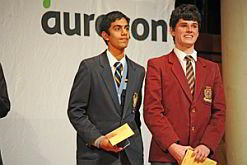 Wentzel said his success was due to hard work, practice and luck, but he also acknowledged his parents for teaching him the basics.
"My father, who is a professor in chemistry and biology, taught me a lot of scientific ways of thinking, and my mother, who is a tutoring accountant, gave me the love for numbers," Wentzel said.
One of the aims of the UCT competition is to prepare school pupils for the Interprovincial Mathematics Olympiad, held in September each year.
Christopher Gilmour, a UCT mathematics associate professor, spoke about the revised senior certificate maths curriculum and the single-grade exam, saying: "There is no doubt that the new matric single-grade maths papers have been seen to be significantly less challenging than the previous higher grade exams, and there has been substantial grade inflation."
"Everybody seems to be getting an A for maths and this is worrying," added Gilmour.
The university's maths department is involved in many initiatives to instil a culture of mathematical excellence in Western Cape schools. This includes distributing a high school maths magazine Mathematical Digest and hosting the UCT mathematics circle on Wednesday afternoons, which is a maths programme that goes beyond the school curriculum.
Maths circles originate from 1930s Russia and involve universities inviting local schools to take part in mathematics enrichment programmes.
Awards for bright minds

Ashraf Moolla from Cape Town's Rondebosch Boys High School came second in the grade 12 category, after being runner-up to Wentzel in grade eight and 10. Moola tied with Wentzel for first place in grade nine and 11.
The two pupils have dominated the competition in every edition they have entered.
Khadija Brey from Wynberg Girls High School came in second in the grade 11 category this year and received the Diane Tucker Trophy for top female participant in her year. She was also awarded this trophy in grade nine.
Gold awards and Casio watches or calculators were presented to the top individuals and the top three pairs in each grade.
Merit awards were presented to the top 200 pupils in each grade and the top 100 pairs.
Schools that entered 10 or more individuals into the competition also received awards in the form of a book donated by Oxford University Press for the highest ranking individual at the school in any grade.
A total of 28 schools won gold awards and 77 other schools won the book prize.
The school with the best overall performance in the competition received the Mona Leeuwenburg Trophy, which is named after the founder of the competition.
All other competition entrants received certificates of participation.
Striving for excellence
Wentzel and Moolla, along with Kira Dusterwald from Springfield Convent Senior School and Robert Spencer of Westerford, will be part of a team of six from the Western Cape representing South Africa at the International Mathematical Olympiad in the Netherlands later this year.
Six UCT mathematics circle members took part in an online international maths contest called The Purple Comet in April in which 49 countries participated. The UCT circle competed in the "mixed high school" category and was ranked 15th out of 110 teams.
Source: MediaClubSouthAfrica   http://www.mediaclubsouthafrica.com/