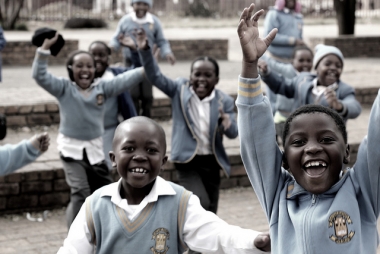 A massive campaign was launched today for Nelson Mandela's birthday  – in what is a first for South Africa, the country will honour South Africa's former president by singing "Happy Birthday Tata Madiba" simultaneously at 08h05 on the morning of his birthday, 18 July 2011. And you can join in, wherever you are in the world! Learn the words to 'Happy Birthday Tata Madiba'.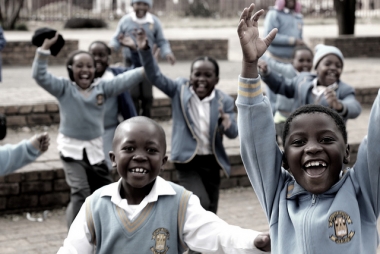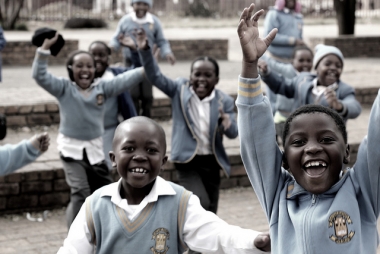 The announcement was made by Angie Motshekga, Minister of Basic Education, on behalf of partners for Mandela Day. The partners include the Nelson Mandela Foundation, Dept. of Basic Education, LEADSA, the SABC and Brand South Africa.
"Today, we are launching a massive campaign to mobilize democratic South Africa to celebrate uniquely the 93rd Birthday of the 1st President of the new South Africa – former President Nelson Mandela," said Ms Motshekga.
Nearly 12 million school children in public schools and South Africans will sing the inspiring and unifying song 'Happy Birthday Tata Madiba'.
"What better way to explain and celebrate the meaning of Madiba!" said Ms Motchekga.
South African schools have been asked to hoist the national flag and sing Happy Birthday to the Madiba.
And the organisers are appealing to ALL South Africans to join them. Even if you're living abroad! Join in the singing…whether South Africa's 08h05 is your midnight or afternoon!
The song is going to be led by a school choir that participated in the Eistefodd National Choral Competition held last month.
The campaign is dubbed "Let's All Sing for Madiba"
Motchekga reiterated the message of President Jacob Zuma that "the most important investment in the future of any nation is in education". She said: "This is what Madiba stood for. Today President Jacob Zuma will record a birthday message to Madiba, which will be played live to all South Africans on Monday Morning before the song is sung by all of us. All SABC radio stations coupled with Primedia stations and Morning Live on SABC 2 will break tradition and play the birthday song simultaneously at 08h05am.
"During this important occasion celebrating uTata's birthday, South Africans are called upon to volunteer their time and resources to do good for others.
"As the great statesman himself once said: "Education is the most powerful weapon which you can use to change the world".
"If we all come together, unite with determination as we did before, during and after the 2010 FIFA World Cup, we will indeed achieve our goal of changing the world through education, as Madiba said," she continued.
Motchekga revealed that in February this year, for the first time in history, more than 6 million learners in Grade 1 to 6 and a sample of Grade 9s sat for the Annual National Assessments (ANA) and that the results were not great.
She said: "We have announced the results, and can all agree that they are a call to double our efforts in improving the quality of education at all levels.
"The results confirm that our children still struggle with basic literacy and numeracy. The question on everyone's lips is: What are we going to do?
"We are currently engaged in an enormous exercise to address the real problems bedeviling our education system. This was the primary purpose of these tests. We know there is a problem. The time is now for all of us as parents, guardians, the private sector, faith-based organizations and the nation as a whole, to do more to safeguard the future of our children."
She made a call for communities to provide practical support to learners, teachers and schools. This may be in the form of and not limited to:
Donating a book to a learner or school which is age appropriate, to build a life-long reading nation;
Volunteering skills to a local school; or
Mentoring learners in the family, or in the neighborhood.