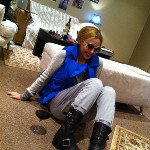 Kylie Minogue has been thrilling South African fans and having a blast herself during her first ever tour of South Africa. Even though Kylie dated South African model Zane (O'Donnell) back in the '90s, she spent most of her visits lying on the beach at Camps Bay and never actually took to the South African stage.
But her fans have been patient, and it appears her show – Aphrodite Live 2011 –  has been well worth the wait.
Fans have gushed on her Facebook and Twitter pages with messages like "thank you for coming to South Africa! Your show was amazing! You are the best performer of all time!"
And the love goes two ways. Kylie's been raving about South Africa on her social pages. One tweet read "Thanks to all of YOU SAlovers!!! Thank you for a mind blowingly awesome show that I will never forget! Xx"
In another, she posted a pic of herself in her hotel room, and said: "Post show Sun City. I loved today…xx"
During her trip she's been whisked away on game drives, and has even had a lion cub named after her at Ukutula Lion Park.
The Australian pop songstress tweeted two photos of herself and the lion cub, with the message:
"Thank u Willi & Gillian at Ukutula.com for the honour of naming this little 2 day old lion cub after me. Kylie cub!!!!"
She also thanked 'Peter' for the safari ride and said "Giraffe, hippos, rhino, monkeys, zebras and more. Beautiful South Africa!!"
The trip, which has been a stunning success, kicked off to a brilliant start with Kylie's arrival in Johannesburg where she was welcomed at the airport by the Soweto Gospel Choir – see video below (plus some great Kylie fans!):
httpvh://www.youtube.com/watch?v=PcEElpbqwmg