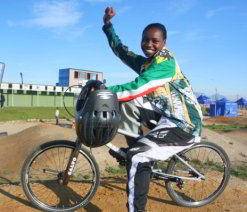 Anita Zenani, 13, from Khayelitsha township in the Western Cape, will represent South Africa at the World BMX Championships in Denmark from 27 to 31 July 2011.
The petite teenager has been cycling for just over two years, but has already made her mark in the sport.
At the 2010 world championships, held in Pietermaritzburg in KwaZulu-Natal, she came sixth in her age group. This was Zenani's first competition outside her club, Velokhaya in Khayelitsha. She was also the top-placed female South African competitor in this event.
While her world number-six ranking has been the highlight of her career so far, Zenani sees it as a challenge to improve her standing.
She is excited about her first overseas trip, which she views as a great learning opportunity.
Zenani and Velokhaya's operations manager Sipho Mona will fly to Copenhagen thanks to sponsorship from the Sun International hospitality group and shipping company Safmarine, as well as community support.
"She impressed us so much we wanted to help her," said Christelle Horne, HR manager for Sun International. "We wish her every success and we know that she will make South Africa proud in Denmark."
In an interview with Velokhaya, Zenani said: "The Danish cycling community has supported Velokhaya in the past, donating funds to our project, so I am looking forward to meeting these people who, I am told, love cycling just like me!"
Zenani added that she practises for two hours every weekday, and that her training for the big event has focused on getting out of tight corners without losing time or falling over.
With better equipment, the youngster is optimistic about her chances: "I feel I have a good chance of improving my ranking because, unlike last year, I will be riding with cleats."
She also hopes that her new Salvo First Fire bicycle frame will take her to victory in Denmark.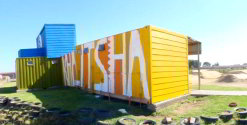 As a girl competing in a male-dominated sport, she doesn't believe she has any disadvantages as long as she has confidence in herself and puts in her best effort. Her hero is multiple South African and All African BMX champion Sifiso Nhlapo, and her ambition is to become a professional BMX rider, or a lawyer.
Zenani took part in the main Cape Argus cycle tour for the first time in 2011 – previously she had competed in the junior tour.
Discipline and hard work
Velokhaya arose out of the Life Cycling Academy (LCA), an organisation founded in 2003 by former postman Amos Ziqubu and gym owner Glyn Broomberg.
Through the LCA, the pair planned to motivate children living in disadvantaged communities and help them acquire respect and status, craved by many young people, through healthy means rather than crime.
As a South African Post Office employee in Khayelitsha, Ziqubu did his rounds every day on a bicycle. It wasn't long before he developed a love for cycling, and was inspired to cycle competitively. He also decided to promote the sport in his community and play a part in transforming cycling in South Africa.
Today, with activities such as the BMX team riding and cycling safety programmes for schools, the LCA has given hundreds of children a new outlook on life, and shown them that discipline and hard work really does pay off.
Although the LCA works in poor communities, often in schools, it also has a top-notch competitive cycling team whose members all come from the communities it serves. Their success is an inspiration to their peers.
At the Velokhaya BMX Oval, opened in the township in 2008, over 60 youngsters have a safe environment in which to practise their moves. The oval's buildings, which include a club house, office and commentary box, were constructed from recycled shipping containers donated by Safmarine as part of its Containers in the Community project.
By giving the children the facilities to keep busy after school, instead of lingering on the streets, the LCA teaches values of teamwork, a healthy lifestyle and respect for themselves and their fellows. The youngsters also learn leadership skills.
Source: www.mediaclubsouthafrica.com