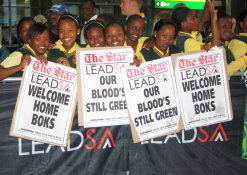 Despite an early exit from the Rugby World Cup, the Springboks flew the South African flag high in New Zealand, says Brand South Africa CEO Miller Matola.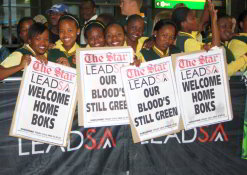 The national rugby team arrived at OR Tambo International Airport on Monday afternoon, and were received by hundreds of supporters who welcomed them with pride and joy. Many were carrying signs that said "Our blood's still green", "Well done" and "Welcome home Boks."
Senior players including Victor Matfield and captain John Smit, coach Peter de Villiers and Sport Minister Fikile Mbalula gave a media briefing upon their arrival in Johannesburg.
De Villiers expressed his gratitude at the warm reception. "Thank you. I have never felt more humbled in my life," he said. "South Africa is the greatest country in the world."
Deputy minister of sport Gert Oosthuizen said the Springboks could still stand tall.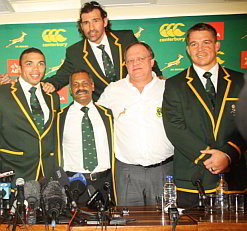 "There's no doubt that this exit has been heartbreaking and extremely painful, after we won everything in the final match except on the scoreboard," he said. "You fought so hard to retain the cup and you are really national heroes."
Other players in the squad are expected back home on Tuesday and Wednesday.
The Springboks lost their quarterfinal game by the narrowest of margins. Although they dominated the game, their opponents, the Australian Wallabies, somehow escaped with an 11-9 victory on Sunday in Wellington.
'Millions of South Africans have played their part'
"Despite their loss the Springbok team has made the South African nation proud," Matola said in a statement after the game.
"Throughout the country, indeed throughout the world, millions of South Africans have played their part by waving our flag with hope and wearing our jersey with pride – all in support of our team.
"Once again we have demonstrated the unifying and uplifting power of sport. Indeed, we are world-renowned not just for sporting excellence but for showing how sport can unite a nation and make history."
Interviewed on the field after the game, Springbok captain John Smit said: "It's just sad the way it ended. It really was a ding-dong battle between two good teams."
Asked how it felt to lose a match his team had dominated so much, Smit said: "It makes it hurt that much more. We really went in at half-time saying we need to hold onto the ball and get through phases. We did that and were patient.
"You know, a couple of missed opportunities, a drop kick, a try with Fourie [du Preez], a forward pass to Patty [Lambie]. We did enough to win this game, but we just weren't accurate enough."
'Keep the spirit alive'
Matola said that South Africans living in Zealand, along with those who had made the journey to watch the World Cup, had "further enhanced our reputation for friendliness, passion and pride in our nation.
"As Brand South Africa, we call upon every South African to continue to keep the pride, passion and spirit of our Rugby World Cup campaign alive."
Source: www.mediaclubsouthafrica.com