South African veteran sports photographer Wessel Oosthuizen has been honoured at an exhibition in New Zealand, where his image was rated second out of 120 submissions.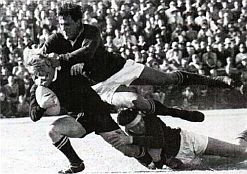 Oosthuizen's photo was part of the Union: The Heart of Rugby exhibition at Auckland City Hall, which took place during the recent Rugby World Cup. The display was viewed by more than 6 000 people.
A coffee table book of the same name will be published in November 2011.
Oosthuizen's image, which shows an off-duty Western Cape police officer playing rugby and ready to make a line-out throw, was rated by exhibition viewers as the second most iconic shot that captures the essence of the sport.
This image is one of six that were published in Oosthuizen's book, Portrait of Rugby, in 2010.
Oosthuizen said: "It is a great honour for me and the picture was published on the back page of the New Zealand Herald this week together with Ross Land's winning picture of Richie McCaw, of the All Blacks, bleeding after a game against the Springboks."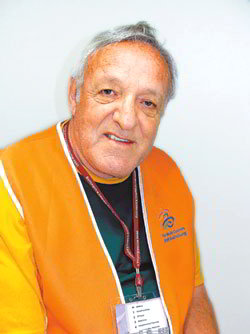 Included in the exhibition were audio-visual interviews from outstanding World Cup players over the years like John Kirwan, Nick Farr-Jones, Joel Stransky, Martin Johnson and Philippe Sella.
Kelsen Butler of Sports Inc said at the time of the event: "Union: The Heart of Rugby is a unique exhibition. The Auckland Town Hall is one of the city's most iconic and historic buildings and is an ideal venue to showcase a world-class event to a large number of people."
Butler added that the two most photographed players featured in the exhibition were former New Zealand player Jonah Lomu and Sebastien Chabal of France.
For New Zealanders only
During the exhibition New Zealanders were invited to submit images from amateur rugby settings, which were entered into a competition.
The images had to show one of the characteristic rugby values: heroism, pride, glory, passion, teamwork, courage and friendship.
There were two categories: "College" for high school pupils and tertiary education students, and "Open" for all other amateur photographers.
Laura Leach won the College category for an image of muddied youngsters playing rugby, while Wayne Dowd took the Open section for his image of two youngsters walking hand-in-hand after a match.
Hall of Fame
Oosthuizen was inducted as a member of the South African Sport and Arts Hall of Fame in 2009 and has over 50 years of experience as a sports photographer.
He has covered a variety of sporting codes, including football, rugby, golf, gymnastics, boxing and tennis.
He was named the SA Hockey Photographer of the Year in 2005 and 2010, and the Sasol Springbok Photographer of the Year in 2007 and 2008.
In 1970 he took the SA Sports Picture of the Year, which showed Frik du Preez and the All Blacks' Chris Laidlaw in action during the first test between South Africa and New Zealand of that same year.
Oosthuizen said about the photo: "I had captured two other dramatic pictures in the same game. People seem to have forgotten about it."
Although he has covered most types of sport, rugby is his first love.
It is believed that his only rival as a rugby photographer is New Zealand's Peter Bush.
A portrait of rugby
Oosthuizen's photographic career is well documented in the limited-edition Portrait of Rugby, an A3 landscape-size book of which only 1 000 copies were printed.
Oosthuizen said: "When I page through the book I am still astounded that I have actually been to all those venues: from Twickenham in London to Westpac Stadium in Wellington, from Beervlei Dam in the Karoo to Stewart Island, the southern-most rugby field in the world, below New Zealand's South Island.
"I have worked with the best rugby photographers in the world and the last chapter, 'Friends and Colleagues' was dedicated to them and to our friendship. They are kindly allowing me to use some of their greatest pictures."
The book, a collector's item, is priced at R4 500 (US$ 576).
Source: www.mediaclubsouthafrica.com