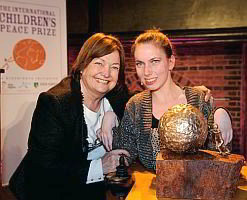 South African Michaela Mycroft has won the 2011 International Children's Peace Prize, the junior equivalent of the Nobel Peace Prize.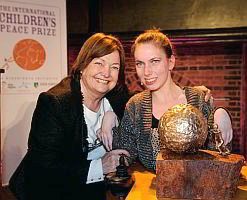 Chaeli, as she is fondly known, won the award for championing the causes of the disabled – something the 17-year-old has been doing since she was nine.
Mycroft knows first-hand what it's like to live with a disability; she has cerebral palsy.
The International Children's Peace Prize comes with R1-million (US$119 000) and the Nkosi Award, a coveted sculpture depicting a child moving the earth.
Nobel laureate Mairead Maguire, an Irish peace activist and co-founder of the Community of Peace People, presented the prestigious accolade to Mycroft at a ceremony in The Hague, Netherlands, on 21 November 2011.
Mycroft was one of five finalists selected from a total of 98 entries from 42 countries. All the young nominees are champions of important causes like fighting child abuse and supporting human rights.
Winning the award is important to Mycroft. "It means that people are now going to hear our story all over the world and will recognise that the work we do is very important in creating a peaceful society.
"That means a lot more than I can express."
Turning disability into an ability
Mycroft started out on her path when she, with her sister and three friends, decided to raise funds for a motorised wheelchair. Cerebral palsy, a motor neuron disease, restricts the movement of arms and legs and the nine-year-old found herself needing the imported wheelchair to become more mobile.
The group sold cards and flower pots and, in seven weeks, were able to raise more than the R20 000 ($2 400) required.
That fundraiser, eight years ago, was such a success that Mycroft was inspired to create the Chaeli Campaign to help other children with disabilities.
The organisation now employs 20 people and helps more than 3 000 children annually, distributing equipment such as wheelchairs, walking frames, hearing aids and food supplements. The campaign also helps fund physical therapy.
Mycroft is the spokesperson for the organisation, based in Plumstead in the Western Cape. Her mother is the CEO and her father manages the office. Her sister and the three friends who initiated the fundraiser also play various roles in the organisation.
Zelda Mycroft, Chaeli's mother, says she recognised the potential in her daughter right from the start. "We always knew she would do great things, and with this award she is giving a voice to children who can't speak up."
Mycroft hopes her actions as an ability activist will leave the world more accepting and more accommodating for all people, not just people with disabilities. "We are all different and we all have the need to be accepted, regardless of having a disability or not."
Young minds making a difference
The five nominees for the International Children's Peace Prize were announced by South African Nobel Peace Prize laureate, Archbishop Emeritus Desmond Tutu, in October 2011.
During the announcement Tutu said the prize was very important. "It facilitates a platform for children who make a valuable contribution to a peaceful world."
The Children's Peace Prize is an initiative of Dutch organisation KidsRights, which bestows it annually to a young person making a difference in the world.
The award is now in its seventh year and was launched by Mikhail Gorbachev, the former president of the Soviet Union.
The other four nominees were youngsters from Pakistan, Uganda, Palestine and Armenia.
Tutu described the five as very brave. "They are fighting for children's rights in their country every day, sometimes even in dangerous situations.
"Children are the future, but often they are not heard: the Children's Peace Prize gives a voice to the voiceless."
Identified only by their first names, the other nominees tackle issues from education to child abuse.
Thirteen-year-old Malala is an advocate for girls' rights to education in Pakistan, while 14-year-old Winfred, from Uganda, documents cases of child abuse in her community and has also set up a counselling programme for children, by children.
Liza, a 17-year-old from Palestine, uses sports to promote peace between Palestinian and Israeli youngsters and fights for the empowerment of Palestine girls in a male-dominated society.
Nokolay, who is 17, organises discussions and presentations on human rights while sharing his knowledge on his website and blog. He is from Armenia.
Mycroft sums up the attitude of all the youngsters involved: "Hope is what keeps us going. It's what keeps us striving for the lives we deserve. I have hope for myself, but I also have hope for all other children with disabilities."
Source:www.mediaclubsouthafrica.com