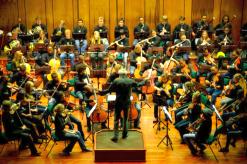 After many years of honing their craft, young musicians from the Pretoria-based music education organisation Music is a Great Investment (Miagi) are making their mark on the European stage.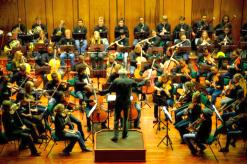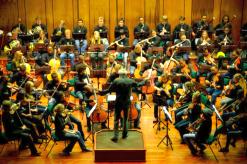 The organisation took its name from a statement made at a 2003 press briefing by its patron, the Russian violinist Maxim Vengerov, who was visiting South Africa for the first time. Miagi was known then as the International Classical Music Festival.
The Miagi youth orchestra, also known as the New Skool Orchestra, and the big band will take their brand of classical, jazz and traditional African music to Germany, Austria and the Netherlands between 16 July and 5 August this year.
Before jetting off to Europe, the group, made up of approximately 100 musicians, will present a farewell concert at Johannesburg's Linder Auditorium on 15 July.
Thereafter, they will perform at the Ludwigsburger Schlossfestspiele in Germany before heading to Austria for the Carinthischer Sommer, or Carinthian Summer Festival.
Their biggest performance will take place on 27 July at the opening concert of the Young Euro Classic Festival in Berlin. Here they will appear at the Konzerthaus Berlin in Gendarmentmarkt Square.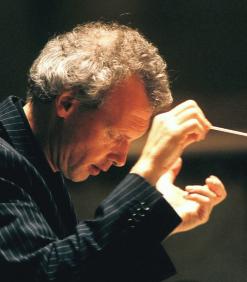 This is Miagi's second invitation to the Berlin festival, following their 2009 debut.
The Young Euro Classic was established 12 years ago by a group of friends who wanted to bring together the best young orchestras from around the world.
Apart from South Africa's representative Miagi, this year's festival will also feature orchestras from Japan, Canada, Czech Republic, Germany and Turkey.
According to Miagi's executive director and founder Robert Brooks, the youngsters made such an impression on Berliners the first time around that they were invited to return in 2012.
"The orchestra was built from nothing and it is quite amazing what these kids have achieved," said Brooks.
The Miagi troupe will travel to the Netherlands before ending off the tour at the Mecklenburg Vorpommern Festival in Germany.
Crosscultural collaboration
Renowned Austrian conductor and composer Christian Muthspiel will lead the orchestra on tour.
Muthspiel's affiliation with Miagi began in April 2011 and was so fruitful that when the invitation came, the Austrian agreed readily to conduct the orchestra and big band in Europe.
According to Brooks, Muthspiel is a real coup as he is one of the most sought-after conductors in Europe.
Miagi commissioned Muthspiel to create a new intercultural composition with a member of the orchestra and big band; the composer, clarinettist and saxophonist Tshepo Tsotetsi.
While performing in Vienna in October 2011, the pair started work on a composition which is now known as Christian Muthspiel: Out of South Africa, Symphonic Poem on Themes by Tshepo Tsotetsi. This piece will be part of the European repertoire.
The orchestra and big band will also play Leonard Bernstein's symphonic suite On the Waterfront, George Gershwin's An American in Paris, Claude Debussy's Prélude à l'après-midi d'un faune, and Antonin Dvořák's Romance in F minor for Violin and Orchestra, Opus 11.
Blending classical, jazz and traditional African music
According to Brooks, the New Skool Orchestra was established as a result of the informal kwela evenings of music and dance that took place at the orchestra and big band courses.
From these gatherings arose an amalgamation of classical, jazz and traditional African music.
"If you expose musicians to all music forms they will play with them and come out with their own unique sound," said Brooks. "This we are playing was developed by the kids."
For Tstotetsi, the New Skool Orchestra is the voice of young musicians and composers seeking to reach greater musical, social and educational depths.
"New Skool seeks to give young composers the courage to keep producing music of the highest quality, giving them the chance, through the orchestra, to hear and thoroughly develop their music," he said.
He added that the orchestra is a symbol of the unity between the different ethnic groups of South Africa, an ideal that the previous generation strove for.
Brooks seconded Tsotetsi's sentiment, saying that music can act as the bridge between the social fractures in this country.
"South Africa is such an ingredient of colours and flavours and so are its people – therefore the music will be a vibrant mix of all these cultures," he said.
Developing young musical talent
Miagi was established in 2001 as a not-for-profit organisation.
Brooks, himself a well-travelled tenor, said that it grew from a series of concerts he hosted, which brought together a number of genres and many acclaimed artists, including Miriam Makeba.
Miagi was established after Brooks obtained funding from the South African government and the EU. With the support of the national Department of Arts and Culture, the organisation has built a countrywide network of music education initiatives that has developed young local talent, particularly those from disadvantaged backgrounds.
From this wealth of musical talent came the orchestra and big band.
The best students often perform with world-famous musicians at Miagi's international intercultural events.
Miagi has grown to an extent that Brooks was able to open a new music centre in Soweto. The Cape Gate Miagi Centre for Music was opened on 29 May 2011 and is situated on the premises of the Morris Isaacson High School in the suburb of Jabavu, central Soweto.
A donation by the philanthropic Kaplan-Kuschlik Education Foundation, as well as the National Lottery Distribution Trust Fund, made the construction of the centre possible.
Source: www.mediaclubsouthafrica.com
By: Shamin Chibba