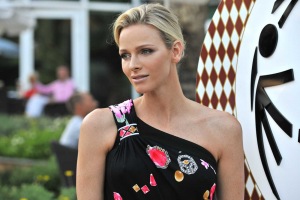 Princess Charlène will represent her husband, Prince Albert II, at the opening of an exhibition in her mother-in-law's honour – "Grace Kelly Style Icon" – in Australia on Saturday 10th March. The town of Bendigo in Victoria, Australia – where the exhibition is to be held – has been besieged by journalists and photographers anxiously awaiting the arrival of the new princess.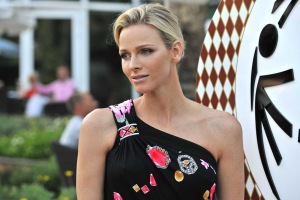 The Prince won't be with her because of a prior commitment to the International World Water Forum. He said in a statement that while he regrets being unable to attend, "Princess Charlene is delighted to attend on my behalf. Australia is a country she knows very well and really appreciates."
In her pre-princess days, the former competitive swimmer represented South Africa at the 2000 Sydney Olympics.
Director of Bendigo Art Gallery, Karen Quinlan said "We are thrilled Princess Charlene will attend the opening of this superb exhibition and look forward to welcoming her in this fine City."
The exhibition features gowns, jewellery and film memorabilia from the princely Family's own personal collection. It includes rare film costumes that Grace Kelly wore such as the shimmering frock from "High Society", haute couture gowns from Dior, Balenciaga, Chanel, Givenchy and Yves St Laurent and meticulously-tailored suits and American casual wear, includes key dresses such as Grace Kelly's civil wedding gown, the Edith Head designed dress worn by Grace to collect her Academy Award, the Academy Award, Grace Kelly's Cartier jewellery and magnificent accessories, such as the famous Hermes Kelly bag.
The exhibition will explore the development and cultivation of Grace Kelly's style, influence and transformation from Hollywood actress to princess.
The Honorary Consul to Monaco Andrew Cannon said, "The extraordinary exhibition is of great importance to the Royal Family and Princess Charlene's attendance at the opening is testament to this. The family have a great love of this country, indeed it was after the death of Princess Grace that the family received more letters of condolence from Australia than any other country. The family have been eager to support however they can and as such, it was with the support of HSH Prince Albert II of Monaco that we were able to secure this fantastic exhibition for Australia."
Karen Quinlan added, "The exhibition provides an unprecedented opportunity to be able to introduce an Australian audience to this unrivalled wardrobe, and chart Grace Kelly's unique influence on twentieth century fashion. Within this exhibition we hope to move you a little closer to the person, her classic style, her timeless elegance and ultimately I hope to enhance our understanding of this 20th century iconic woman whom we admire and still love. "
This exceptional exhibition comprising more than 100 items including dresses and accessories will be showcased in four of the gallery's main spaces.
The first exhibition organized by the Grimaldi Forum in Monaco has been an enormous success, registering more than 135 000 visitors; afterwards, it took place in Paris, Rome, Moscow, London, Toronto and Sao Paulo.
GRACE KELLY: Style icon is curated and organised by the V&A Museum, London and the Grimaldi Forum, Monaco. The exhibition in Australia will run from 11 March 2012 – 17 June 2012.