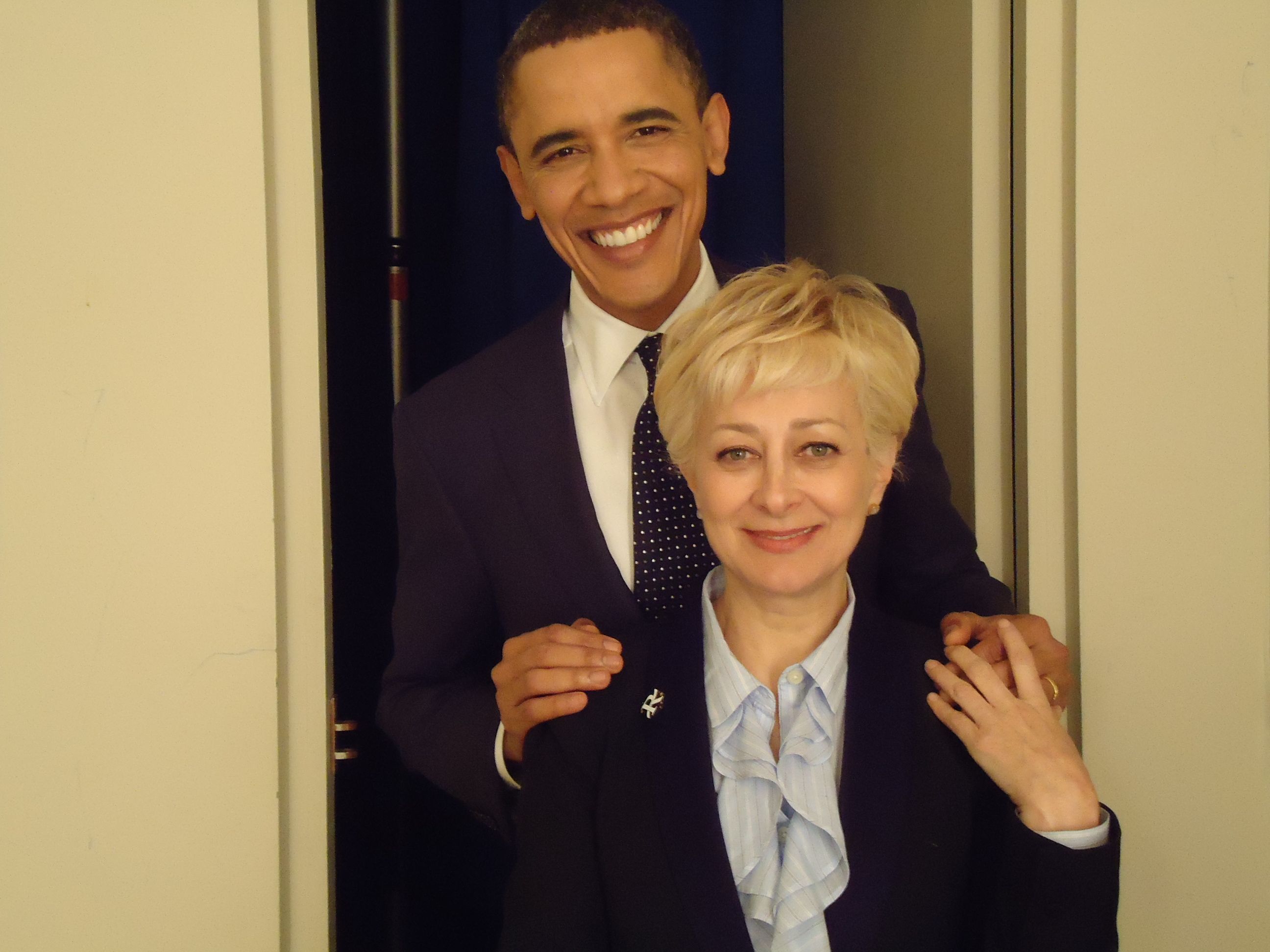 Johannesburg-born make-up artist Lana G has become one of South Africa's hottest exports in the make-up field with a list of bumper-to-bumper celebrity clients in the USA.
As a child and teenager in Johannesburg, Lana modelled for Killarney Film Studios, until 1971 when she moved, at the age of 19, to New York City to follow her dreams of being a makeup artist.
She has met and made-up everyone who's anyone including the last four American Presidents, and is currently makeup artist to American TV personality Anderson Cooper.
In between working ("very slowly!") on her second book, creating paintings, and making the stars look fabulous, Lana G (the G stands for Gersman) found time to talk to sapeople about old flames (and The Flames), working with her favourite Beatle, 911 and shared visions.
1. Have you had any life-changing experiences?
On 9/11 I was called into CNN to work with a well-known American anchor, Paula Zahn. At that point I had only dabbled in TV for commercials and the occasional local anchor or news reader.
That turned out to be a life changing experience, not only because of what we were all going through during 9/11 but also because it occurred to me that TV news is never really 'out of business' and I have been hard at it, ever since.
In some ways, it was the worst and best day of my life. I immediately switched from primarily print and fashion to television where I was meeting people who made enormous footprints in the world. Whether they were burn victims from the World Trade Center, or window washers who heroically used their equipment to pry people out of elevators and get them to safety.
Everyday, I would be hanging out with the likes of Henry Kissinger, Queen Noor or Salmon Rashdi. It was a huge fascinating eclectic melting pot of cultures and people from all over the globe.
Working in television has given me the opportunity to meet these people and I am on a first name basis with a lot of people I would otherwise never cross paths with. It's been fun and beyond rewarding.
I have made up everybody under the sun and in fact the last four American Presidents in a row. I have spent a weekend at the Bush compound in Kennebunkport (George Herbert and Barbara) and worked at the White House with George W. I have made up both Hilary and Bill Clinton often and last year I got a request from the White House to work on President Obama for an important series of network interviews.
2. How did you begin working with Anderson Cooper?
We started within a day of one another at CNN on 9/11 and had 3 am and 4.30 am shifts respectively. Of course we became fast friends and he remembered me, when his new show began.
3. What's the biggest sacrifice you've had to make to become this successful in your profession?
People imagine that freelancer equals freedom but in fact it is just the opposite. To take time off, you lose income and can be torn about opportunities missed. You depend on yourself to have health insurance, savings, getting work. It's not unlike having your own business, really, without the staff. I do have a fair amount of freedom on a daily basis. Most often I work a few hours here and there but more often then not I have to get up at 4am and be at work at 5am. It all starts with the makeup.
The last vacation I took was almost seven years ago when one of my regular clients took three months off for maternity leave. Naturally I spent it in South Africa.
4. Do you still feel South African?
I still feel South African to the core, and wish with all my heart that one day, I can live between both places I love – New York City (yes I love it) and perhaps Cape Town.
5. Tell us about this photograph: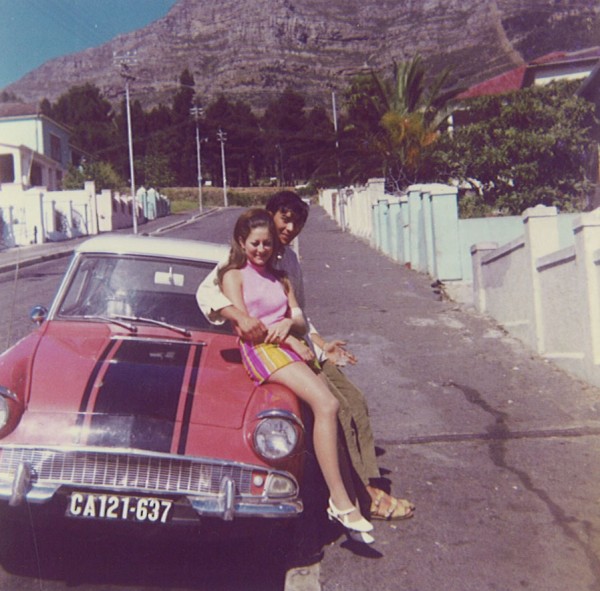 This photo was with me and my Cape Malay boyfriend. It was illegal for us to be together at that time in South Africa, but we were nevertheless.
His name was Edris but everyone called him Brother. His name told you that he was one of three brothers who played in a hugely successful band in the South Africa of the 1960's.
They called themselves The Flames. Brother had a regal face, curly raven hair, and a wide-eyed compassionate nature. He played with style and grace.
Ricky, the youngest, played drums like Medusa. A complete blur of rapid drumming. Steve, sported a huge Afro with an aura all its own. He sang with the soft baritone of a bullfrog and played rhythm guitar. A gentle soul. They all had those Gaugain brown liquid centre eyes. The lead singer sang like the Cherub of Soul. With his chubby cheeks and blond frizzy hair, his name also told you a little about him. They called him Blondie.
He wailed with the raspy intention of Otis Reading and also the alto highs and warmth of Smokey Robinson. Clutching a mike to his chest, he'd fall to his knees begging for mercy like a man being whipped for a crime he did not commit.
They had a regular gig, every evening at Al Frescos, on the Esplanade in Durban. The club was always packed to the hilt and rumour had it that they'd been filling the place for years.

My recollection was that, out of the blue, some petty apartheid laws were put into place, making their working lives more difficult and as a result they decided to leave South Africa in 1968, hoping for a better life in London.
Recently a friend sent me a letter that Ricky had written her. He was only 15 and really lonely. But they had to move onwards and forward.
Coincidentally, the Beachboys, were searching for bands to sign to Brother records (the name of which was never lost on me).
The Flames moved to LA, where I visited them with my family in 1970. My father was always supportive of my friendship with them. He thought of them as 'lovely boys'. His only warning to me was that I should not be selfish. In the political arena at that time, it would more then likely be them who could get into trouble, not so much me.
It was difficult to trust the fact that in LA, we were free to interact openly.
The Flames introduced me to Carl and Annie Wilson. Carl was also one of three brothers in the Beachboys. He was a little chubby, very shy, really generous and super handsome, in that all American Robert Redford way. His wife Annie, had long Polynesian hair stretching all the way down to her bum. They had two toddlers at the time, and Annie made lots of yummy pies. The walls of their Bellaire home were covered in Gold records. Something I had never seen before.
I got quite friendly with them, and in time I would meet their friends, Ricky Nelson, Bonnie and Delaney, Dino (Martin), Desi (Arnaz Jnr.) and Billy, an LA band named Dino Desi and Billy. Also, Olivia Hussey (Zeffirelli's Juliette) Dorothy Hamill, the skater and Twiggy who would stop by, just to say Hey! Ricky Nelson, had toddler toe-head twins and a little daughter Tracy who later became an actress.
The Beachboys decided it best to lose the s, at the end of the Flames, now penning them as the Flame, since it conflicted with Joe Brown and the Flames. The Flame recorded a couple of albums and their sound changed from Stevie Wonder/Otis Reading soul to that of the Beatles. They also toured with the Beachboys, thereby doubling their on stage sound, to something even more dynamic.
I moved to NYC to study in 1971, and in the years that followed, whenever they played the northeast United States and Canada, they would invite me to play tambourine and sing back up on stage with them. I remember standing in a coil of cables (before radio mics came into being), looking out at a blue jeaned audience at Carnegie Hall and the Canadian National Exhibition (aka the CNE).
Although I had dabbled with makeup from a very early age, it was because of the Flames that I got a clear idea that makeup was for me. Since it was impossible to disguise Brothers' cut Malaysian features, I used all my natural resources and creativity and with absolute precision weathered and slightly darkened every inch of exposed skin on my body, successfully passing myself off for a light-eyed Cape Coloured.
Sadly, Brother passed away years ago. I am still very much in touch with Steve, although he now lives back in South Africa. Ricky and I have a birthday three days apart, so it's easy to remember and we are in touch every now and then. He has been touring with Bonnie Raitt for years and Blondie (Chaplin), has been with the Rolling Stones for quite some time, too.
6. Who has inspired you the most in your life?
Twiggy, Jean Shrimpton, Mary Quant and David Bailey when I was a bug-eyed fashion forward teenager and my Form 4 English teacher, Ruth Klavanski aka Ruth Heilbron. Time and time again she handed me beautiful prose to study. No one had ever done that before.
Also, I am inspired by people who defeat the odds while remaining confident in their beliefs, even when everyone bears down on them. And people who question the common opinions.
7. Was there someone who helped you believe in yourself when you were growing up?
I always had confidence in myself, even when it was clear I had no idea what I was doing. That came from my darling father.
8. Who has been the most difficult person to make up?
Unrealistic people are the most difficult to make up. If a person, who for example, has Hispanic features, asks to look like Nicole Kidman, there is a bit of a disconnect there. I can go only so far with it, unless of course it involves prosthetics. Most people are happy with what I do. I always make it a point of asking what their pet peeves might be, before I begin and insuring they know that I am there for them and my ego is checked at the door. To me the best results comes from a shared vision and a true partnership.
Win Win, n'est pas?
9. Who was the first 'big name' you worked with, and how nervous were you?
Unfortunately, I don't remember them all. There are days where I have two of three jobs. But I do recall this one. In 1989, my boyfriend and I were packed and about to leave for the airport for a long-awaited dream vacation in Morocco. We had a couple of hours to kill before our car service was scheduled to pick us up. The phone rang. A frantic voice on the other side introduced himself as Bill Bernstein, (a prominent rock and roll photographer). He said: "I'm at the Garden (Madison Square Garden) and the damn makeup artist has made an impossible mess of Paul's face. You come highly recommended by Bruce and Pam Coy (a producer and director I had been working with on various projects in Soho). Can you please get over here now?"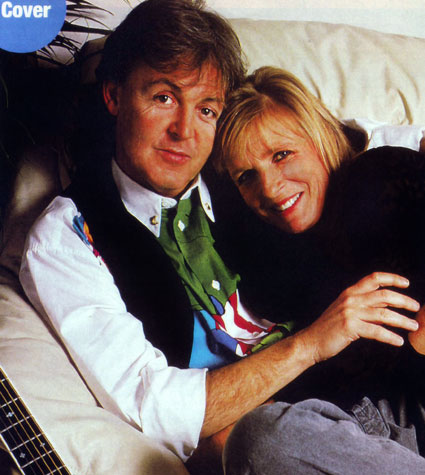 I told him my situation, and he said he would do all within his power to get me there and back in time for my pick up. This meant a car coming to pick me up, making our way through a beehive of fans and security and doing my job well. I was super nervous, since Paul was always my favourite Beatle. I was whisked into a dressing room where Linda (McCartney) was waiting next to a table filled with vegetarian fare. The lighting was dark and there was hardly any room for me to spread out my gear. Lighting and blending are key components for great makeup application This unnerved me a bit, primarily because it is the setup, that gives me the kind of order I need to perform well.
Fortunately for me, I had been in less ideal situations before;- applying makeup from the back of a speeding limousine. Each time, I considered it my badge of honor, not having vomited over my client, while still managing to transform them into 'fabulous'.
Linda had a difficult face to work on. It was finely wrinkled, dry, freckled, hairy, and her eyes were deeply set, framed by bushy blond eyebrows. But she was beautiful She had the kind of beauty, that needed careful placement and not too much on the skin. I decided to make her dewey, focusing all the attention at the base of her pale lashes. She loved it and then proceeded to grab a copy of her newly published cookbook, Linda McCartney's Home Cooking.
She was a multi-tasker, that's for sure, and instead of writing, Lana, she wrote Mary. I pointed this out…and without so much as blinking, she moved a little higher up on the page, and scribbled, "To Lana, Go veggie (which I was already), love, Mary had a little lamb but she didn't eat it. Linda." Picasso was known to turn mistakes into masterpieces and Linda clearly had those same qualities. She was quick witted and loved animals as much as I did.
By the time I was done with her, Bill sent someone to get me and moved me into another makeup room, where that Love Love Me Do Face was staring at me in the mirror. He said: "So what would you do differently to what has already been done". Breath deeply. Stay calm, I said to myself. I studied his face for a moment, and suggested that I remove the heavy concealer below his eyes. I said he was aging but his skin was great and he didn't have any dark circles to cover. In effect he would be hiring me to powder him a little. Take the shine off his (still beautiful) face. One eyebrow went up, suspiciously. "What would you do with my hair?". Yes sometimes I do hair, too. I tosseled his hair with my fingers and shook it about, leaving it sticking up in unfamiliar places.
He said: "What is that?". I remember laughing and saying, "You're a rock star. You should look like you just fell out of bed". Right away he asked me to join the tour. I was dumb founded. And thrilled but the truth is, I really did not want to be a gypsy. Instead, whenever they came to NYC, which was often enough, they would use me.
Over the years, I have met many celebrities and really most often, I am no longer phased. I take it in my stride and in fact currently, I am working on a talk show, where the celebrities are the ones enamored with my client, Anderson Cooper. They too are fans.
10. You've now met and worked with so many big personalities – is there anybody left who you would really like to work with who you haven't yet?
Ha Ha, dare I say God? If God's a woman, she probably needs a makeover after all these years.
Really, my dream is now to devote most of my time to painting and writing. I sell my paintings (www.PaintingsByLanaG.com) and I am in the early stages of writing my second book.
I have been fortunate to have lived a life filled with endless stories and now I am a little preoccupied with writing them down. I hope to make this the next phase of my life and I would probably keep one or two clients since makeup is a very sociable profession and writing and painting are just the opposite. This would give me the balance I need.
11. What's the most common request people have when you're doing their make-up?
Men always ask me to make them look like Brad Pitt. Women tell me they would love me to turn up at their house everyday.
12. Have you worked with Charlize Theron?
I have only passed Charlize in the hallways of Good Morning America and spoken a few words to her, in my now awful Afrikaans. She has a great reputation. If the reputation is not so good, makeup is the first to know. In fact, think of us as the fly on the wall. Or the waiter, who brings drinks to your table and you didn't notice how they got there. We hear everything.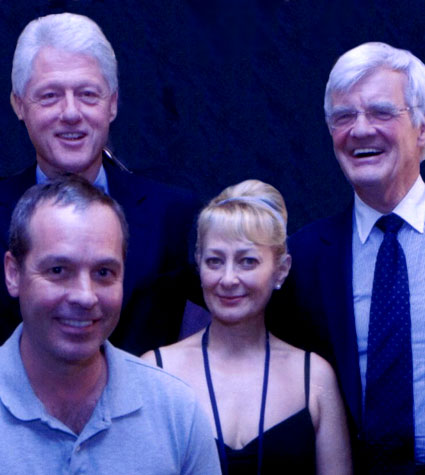 I have been privy to Presidents discussing sensitive information; who is getting fired and who is getting hired. And discretion is the name of my game.
I would love to have a chance to do Charlize. Clearly she has a wonderful team she trusts and I love that loyalty.
So Charlize, if you are reading this and don't have someone booked when in NYC, I am sure you are resourceful enough to know how to reach me ;-).
13. Do you have a make-up tip you could share with us?
Yes I do. Don't freeze your face in the decade you were your happiest. Keep updating as you age. Less is more. It's you who should stand out, not your makeup.
14. Is there anybody who you never want to work with again?
Yes. And remember, I keep to my word. Discretion is the name of the game.
15. What do you love doing the most in New York when you're not working?
Believe it or not, riding my little red folding bike, through Central Park.
16. Please finish these sentences:
a) I love visiting South Africa because it is…
narcotically beautiful and diverse in every way. The food is to die for and the people are warm and hospitable. But you know that already ;-).
b) I wish South Africans would…
stop the government from selling out to China. China has horrific human and animal rights practices. Their culture clearly does not mesh with South Africa's.
c) Being South African has helped me…
stand out from the crowd. When I first came to New York, people would ask me which country in South Africa I was from. I had to point out that it was a country. Thanks to Madiba and De Klerk, people here have come to know it and love it.
SHOUT OUT
www.LanaGmakeup.com
www.PaintingsByLanaG.com
All photos copyright Lana G