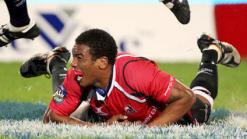 South Africa's Ashwin Willemse has been selected by the International Rugby Board (IRB) to be the ambassador for its upcoming IRB Under-21 World Championship. In this capacity he'll help to promote the event around South Africa, and build national excitement and support.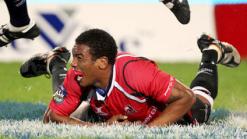 The event takes place at Cape Town's brand new UCT Stadium and Stellenbosch's Danie Craven Stadium, from 4 June to 22 July.
Himself a member of a junior world cup-winning squad, Willemse made his national debut as left wing for the South African under-21 team that took home the silverware at the 2002 event.
He was then selected for the Springboks at the 2003 Rugby World Cup, held in Australia, and was also a member of the victorious national team at the 2007 event, making him one of only a handful of players worldwide to win both the IRB junior and senior championships.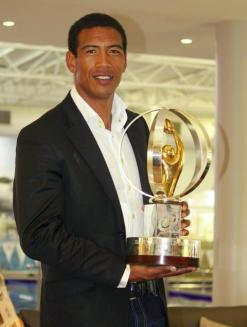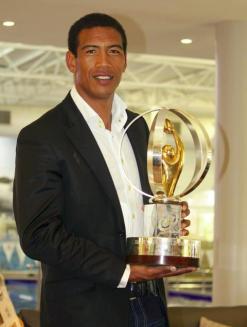 Willemse has been capped 19 times in all, and scored five tries for his country.
"The IRB Junior World Championship is a huge stepping stone for young players who aspire to be full internationals," he said at the tournament's launch event. "I'm looking forward to playing my part, to convince all Capetonians to get behind the tournament."
South Africa's junior Springboks are drawn in pool B along with England, Ireland and Italy. Their traditional arch-rivals Australia and New Zealand are playing in pools C and A respectively.
An inspiration to youngsters
President of the South African Rugby Union, Oregan Hoskins, described Willemse as an outstanding role model for youngsters.
"Ashwin is a shining example of what you can achieve through hard work, dedication and commitment," he said. "As a teenager and later as a young adult, he rose above his challenging circumstances to establish himself as one of the best junior rugby players in the country and later as a worthy Springbok."
Although he grew up on the Cape Flats without a father and mentor, at school Willemse excelled at sport. Speaking at the Beyond Sport Summit in 2011, he named Namibian Olympic silver medallist Frankie Fredericks as one of his childhood heroes.
"Where we grew up," he said, "you were not supposed to become anything, you were not supposed to achieve anything. You were limited to the walls and the boundaries of the school, and the boundaries of the town, and the gangs and drugs and violence that existed in your immediate environment."
In his first year of high school Willemse encountered his first mentor, an English teacher and sports coach named Andre de Bruin, who took the gifted young sportsman under his wing.
De Bruin's patronage wasn't enough to prevent Willemse from succumbing to the temptation of gangs and drugs. He eventually became an addict and a member of the notorious Americans, and saw several of his friends die in gang-related violence.
But throughout these turbulent times, Willemse retained his passion for rugby. The turning point came in 1999, when former Springbok wing Breyton Paulse, another of Willemse's heroes, visited his school to talk to the kids. At the time Willemse was 17 years old, with all the potential but, in his own words, a "juvenile delinquent with no future".
Willemse was introduced to the affable Paulse, who was informed that the youngster had been selected for the annual school rugby festival, Craven Week – known as a scouting ground for future national stars – but had no rugby kit to take with him. Paulse donated a kit bag with all the essentials to help Willemse get to the tournament and, touched by the gesture, Willemse made the commitment to leave his life of crime behind.
In 2002 Willemse was selected for the junior national team, replacing none other than Paulse on the wing. Two years later the two players were teammates on a tour to the UK, and after the second test match against Ireland – which happened to be Paulse's 50th test – Willemse asked him for his specially printed shirt as a souvenir.
When Paulse questioned Willemse's request, the latter player reminded him of the day when, as a high school pupil, his life was changed by Paulse's kindness. "He didn't realise that boy was me," said Willemse.
The rugby star attributes much of his success to the fact that he was fortunate enough to have good people coming his way at crucial times, who helped and guided him on the right path.
In 2009 Willemse retired from international rugby and these days is a popular motivational speaker. He's also a member of the Supersport television panel of analysts.
Local boys looking good
Good news for Springbok fans is that the under-20 home side wrapped up the April series against Argentina's Pumitas, winning two games while the third one was drawn. The South Americans were on a whirlwind tour ahead of the world championships.
"We are very proud of the ways our boys played, we proved that we can be competitive at an international level and this gives us the confidence we need to prepare for June," said coach Dawie Theron. "This tour was a great learning experience even for us coaches. We now know how ready our players are for the JWC and what we still need to work on."
The team has since been announced and includes a number of players with experience in the Sevens and Super Rugby international tournaments.
The 28-man squad includes Blue Bulls flank Wian Liebenberg as captain, Vodacom Cheetahs flyhalf Johan Goosen, DHL Stormers prop Steven Kitshoff, and up-and-coming flyhalf Tony Jantjies, the younger brother of Springbok flyhalf Elton.
South Africa starts their campaign with a game against Ireland at the Danie Craven Stadium on 4 June.
By: Christel Jordaan
Source: www.mediaclubsouthafrica.com