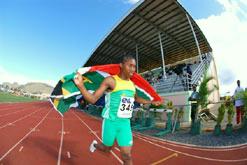 When Caster Semenya said to a journalist recently she was more worried about football team Kaizer Chiefs taking the Premier Soccer League title than about her own qualifying session, she wasn't joking.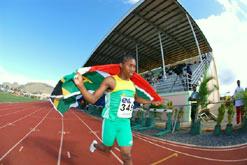 A lot has happened since: Chiefs has shattered the dreams of its supporters by falling to a less-than-prestigious sixth spot on the log and Semenya has, indeed, qualified – and effortlessly – for the 2012 London Olympic Games in the 800m category.
She triumphed at the Yellow Pages III Track and Field meeting in Pretoria on Friday 20 April – the date set for the kick-off of the Team SA Fridays campaign – finishing in a time of 1:59.58 ahead of Monique Stander and Mapaseka Makhanya, the second and third place finishers respectively.
Controversial test
The 21-year-old from Limpopo province has been in the limelight since an investigation into her gender after she won gold in the women's 800m final at the 2009 International Association of Athletics Federations (IAAF) World Championships.
The IAAF argued at the time that it had to investigate this as hers was one of "the sort of dramatic breakthroughs that usually arouse suspicion of drug use."
The body cleared her a year later and ruled that she could return to international competition.
The courageous University of Pretoria student went on to achieve silver at the next IAAF event, this time held in Daegu, South Korea, in 2011.
Caster can do it
Semenya has been coached, since late 2011, by former Olympic 800m women's champion Maria Mutola of Mozambique. A running legend, Mutola holds 13 gold medals from a variety of international athletics tournaments including the Olympics, the IAAF World Championships and the Commonwealth Games.
Of coaching Semenya, Mutola said: "This is a huge challenge for me to start with Caster. She is a great young athlete."
Mutola believes that Semenya is capable of breaking the record in her event in London, set 29 years ago by Czech Jarmila Kratochvilova in July 1983.
Semenya is not the only South African track and field athlete to qualify, and as more qualifying events are lined up, hopes are high that the athletic team will be further boosted.
Twenty-seven-year-old 400m hurdler LJ van Zyl is also off to London. He is number one on the top ten list of the fastest men in his speciality in the country. Van Zyl won gold at the 2002 World Junior Championships in Athletics in Jamaica. He also took bronze at the 2005 IAAF World Athletics final in Monaco.
Another 400m hurdles qualifier is 22-year-old Cornel Fredericks, winner of a silver medal from the 2010 African Championships in Athletics in Kenya. He holds the second best 400m hurdles time for a male athlete in the country, a category dominated by Van Zyl.
Irvette van Blerk also qualified for the Olympic women's marathon by clocking a time under the qualifying standard of 2:37.00. Van Blerk finished 18th in Sunday's marathon, securing a place for herself and joining Rene Kalmer, who clocked 2:29.59 in Yokohama in October, and Tanith Maxwell, to make the number of female marathon runners three for Team SA.
Although five men qualified in the marathon, Athletics South Africa has said only the fastest three will go, which means the team will be made up of Stephen Mokoka, Coolboy Ngamole and Lusapho April.
by Valencia Talane
Read more: http://www.mediaclubsouthafrica.com