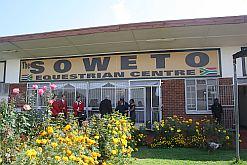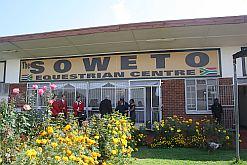 "I have a dream that one day a student from the Soweto Equestrian Centre will compete for South Africa in the Olympic Games."
This quote stands out on the homepage of the website for the centre, run by former show jumper, Olympian and horse groomer Enos Mafokate.
Mafokate (66) is a man in love with horses. He has achieved what many would have deemed impossible – breaking into a white-dominated sport during the height of apartheid in 1960s' South Africa.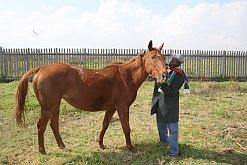 One of the high points of his career came when he was asked to travel to the 1992 Olympic Games in Barcelona, as a member of a South African development team. This marked South Africa's first participation in the event for over 30 years, because of a decades-long international sporting embargo.
Mafokate rode in the official parade and although he didn't compete, his presence at the Olympics was a huge inspiration to himself and to up-and-coming equestrians.
"Horses are my life. They have taken me around the world and have made me the man I am today," said the sporting pioneer.
Introducing children to horse-riding
The land on which the centre is operated was officially handed over to Mafokate by the City of Johannesburg in 2008, making the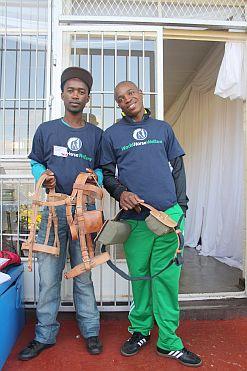 establishment – in its current state – four years old.
Over 700 children have been introduced to horses and horse riding at the centre, with lessons taking place twice a week: on Fridays and Saturdays.
The centre also offers courses in essential equestrian skills like saddlery, grooming and general farrier skills.
A total of 19 horses live here, including Jojo; Thabazimbi; Polokwane; Mpho; Sediba; Lady D; London Pride; Fabio; and Mafokate's favourite, Salmy.
"Salmy is 23 years old and is like a part of my family. I don't ride her competitively anymore," said Mafokate.
He added that when she dies, the centre will have a proper burial with a tombstone for Salmy – because to him she is only a horse by name.
Conquering barriers
Mafokate's passion for horses was realised in the 1960s when he started participating in the elite sport of show jumping. Accomplished against a backdrop of apartheid South Africa, this was no mean feat.
His relationship with horses started in his teen years when he got a job with John Walker, a farm owner in Rivonia, north of Johannesburg.
"Many white people used to come and picnic at the farm, especially during the December holidays, and I would look after their horses for them while they enjoyed themselves. That's when my love for horses blossomed," said Mafokate.
In the late 1950s, Mafokate got a job manning the gates at the Woodmead Golf Course, which allowed him to tend to the patrons' horses while they played golf.
He got his first taste of show jumping as a 16-year-old in 1962, working for a Springbok show jumper as the horses' groom, and in the same year got his first chance to compete.
"The people I was working for decided to give us black people a chance at show jumping," he recalled.
Mafokate could only compete against other black jumpers because regulations at the time barred people of different races from competing against each other.
"I came first in that competition – wearing overalls."
A year later Mafokate won a riding competition at the Inanda Country Base in Kyalami.
Apartheid was in full effect at this point in his career and he had to shelve his show jumping career until 1975 when, he said, some white people "decided to ignore politics".
Mafokate, along with 16 other grooms, were enrolled at the Marist Brothers College, the only school that allowed black people to compete in the sport.
He went on to win the Rothmans Derby in 1976 and the championship at the Constantia Show Grounds in Cape Town in 1977 and 1978, and his future seemed set.
"I was the first black member of the Transvaal Horse Society, which was based at Kyalami. I was also the first black rider in 127 years to compete in the Pietermaritzburg Royal Agricultural Horse Show in 1978," said Mafokate.
"My colleagues and I were now being called black riders, not grooms. We had attained recognition."
Meeting Princess Anne
Mafokate became the first sportsman in South Africa to take part in an international sporting event in 1982, after 20 years of sanctions on South Africa, because of the country's apartheid policy, forced sportsmen and women into isolation.
Out of 31 riders, he came fifth at the London Royal International Horse Show. His highlight of the show was coming within a stone's throw of the British Royal family.
"I saw Queen Elizabeth drive herself in a green Rover; Prince Charles play polo and Princess Diana holding a young Prince William. The highlight, however, was seeing Princess Anne, who I knew loved show jumping," said Mafokate.
Mafokate tried to talk horses with the princess, herself an acclaimed equestrian, but was denied the privilege by a bodyguard. The incident troubled him for years.
He had to wait until 2011 to see Princess Anne again when he spoke at an event hosted by UK charity World Horse Welfare (WHW).
"I went wet around the mouth when I saw her again," Mafokate told guests at the event.
He and Princess Anne spoke briefly but just as Mafokate was enjoying the conversation, the Princess had to speak to someone else.
"She said I'll see you later, but we never spoke again," said Mafokate.
He said, however, sources told him "when she said she'd see you later she meant it."
Princess Anne visited the Soweto Equestrian Centre in April, during a visit to South Africa to mark her mother's 60th year on the throne.
"I never thought she would come to see my centre. When I asked her why she came, she said 'I came because you started something which no one ever thought could happen in a black township'."
Graduation day
The centre, the only one of its kind in Soweto, held a graduation ceremony for horse handling and farrier skills and saddle making on 24 April.
In collaboration with Avis Car Hire and WHW, the centre brings in overseas trainers and tools to train students in specialist equestrian techniques.
The 10-week course, attended by 20 students, is divided into four modules: two three-week courses and another two that run over two weeks.
WHW's Jim Balfour, who helped with the training on the course, addressed the graduates: "Congratulations to you all. Do not forget about what it took to get this certificate, go out there and conquer."
The students came from different parts of the country, including the Eastern Cape, Limpopo and KwaZulu-Natal.
Karin Bothma, a horse inspector with the Carthorse Protection Association in Cape Town, said: "I've always loved horses but the farrier and grooming course taught me how to connect better with the horses." Bothma graduated with several distinctions.
Christa Smit, sustainability manager at Avis, said that the company supports the equestrian centre because the course was enterprising and contributed to community upliftment.
A fun day for children with disabilities
Formal training is not all that the centre has to offer. The Moonlight Foundation for children with autism recently held a fun day for children suffering from this developmental disorder of the brain, characterised by impaired social interaction and communication, and by restricted and repetitive behaviour.
Siphokazi Mtshotshisa is the founder of the foundation.
"On 2 April it was World Autism Day and we decided to treat the children to a fun day which involved horse riding," she said. "It's very therapeutic for them."
The foundation seeks to do away with the stigma of autism in the black community as most people do not understand it and say the child is bewitched or crazy, said Mtshotshisa.
By: Ray Maota
Source: www.mediaclubsouthafrica.com