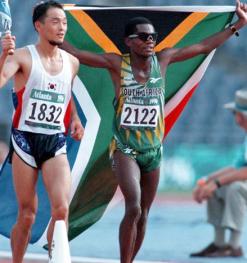 Although his childhood dream was to become a professional football player, it was his unexpected triumph at the Atlanta Olympics in 1996 – in the men's marathon – that won Josiah Thugwane his long-standing fame and glory as one of South Africa's greatest sport achievers.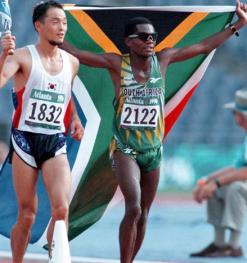 Thugwane, who was only 25 years old at the time, ran into the Olympics history books as the first black South African to ever win a gold medal in the history of the Games.
South Africans and the world at large were in love with the inspirational story of the young man who emerged from humble beginnings of rural South Africa to conquer the odds against him and succeed where many others could not.
Memorable win for newly-reinstated SA
Beating South Korea's Lee Bong-Ju and Kenya's Eric Wainaina, who finished second and third respectively, Thugwane went for the finish line at Olympic stadium, first glancing behind him to see the substantial gap he'd cleared between himself and Lee.
As he crossed the line he waved his hands in the air, signing an upside-down number "7" with his fingers. This is a gesture that is common among South Africans who use it to signify a celebration of sorts. It would become one of the new South Africa's greatly used, symbolic visual memories for years to come.
"I won the medal for all the people of South Africa and especially for my president, Nelson Mandela, who made it possible for us to be part of the international community," he said later when interviewed by international media.
South Africa's inclusion in the Olympics was withdrawn in 1962, owing to the UN general assembly resolution 1761 that barred the country's participation due to its apartheid policy. It was only reinstated in 1992.
Back home, for many South Africans, Thugwane was a new hero, what with the taste of new found freedom still on everyone's lips hardly two years after the demise of apartheid.
His story was a great example of the inspiration that Mandela had been speaking of since his release from prison six years before. The Johannesburg Press Club named him the joint newsmaker of the year, alongside swimming sensation Penny Heyns, who had won two gold medals in the same year.
An inspiration to others
Thugwane's story inspired a lot of interest from the world in the man who, at the time of his Olympic victory, had been running in local competitions for eight years, since the age of 17. His first experience of a marathon yielded a R50 (just under US$6) prize, for a 21km effort.
The drive to continue running came from realising that he had set the bar for his career and loved the feeling of winning.
Thugwane did not receive much education while he was growing up. In fact, he learned to read and write only after Atlanta, through the help of a tutor. At the time of the Olympics, he had been working for a mining company in his home province of Mpumalanga, and was a member of the company's athletics club.
Beyond Atlanta
With the eyes of the world now on him to see what his next move would be, Thugwane continued to take part in national and international marathons and half marathons after Atlanta.
In 1997 he won the Fukuoka Marathon, an annual event that takes place in the Japanese city of the same name. Thugwane is ranked 10th best in the Fukuoka's all-time best achievers. In the same year he was crowned South Africa's Sportsman of the Year.
Thugwane remains an influential part of South African sport, his profile being one of those featured in a 2012 series of great African sport stars by educational publishing company Awareness Publishing Group.
In the 2000 Olympics in Sydney, Thugwane again made history as only the third man ever to qualify to defend his marathon title. He did not succeed, finishing 20th.
Some of Thugwane's memorable events:
1997 – Old Mutual Marathon champion, London Marathon (third)
1998 – New York Marathon
2000 – Olympic Games in Sydney
2002 – Nagano Olympic Memorial Marathon
2003 – World Championships
2005 – 50km Forever Resorts Loskop Marathon
Other accolades to his name
1997 – World Athlete of the Year Award
2008 – Inducted into the African Athletes Hall of Fame
2011 – Received the order of Ikhamanga
By:Valencia Talane
Source: www.mediaclubsouthafrica.com